BRAND NEW! "SWAK" @ Studio Miki, LIMITED SALES PRICING plus gift!
***

Limited introductory sales pricing

***
"SWAK" is an acronym for the phrase "Sealed with a kiss" and was popular in the 1950s. It was often added to the end of a love letter....or on the back of the envelope- and of course, some particularly passionate girls simply kissed the spot with their lipsticked lips!~ So mixing up a batch of lipstick reds, blushing pink, shimmery gold and silver and a dollop of almost black for drama and contrast, you'll find "SWAK" wonderfully appropriate for your Valentines projects, as well as Sweetest Day, romance, weddings- just about anything that calls for drama, passion and elegance!


In "
SWAK Page Kit
" by Microferk Designs, you get 12 beautifully blended, patterned and/or textured papers. You also get over 45 elements that include chipboard and glitter flowers (3 different), hearts (3 recolored), 3 folded paper flowers, 4 rolled roses, 2 fresh daisies with gem centers, 2 leaf clusters, a gold shimmery vine, a fancy gold frame, fancy black frame, red fancy frame, fancy pink frame, instant photo frame, 3 across stamp frame, old vintage paper frame, small gold oval frame with and without ribbon, 5 different journal blocks, a mini tag on string, a larger fancy tag with gold string, paper heart line, red string with bling, 2 ribbons (pink and red), red bow, kissy lips, an envelope back, red glass heart small heart bauble, hearts and kisses scatter, small branch of flowers, gold metallic flourish, 3 chipboard tags (one blank) and a separate red string topper, key on a ribbon, and a piece of paper lace with bling accents.
You also get five gorgeous pieces of word art; some with brush work, some with bling (pre-shadowed).
In "
SWAK Page Kit
" by Microferk Designs you also get THREE COMPLETE ALPHA SETS! You get a chipboard and glitter set in three colors: red, black and champagne containing upper case and lower case letters, numbers, and 7 extra characters! Each element is in its own file - no need to 'cut' apart. All elements and papers are created at 300ppi, with papers saved as high-resolution jpgs for stunning print clarity, and elements saved as png files to preserve transparency. Drop shadows are only applied in instances where layering of pieces within an element necessitate shadowing for realism.
Also included are 6 matching "SWAK" glitter styles for your customizing pleasure- as a Photoshop Style file and jpgs for use in other graphic programs.
Check out the "
SWAK Collection
" for more coordinating design products by Studio Miki.
(Also available separately in
SWAK Papers
,
SWAK Elements
,
SWAK Word Art
,
SWAK Alphas
and
SWAK Glitter Styles
by Microferk Designs)
Papers:
Another view of Papers: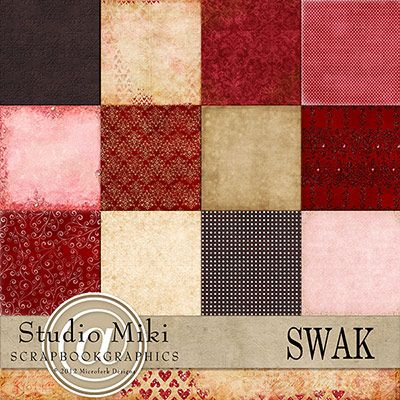 Elements: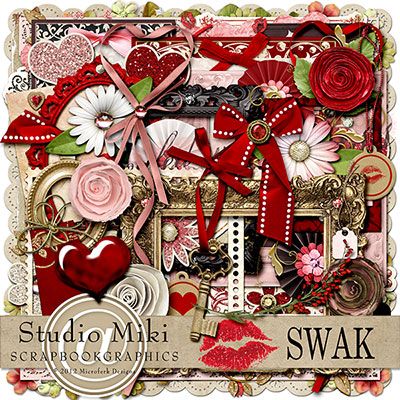 Closeup of Elements: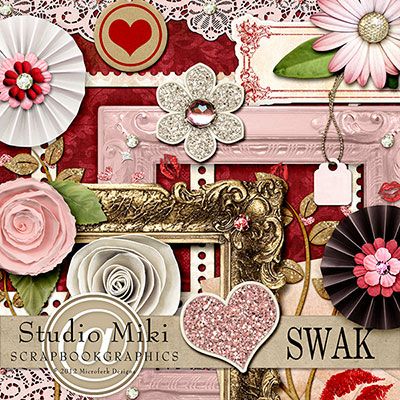 Word Art:


Alphas: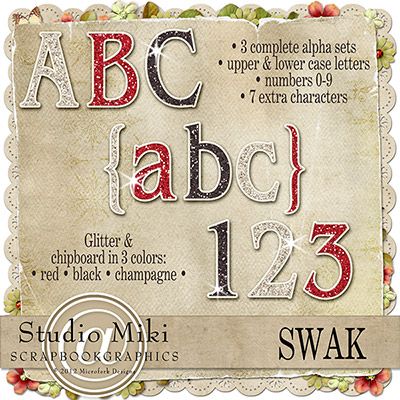 Glitter Styles:

Layouts:
by Miki:
Please accept this complimentary FREE GIFT Quick Page made with "SWAK"
by Miki Ferkul: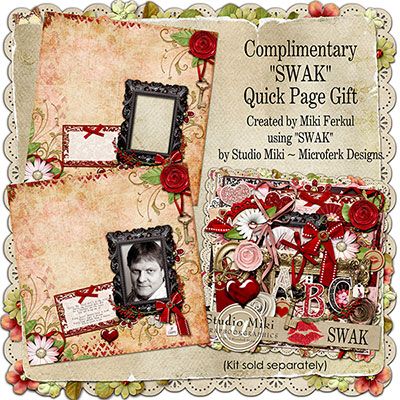 ***************************************************
Download Link:

https://rapidshare.com/files/2002727706/MFERK_SWAK_QP.zip
***************************************************
(Expires on 2/14/2012)

Please be sure to pick yours up before expiration!
If you experience any errors
before
the expiration date - just drop me a comment, and I will be happy to re-upload fresh links until the expiration passes.
Please refer to the screenshots below to assist you in your download.