Just in time for spring & summer~ Flower Power CU Vol 3 @ Studio Miki- LIMITED Intro Sales Pricing!
Need some beautiful paper blooms for your spring kits and layouts? Get this pack of 10 individually scanned paper flowers in both color and grey scale. As a designer, you can easily recolor these to "make them your own".
In "

Flower Power CU Vol 3

" by Microferk Designs, you get 12 different flowers. The grey scales have been meticulously extracted, desaturated and had adjustments made to curves, levels and contrast to more easily be recolored by you at home. When re-coloring, I often use one layer set to color "blend" and then another layer set to "Multiply", "Overlay" or "Color Burn" for deeper or richer tones. Play around! Many times you can get a lighter flower from a darker by duplicating the layer and setting the top layer to 50% "Screen" blend mode. Then merge them, duplicate again and set the top layer to "Soft Light" or "Overlay" and the ribbon will pop for you!
These are not only Personal Use, but Scrap-4-Others and Scrap-4-Hire Friendly, AND Commercial use OK- with no credit is required ~ Each element is in its own file- no need to 'cut' apart. All elements are created at 300ppi, and saved as png files to preserve transparency.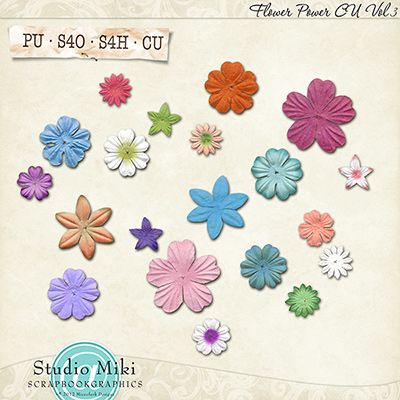 Closeup:
And don't forget these other commercial use products by Microferk Designs: