For St. Paddy's Day- new "Eire Mini Add On", plus ALL St. Paddy's products on SALE!
First off: THE SALE: http://tinyurl.com/StudioMiki-StPatrick
"Éire" is not only the Irish name for the island and state of Ireland, but is also derived from the name of the mythical goddess "Ériu"- who was key in helping the Gaels conquer Ireland according to the Book of Invasions.

This collection, "Éire", by Microferk Designs focuses on the essence of Ireland, and the most well-known celebration: St. Patrick's Day. St. Patrick, the patron saint of Ireland, was born in Wales circa 385 AD. He was a pagan until his mid-teens, when he was sold into slavery by a marauding band of Irishmen, and in captivity converted to Christianity. After escaping his enslavement, he traveled to Gaul and studied under St. Germain, and gradually realized he was called to convert pagans to Christianity. He was eventually appointed as bishop to Ireland, where he was quite successful in his conversion efforts. During his 30 year mission in Ireland, he established numerous monasteries, schools and churches. He died on March 17, 461 AD- giving rise to this feast day.

Many legends surround St. Patrick- one being the myth that he drove all the snakes from Ireland during a sermon. Actually, no snakes were indigenous to Ireland, but still, St. Patrick's Day celebrations persisted! Traditional symbols of St. Patrick's Day include shamrocks, leprechauns, pots of gold and rainbows. And historically, the shamrock was a 3 leaved clover. Legend says that St. Patrick explained the mystery of the trinity with this plant, showing how each leaf represented the Father, the Son and the Holy Spirit, yet remained one plant after all. But there is a four-leafed clover- though it is rare. Ancient Druids considered them a sign of luck, and through the years, they too became intermingled with the legends surrounding the normal clover- and you will find both in Irish lore~

Leprechauns are mythical creatures - elves actually- that will lead you to a pot of gold if you catch them. They are solitary beings- avoiding humans and other leprechauns- and traditionally, they are shoemakers. They are short, rather homely creatures- broad of shoulder though and quite graceful. They usually dress in green coats and wear a hat. Some smoke pipes called "dudeens" and most have a fondness for beer. They are the guardians of the fairy treasure. Rainbows are a sign to mortals that the treasure is nearby. If you find a pot of gold at the end of a rainbow, you may demand the leprechaun turn it over to you~

So with all of this mind, let me give you "Eire" by Microferk Designs- a collection that will meet all of your St. Patrick's Day and Irish heritage scrapping needs for years to come. Based on traditional colors of the Irish flag: green, white and orange, with some gold and brown thrown in for good measure (and even a little rainbow - unique and whimsical!)

In "Eire Mini Kit" by Microferk Designs, you get a delightful add-on to cpomplement your "Eire Collection". You get: 3 beautifully blended, patterned and/or textured papers. and 13 elements that include an adornment, green bow, fancy gold frame, 1 large silk flower, 2 rolled paper flowers, 6 small flowers, a festive tag and worn paper ornament. All elements and papers are created at 300ppi, with papers saved as high-resolution jpgs for stunning print clarity, and elements saved as png files to preserve transparency. Drop shadows are only applied in instances where layering of pieces within an element necessitate shadowing for realism.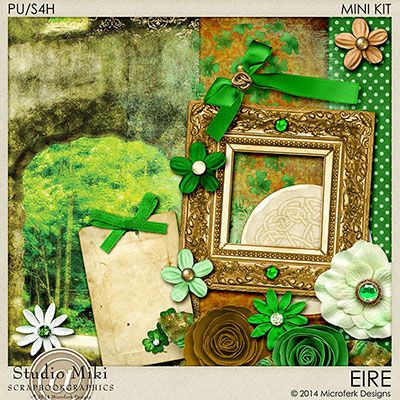 And all the other
"

Eire Collection

"
and
"
La Fheile Padraig Collection
" by Microferk Designs: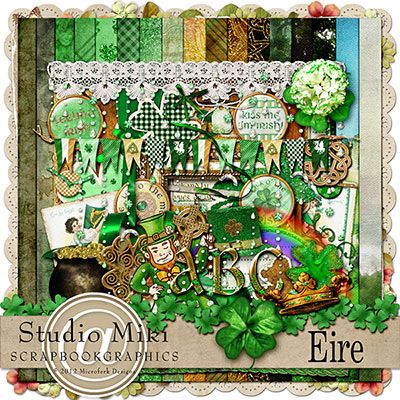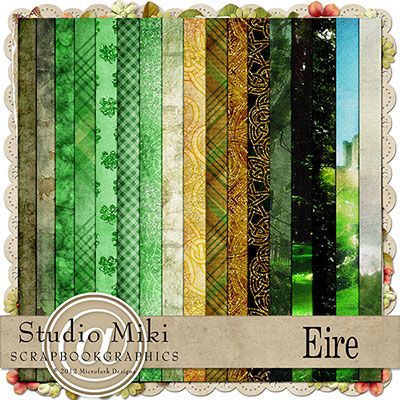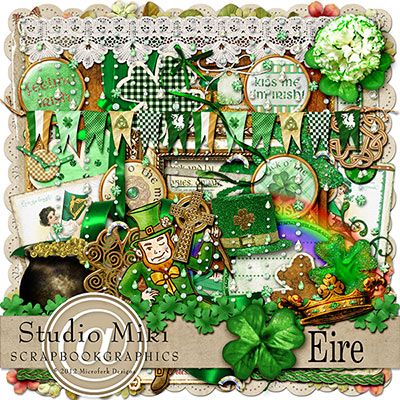 Includes the following:
Page Kit: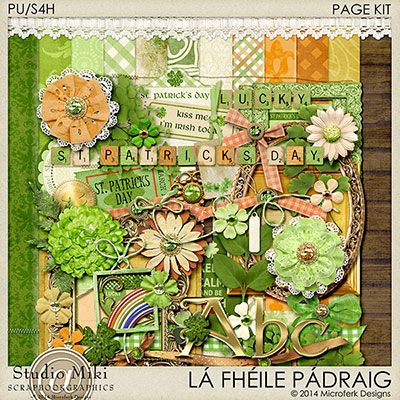 Papers:
Another view of Papers:
Elements: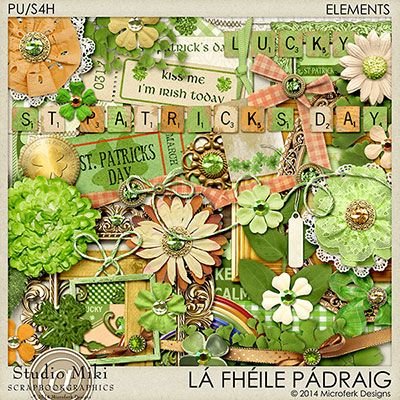 Closeup of Elements: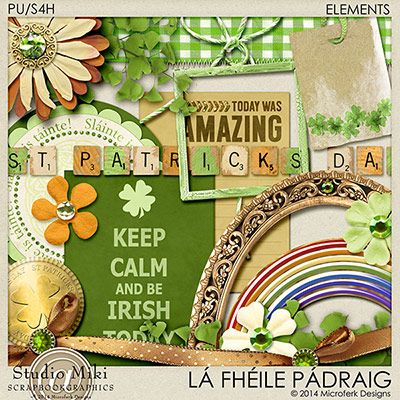 Alphas: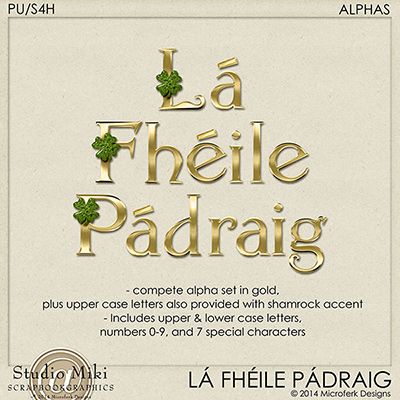 Glitter Styles: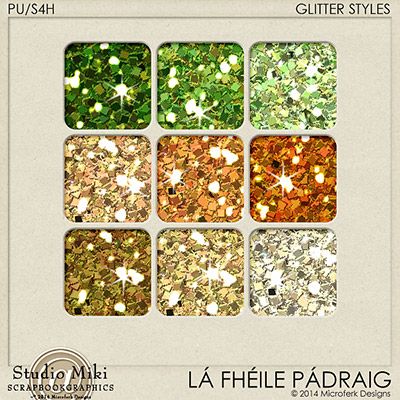 And here are wonderful add ons, all included in the BUNDLE, but not included in the PAGE KIT.
La Fheile Padraig
Textured Plains: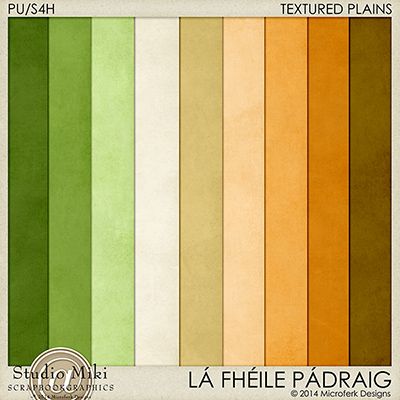 La Fheile Padraig
Quote Strips: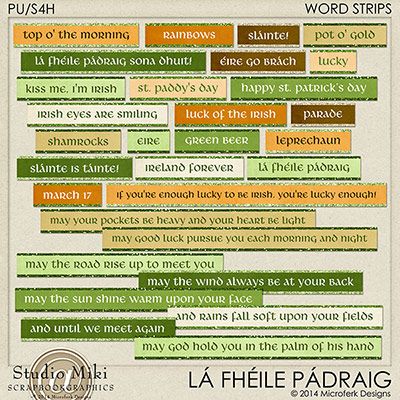 La Fheile Padraig
Metallic Alphas
:
Layouts: