Beautiful "Jardin d'Alexandrie" with Studio Miki- Limited Sales Pricing!
***LIMITED INTRO SALES PRICING***


"Flowers are the sweetest things God ever made, and forgot to put a soul into."
~Henry Beecher


Based on a palette of my daughter's favorite colors when she was little, "Jardin d'Alexandrie" by Microferk Designs brings you a robust summery, floral collection based on the shades of urquoise blue lilies, ivy green, heather, and pale daffodils.
In the
"

Jardin d'Alexandrie Page Kit

"
by Microferk Designs, you get 24 beautifully blended, patterned and/or textured papers. You also get over 40 beautifully crafted elements including 2 large flowers- in turquoise and purple, 3 coasters, a fairy cameo, a cameo on silver and beaded chain, 3 rim tags with ties and gem accents, a mesh laced border, a flower on stretchy elastic, chipboard flower, chipboard ivy, 4 embellished ivy corners, a dragonfly, 3 frames, 8 Icy Accent brads in striped and flowered patterns and in various shapes, 2 Icy Flower Buttons, 5 pieces of marble word art, ivy accent, 2 stamps, silver-rimmed label/tag, an ivy leaf tag, 3 embellished tags, a ribbon tag topper, blue satin bow with a matching blue ribbon, a gem-studded bauble, 2 pieces of foliage, a paper ivy piece, a postcard, and 5 small silk flowers.
In the
"

Jardin d'Alexandrie Page Kit

"
by Microferk Designs you also get a complete alpha set that includes upper and lower case letters and numbers, as well as 8 extra characters, created in an icy acrylic blue, with the upper case letters being embellished with foliage and gerbera daisies. Each element is in its own file - no need to 'cut' apart. All elements and papers are created at 300ppi, with papers saved as high-resolution jpgs or pngs for stunning print clarity, and elements saved as png files to preserve transparency. Drop shadows are only applied in instances where layering of pieces within an element necessitate shadowing for realism.


Check out "
Jardin d'Alexandrie
" for all coordinating design products by Studio Miki.
(Also available separately as "
Jardin d'Alexandrie Papers
", "
Jardin d'Alexandrie Elements
", and "
Jardin d'Alexandrie Alphas
" by Microferk Designs)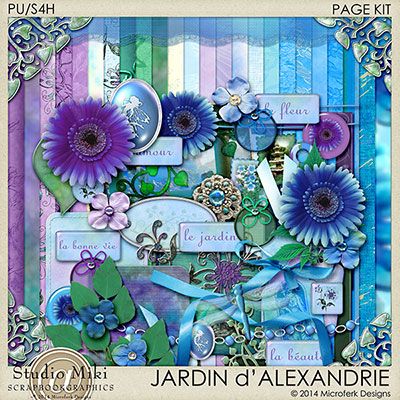 Papers:
Another view of Papers:
Elements:
Closeup of Elements:
Alphas: