NEW! "Expressions: Catharsis" for your scrapping/journaling needs @Studio Miki- on SALE + FWP!
***

Limited introductory sales pricing

***

"Something is always born of excess: great art was born of great terror, great loneliness, great inhibitions, instabilities, and it always balances them."
~Anaïs Nin


Catharsis. Release, a purging- providing relief from strong or repressed emotions. The process of bringing these angst-filled moments up through our consciousness, and using them as a channel for self-exploration, for growth, for renewal. Often wrenching and overwhelming- but necessary to move from one chapter into the next in our lives. In "Expressions: The Catharsis Collection", the second collection in this exciting new line, I bring you an eclectic collection of pieces with which to document your trials and tribulations in life. I added two tarot cards as inspiration for the trip.
First, I give you "The Moon",which is often symbolic of our shadow self. The shadow self is the part of our unconscious mind that holds our repressed feelings, memories and fears. It is the part of our psyche that we must confront and purge, in order to release the tensions and anxieties and transform ourselves into stronger and more evolved people. The Moon card prompts us to dive deep into our souls, examine them and purify the parts we no longer need to keep as baggage and make room for growth and new beginnings! Use your intuition, your dreams to help you let go of your conscious mental blocks and lead you to higher understanding of your rich inner life.
Next, I give you the "Strength", a card of power, determination and- you guessed it- inner strength! Everything that you need to overcome the obstacles and roadblocks in your life is already inside of you! Strength reminds us to use our inner reserves of strength and confidence to focus on our objectives and the change we want to affect. But part of that strength is also acting from a place of compassion, patience and care: we can act with true strength only when we do so with love and tolerance. In this way, we must transcend our sometimes ferocious emotions- perhaps using meditation or visualization- or any number of actions that soothe and calm our spirit, in order to act with strength, compassion with dignity. In this way, we can use our strength to persevere in our sometimes rough journey, and use the moon to move through our inner selves, and emerge with new purpose and life.

In the "

Catharsis Bundle

"
by Microferk Designs, you get all of the contents of the "

Catharsis Page Kit

", which includes:
12 beautifully blended, patterned and/or textured papers. You also get 71 elements that include 4 different pieces of bling/gems (one recolored to give you 5), 2 baubles, 2 buttons, 2 hanging beaded charms, one hanging metal frame, 2 jeweled butterflies, 4 different bows, 3 different ribbons, 4 pieces of stitching, 7 pieces of foliage/greenery, 2 large flowers, 6 medium flowers, 6 small flowers, 2 fresh flowers, 4 fancy frames, 2 vintage paper frames, a triple metal frame, a small frame with glass lens, 2 medium tags, a
jewelry tag, 2 tarot cards, a small worded banner, a glittered word, 2 worded round tags, and 8 journal cards.
In "
Catharsis Page Kit
" by Microferk Designs you also get a complete alpha set, in a lovely copper-gold glitter that includes upper case and lower case letters, numbers, and 7 extra characters!
Also included are 20 matching "

Catharsis

" glitter styles for your customizing pleasure- as a Photoshop Style file and jpgs for use in other graphic programs. (Included are xml files for use in Photoshop Elements 6 +)
In the
"

Catharsis Bundle

"
, you also get "

Catharsis Metallic Alphas

", 5 complete alpha sets,in a lovely offbeat font, in asparagus, coral, pansy, periwinkle and sunshine, that include upper case and lower case letters, numbers, and 7 extra characters!
Additionally, you get "

Catharsis Textured Plains

" by Microferk Designs, and you get 12 slightly worn and lightly grunged plain papers with a delightful kraft-style texturing.
And, you get
"

Catharsis Word Strips

" by Microferk Designs. You get a set of 37 unique word strips. You can add these to give your layout a special treatment.
Each element is in its own file - no need to 'cut' apart. All elements and papers are created at 300ppi, with papers saved as high-resolution jpgs for stunning print clarity, and elements saved as png files to preserve transparency. Drop shadows are only applied in instances where layering of pieces within an element necessitate shadowing for realism.

Save big when you purchase the
"

Catharsis Bundle

"
by Microferk Designs -a regular $26.50 value if purchased separately! Over 50% savings!


Check out the "
Catharsis Collection
" for more coordinating design products by Studio Miki.
Included in ONLY the
"

Catharsis Bundle

"
but NOT in
the "

Catharsis Page Kit

"
by Microferk Designs.
(Also available separately as "
Catharsis Papers
",
"

Catharsis Textured Plains

",
"
Catharsis Elements
", "
Catharsis Alphas
",
"

Catharsis Metallic Alphas

",
"

Catharsis Word Strips

"
and "
Catharsis Glitter Styles
" by Microferk Designs)
Includes the following:
Page Kit:

Papers: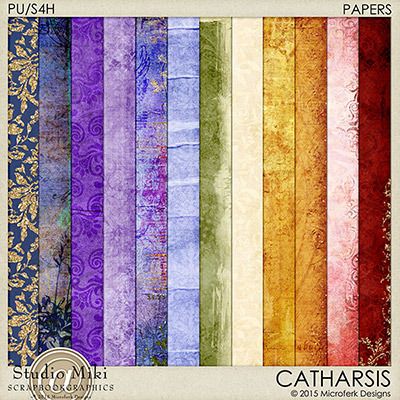 Another view of Papers:
Elements: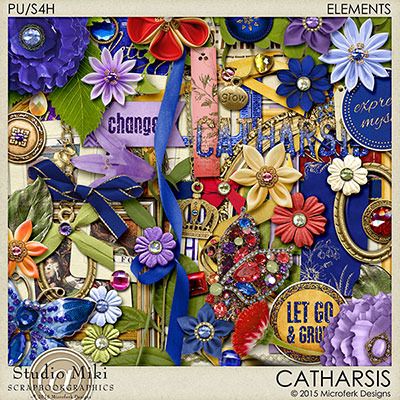 Closeup of Elements: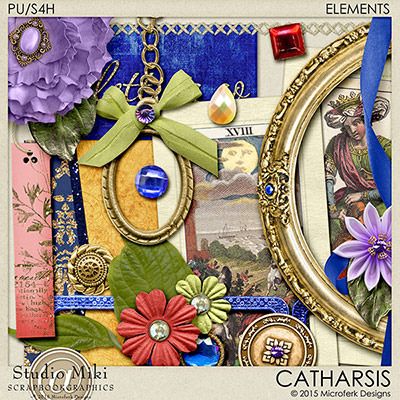 Alphas:
Glitter Styles: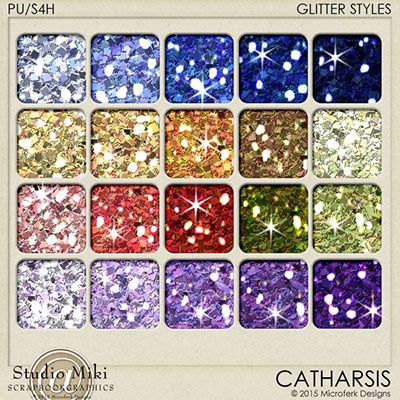 And here are wonderful add ons, all included in the BUNDLE, but not included in the PAGE KIT.
Catharsis
Textured Plains:

Catharsis
Metallic Alphas
:
Catharsis
Word Strips: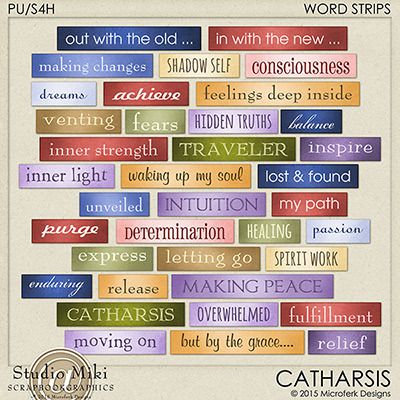 Now available as printable sheets:

Layouts:
by Miki:
***

FREE WITH PURCHASE OF
"
Catharsis Bundle"
OR
"

Catharsis Page Kit

" by Microferk Designs***