NEW! "Evening Reverie" a gorgeous collection @Studio Miki- on SALE + FWP!
***

Limited introductory sales pricing

***

" The sunbeams dropped Their gold, and, passing in porch and niche, Softened to shadows, silvery, pale, and dim, as if the very day paused and grew eve."
~Edwin Arnold


"Evening Reverie" is a dark and moody kit resplendent in the deeper hues seen in the twilight hours: the sapphire blue of evening skies, the deep greens of lush foliage, the yellows that fade into the orange-red of a sunset, and the pale yellow of a moon low in the sky that gives way to the silvery moonbeams of deep night! "Evening Reverie" by Microferk Designs is an artistic kit that can be used for so many different layouts and occasions!

In the
"

Evening Reverie Page Kit

"
by Microferk Designs, you get:
12 beautifully blended, patterned and/or textured papers. You also get 46 elements that include a beaded swirly, a sheer blue bow, a sheer blue ribbon with jump ring, a dark blue folded ribbon, dark blue bow, a piece of glittery stitching, 2 buttons, a floral "brush" (png file), 2 large flowers, a medium flower, 5 small flowers, 3 pieces of foliage, 2 gorgeous decorated paper frames, a vintage paper frame, 2 fancy frames, a hanging charm, 3 fabric swirls, fancy signature guitar pic, 2 glitter-edged journal blocks, 2
blended and exquisitely crafted journal blocks, 4 journal cards, a jewelry tag (both with and without string) a glitter moon and glitter star, a negative strip (both plain and embellished), a pearl wave, round tag with Irish blessing, rusty bent staple, and string topper.
In "
Evening Reverie Page Kit
" by Microferk Designs you also get an alpha set - a ragged, torn and glittered alpha set in that includes full upper case set of letters, numbers and 7 extra characters.
Also included are 9 matching "

Evening Reverie

" glitter styles for your customizing pleasure- as a Photoshop Style file and jpgs for use in other graphic programs. (Included are xml files for use in Photoshop Elements 6 +)
Each element is in its own file - no need to 'cut' apart. All elements and papers are created at 300ppi, with papers saved as high-resolution jpgs for stunning print clarity, and elements saved as png files to preserve transparency. Drop shadows are only applied in instances where layering of pieces within an element necessitate shadowing for realism.

Check out the "
Evening Reverie Collection
" for more coordinating design products by Studio Miki.
(Also available separately as "
Evening Reverie Papers
", "
Evening Reverie Elements
", "
Evening Reverie Alphas
", and "
Evening Reverie Glitter Styles
" by Microferk Designs)
Papers: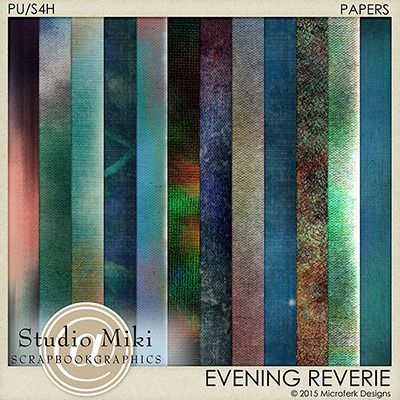 Another view of Papers:
Elements:
Closeup of Elements:
Alphas:
Glitter Styles: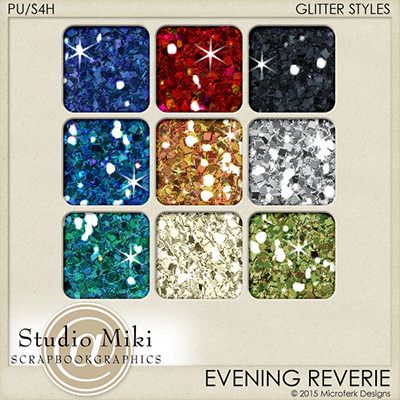 Layouts: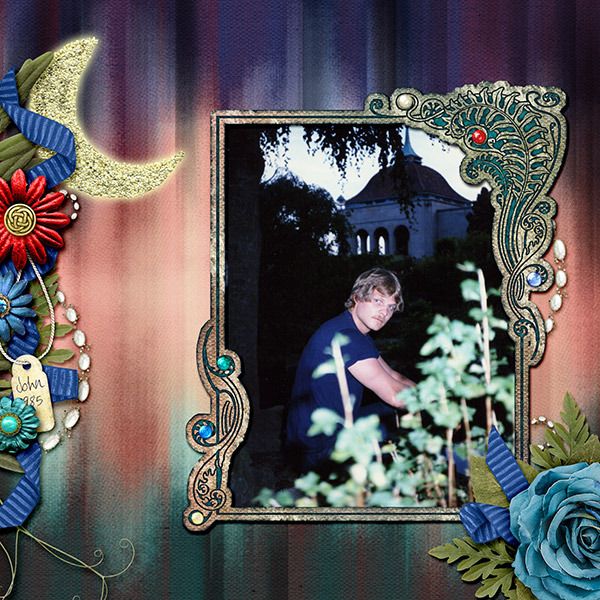 ***

FREE WITH PURCHASE OF
"

Evening Reverie Page Kit

" by Microferk Designs***