NEW! "Hallowe'en" a spooky Halloween collection @Studio Miki- on SALE + FWP!
***

Limited introductory sales pricing

***

"The harvest moon hangs round and high
It dodges clouds high in the sky,
The stars wink down their love and mirth
The Autumn season is giving birth.
Oh, it must be October
The leaves of red bright gold and brown,
To Mother Earth come tumbling down,
The breezy nights the ghostly sights,
The eerie spooky far off sounds
Are signs that it's October.
The pumpkins yellow,. big and round
Are carried by costumed clumsy clowns
It's Halloween - let's celebrate."
~ Pearl N. Sorrels
In the "

Hallowe'en Bundle

" by Microferk Designs, you get everything that is included in the "

Hallowe'en Page Kit

":
• 12 beautifully blended, patterned and/or textured papers
• 86 elements
• an alpha set, as engraved letters in a plaque made of a weathered wood finish, that includes upper case and lower case letters, numbers, 4 extra characters and a blank
• a set of 8 glitter styles for your customizing pleasure- as a Photoshop Style file and jpgs for use in other graphic programs. (Included are xml files for use in Photoshop Elements 6 +)
In the bundle you also get:
•

"Hocus Pocus Metallic Alphas

": 3 complete alpha sets in a funky font, in apple, pumpkins and haunted, that includes upper case and lower case letters, numbers, and 7 extra characters
• "

Hocus Pocus Textured Plains

": 10 slightly worn and lightly grunged plain papers with a delightful card-stock texturing
• "

Hocus Pocus Word Art

": a set of 4 word art pieces
Each element is in its own file - no need to 'cut' apart. All elements and papers are created at 300ppi, with papers saved as high-resolution jpgs for stunning print clarity, and elements saved as
png files to preserve transparency. Drop shadows are only applied in instances where layering of pieces within an element necessitate shadowing for realism.

Save big and expand your collection when you purchase the
"

Hallowe'en Bundle

"
by Microferk Designs!


Check out the "
Hallowe'en Collection
" for more coordinating design products by Studio Miki.
Includes the following:
Page Kit:

Papers: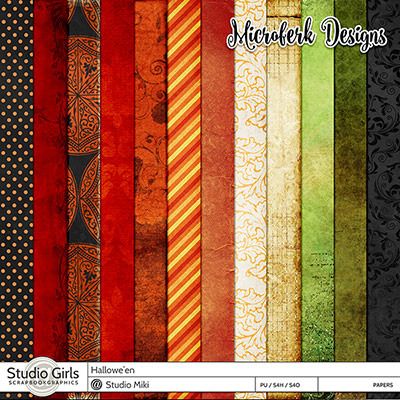 Elements:
Closeup of Journaling Elements:
Alphas: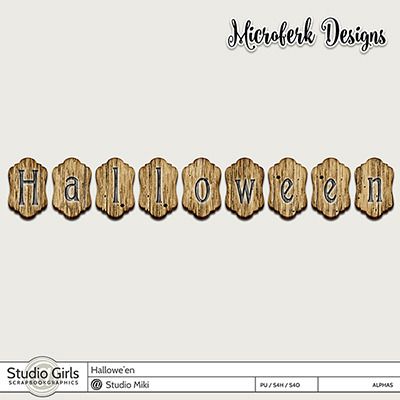 Glitter Styles: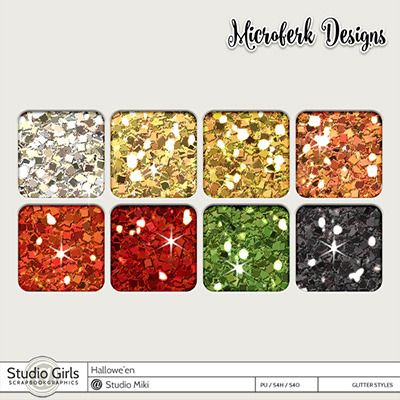 And here are wonderful add ons, all included in the BUNDLE, but not included in the PAGE KIT.

Halloween
Textured Plains: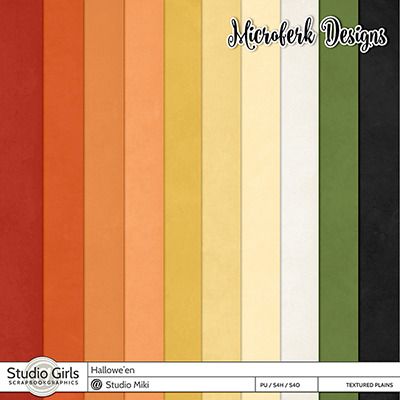 Halloween
Elegant Mattes: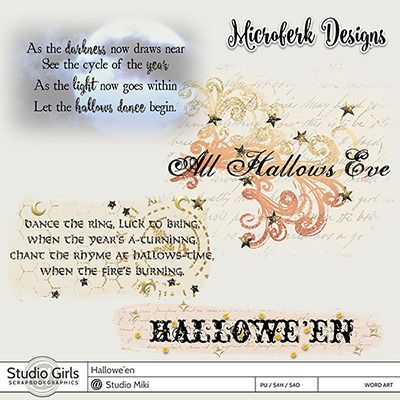 Halloween
Metallic Alphas
: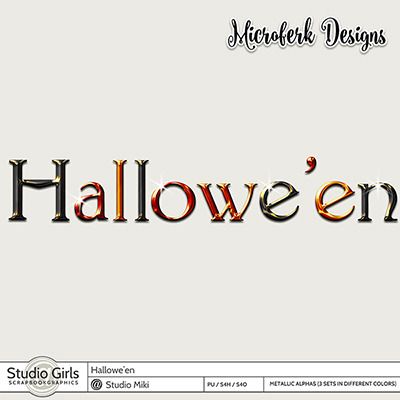 Layouts:

***

FREE WITH PURCHASE OF
"
Hallowe'en! Bundle"
OR
"

Hallowe'en! Page Kit

" by Microferk Designs***