A journey of "Imagica" ~ by Studio Miki @ SBG- on SALE!
***

On sale 20% today and tomorrow ONLY!

***
It's a place where you are visited by dreams, by ideas.

A place where your creativity hits the flow and you are capable are far more than you ever imagined!

So close your eyes, take a step through the doorway and when you open them you will be awash in the harmonious and gentle shades cream, gold, brown, blues, greens, pinks and roses!

All around is sparkling, glittering and inviting you to create. You are in "Imagica"!



In "

Imagica Page Kit

" by Microferk Designs, you get 12 beautifully blended, patterned and/or textured papers.
You also get over 40 elements that include a worn paper art piece of "Alice" adapted from original art by Adelaide Claxton (public domain), blue curly ribbon and bow, jeweled brad, worn castle piece adapted from original artwork by Grimani Breviary (public domain), chain with hanging pendants, large pendant hanging from chain, double stamp frame, 2 fancy gold frames, golden rose leaves, 2 rolled roses (wine gold), gold and glitter ornament, gold and gemstone ornament, instant photo frame, jewelry tag with string topper, beaded chain, 3 different journal blocks, large fancy flower (plain and shadowed and with glitter ornament accent), large fancy blue tag, leafy branch, line of bling (both shadowed and unshadowed), offset frame, double bows on ribbon, small square wooden frame with hangers and ties, set of 9 small silk flowers and a leafy piece to place behind them, sparkly masked accent, painted vine, painted vine with flowers (both shadowed and unshadowed), small hammered gold frame, triple oval fancy frame, brown vintage paper frame and 2 pieces of "Imagica" word art.
You also get a gleaming and polished set of gold alphas, including upper and lower case letters, numbers and 7 extra characters~ a real "go-to" set for you! Each element is in its own file - no need to 'cut' apart. All elements and papers are created at 300ppi, with papers saved as high-resolution jpgs for stunning print clarity, and elements saved as png files to preserve transparency. Drop shadows are only applied in instances where layering of pieces within an element necessitate shadowing for realism, unless otherwise noted in product description.
Also included are 15 matching "

Imagica

" glitter styles for your customizing pleasure- as a Photoshop Style file and jpgs for use in other graphic programs.
(Also available separately as "
Imagica
Papers
", "
Imagica
Elements
", "
Imagica
Alphas
" and "
Imagica
Glitter Styles
")

Imagica Collection
Papers:
Another view of Papers:
Elements: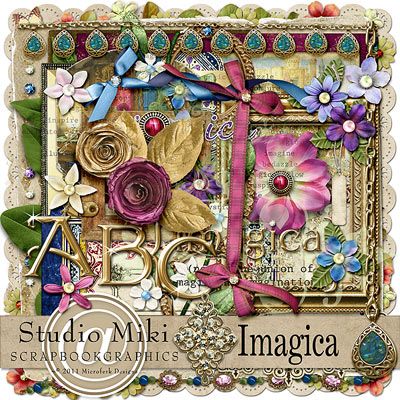 Closeup of Elements: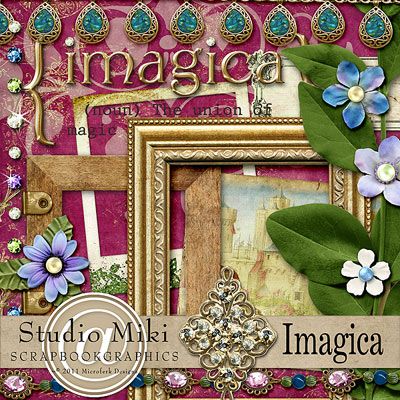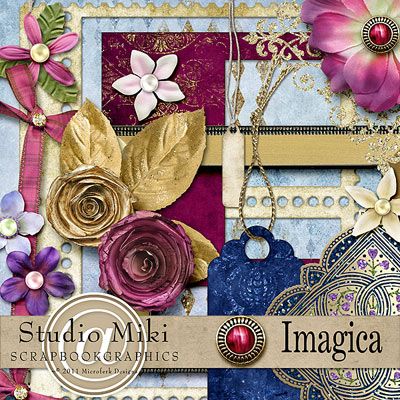 Alphas:
Glitter Styles: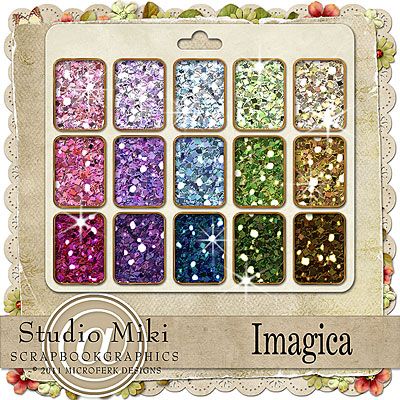 Layout:
by Miki:

by Kabra: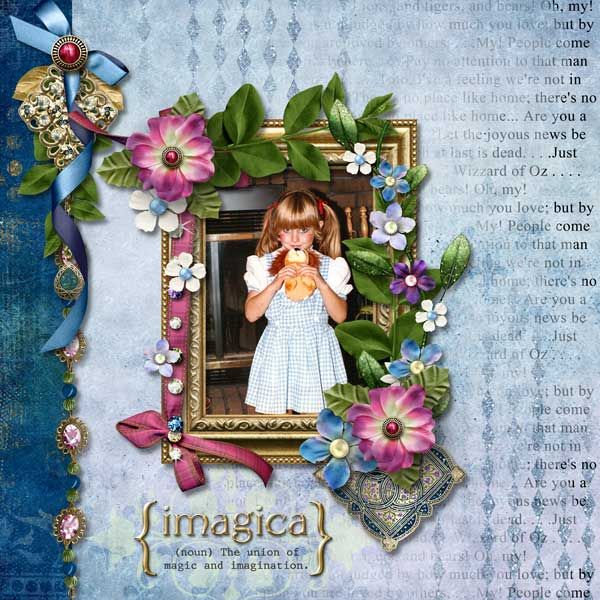 by Lorraine: