Oooo- pretty, shiny, bright! Get "Colors of Christmas" by Studio Miki- on SALE
***

Limited introductory sales pricing

***


This collection is like a BIG shiny Christmas gift, sitting under the Christmas tree just BEGGING you to open it! It's colorful, shiny, sparkly, full of gorgeous surprises- you might never need another Christmas kit again! When I sat down to draw up a palette for this, it just wasn't coming together- so I went a little crazy with all my favorite colors and plenty of jewel tones. - And what do you get? "Colors of Christmas" by Microferk Designs, based on a rainbow palette of 24 beautiful holiday hues!


In the "

Colors of Christmas Page Kit

" by Microferk Designs, you get 12 beautifully blended, patterned and/or textured papers. You also get over 50 elements that include 2 fancy baubles in deep wine and purple, 4 glass ornament frames each wit ribbon bows and gemstone centers, a sparkly blue Christmas tree, an old "Twas the Night Before Christmas" book, 5 different hanging satiny bulb ornaments with glittered snowflakes, a double stamp frame, large gold square frame, a green ornate frame with bow and jewel accent, a red ornate frame with bow and jewel accent, fancy tag with and without bow, a gold and jewel border, 2 long lines of stitching and a short line of cross stitches, fancy green tag with bow, jewelry tag on gold string topper, 3 journal blocks, 2 sparkly masked accents, cluster of holly and teal berries (with and without shadows), 6 layered paper flowers with jeweled centers, 5 small silk flowers with gemstone centers, cluster of poinsettias (with and without shadows), cluster of rolled roses and leaves (with and without shadows), stick wreath with rolled roses and holly leaves (with and without shadows), 2 fancy tag/journal pieces, string of colorful glass beads, and a metal triple frame with stitched accents at the sides.
You also get a gorgeous set of alphas made of old brass, including all upper and lower case letters, numbers, and 7 extra characters. Each element is in its own file - no need to 'cut' apart. All elements and papers are created at 300ppi, with papers saved as high-resolution jpgs for stunning print clarity, and elements saved as png files to preserve transparency. Drop shadows are only applied in instances where layering of pieces within an element necessitate shadowing for realism, unless otherwise noted in product description.
Also included are a WHOPPING 24 matching "Colors of Christmas" glitter styles for your customizing pleasure- as a Photoshop Style file and jpgs for use in other graphic programs.
Check out the "

Colors of Christmas Collection

" for more coordinating design products by Studio Miki.


(Also available separately as

Colors of Christmas Papers

,
Colors of Christmas
Elements

,
Colors of Christmas
Alphas and
Colors of Christmas
Glitter Styles
by Microferk Designs)

(WARNING: Styles zip file is 188 MB, Sheets zip file is 58MB)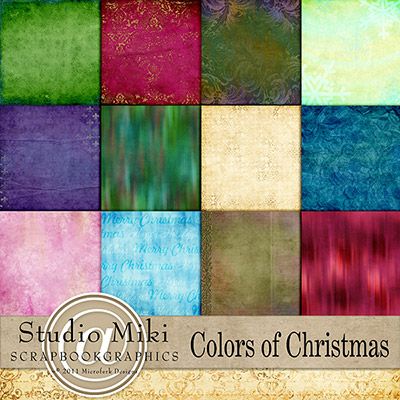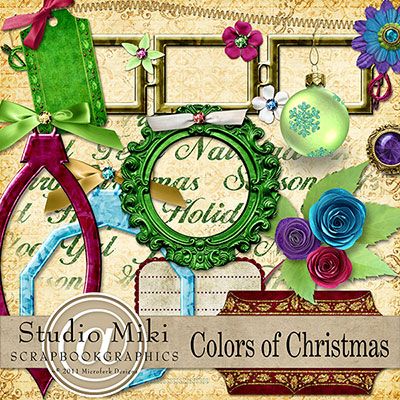 Layouts:

by Beckie:


by Danesa: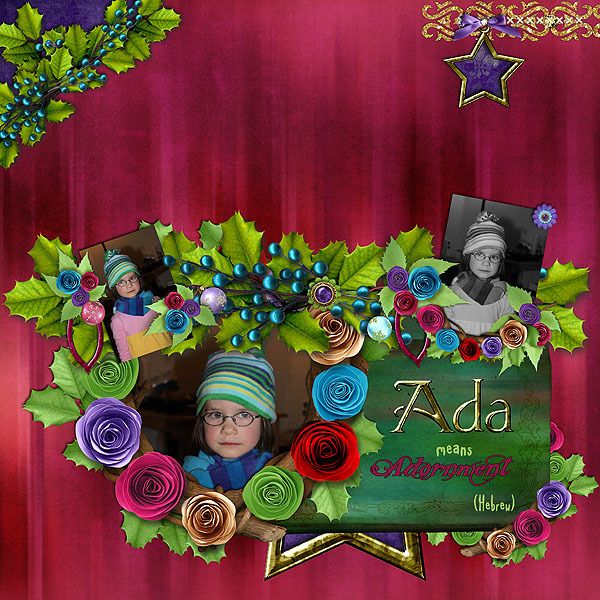 by Karen:

and:

by Sandy:


by Lorraine:

by Miki: