Brrrrr- on a cold "Frosty Nocturne"....by Studio Miki w/Intro Sales Pricing 4 LIMITED time!
***

Limited introductory sales pricing

***



There's a crispness to the air and a whiff of winter in those late days of autumn. You can almost smell that first snow flurry!


This collection is evocative of those cold and frosty days and nights- and the warm and welcoming homes that shelter us and make us cozy!

In "Frosty Nocturne" by Microferk Designs, you get all of this and more, in the deep, rich and slightly grungy palette of: old leaves, firewood, a wintry sky, the spicy of cinnamon and ginger, and the opulent tones of a fine wine in front of a fireplace! This collection is so large and versatile- you can use for a wide variety of layouts! It has both masculine and feminine accents and will soon become a favorite in your scrapping stash!
In "

Frosty Nocturne Page Kit

" by Microferk Designs, you'll get 12 gorgeous papers- all individually created and textured in vibrant shades! You also get 5 worn and torn coordinating solids- AND- you get 5 fancy patterned mattes! You also get over 30 beautifully crafted elements including 2 oversized bracket frames with a touch of glittery appeal, 2 buttons- both with and without threads, 5 adorable snowflake discs with gemstone centers, 2 snow-frosted pine branch, a cascade of gold beads, a jewelry tag with and without string topper, 5 uniquely created journal blocks with glittery snowflake decorations, a set of 4 autumn leaves, a negative strip with and without embellishment, a pair of jewelled prongs, 5 silk forget-me-knots with beaded centers, a staple with and without shadow, 2 pieces of twine and one bow, and one beaded string, 2 large glittery swirls, and two wooden frames both with and without shadows.
In "
Frosty Nocturne Page Kit
" by Microferk Designs you also get a classic, neutral worn and tattered alpha set, containing upper and lower case letters, numbers and 7 extra characters. Each element and alpha character is in its own file- no need to 'cut' apart. All elements and papers are created at 300ppi, with papers saved as high-resolution jpgs for stunning print clarity, and elements saved as png files to preserve transparency. Drop shadows are only applied in instances where layering of pieces within an element necessitate shadowing for realism.

Check out the "

Frosty Nocturne Collection

" for more coordinating design products by Studio Miki.


(Also available separately as

Frosty Nocturne Papers

,
Frosty Nocturne
Elements

, and
Frosty Nocturne
Alphas
by Microferk Designs)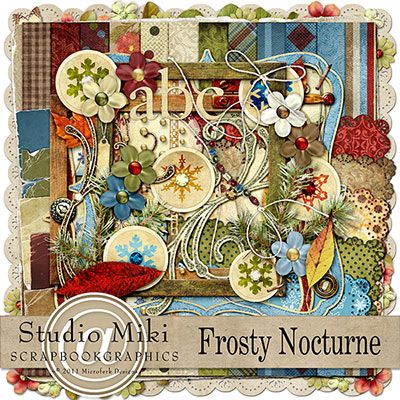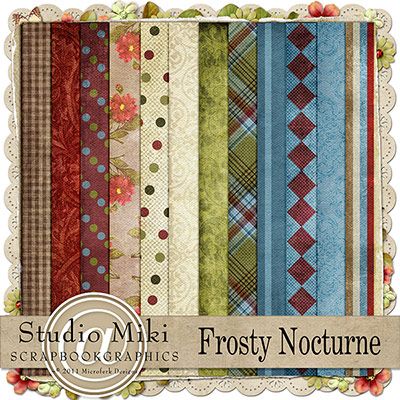 (Only available in
"

Frosty Nocturne Page Kit

" by Microferk Designs)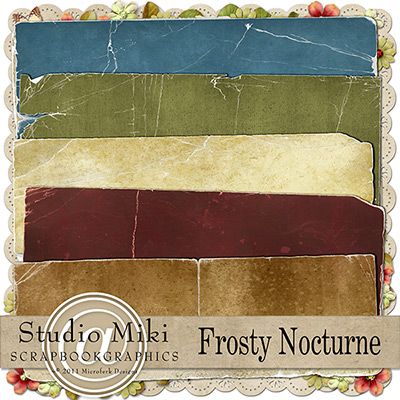 (Only available in
"

Frosty Nocturne Page Kit

" by Microferk Designs)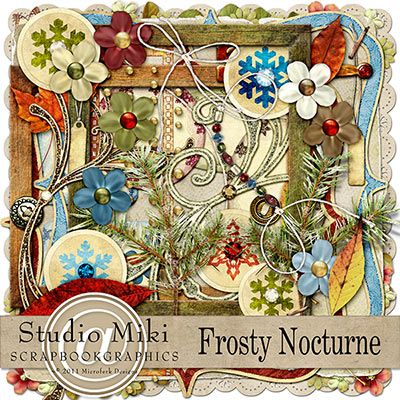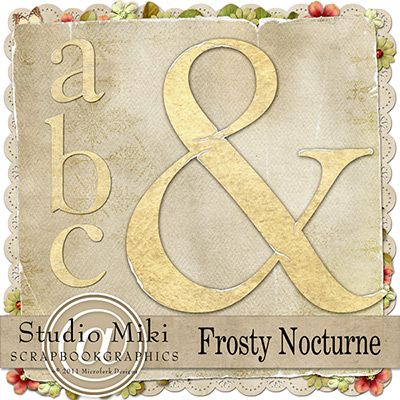 Looking for a simple and beautiful way to create your layouts? Look no further!
In "
Frosty Nocturne Stacked Papers
" by Microferk Designs, you get 4 already assembled, flattened jpg, pre-shadowed stacked papers, with embellishments galore!
Just add your photos, more embellishments and journaling if desired, and your ready to go! Be sure to check out the coordinating "Frosty Nocturne Collection" by Microferk Designs for more goodies like this!
Created 12x12 inches at 300ppi for outstanding print quality. Scrap-4-Others, Scrap-4-Hire Friendly!