When love ain't pretty: "Tragic Romance" @Studio Miki- 25% off sale too!
***

25% off almost everything Valentines Sale

***


She knew she'd have been better off listening to her mother's advice. Hello!!!!! - she would have been better served listening to her friends' advice! Yet, she never did seem to get over her fascination with, and attraction to, the "bad boys". You know the ones who never quite wiped all the challenge out of their gaze, or looked safe enough to take home to good ole mom. It was the mystery, the taste of danger- the unknown factor- they were all intoxicating to her and yet again, she found herself heading into the danger zone again.....when she was suddenly grabbed from behind, with a hand over her mouth. As she felt a satin mask yanked down over her eyes, she heard a voice she had heard somewhere roughly whisper in her ear, "You should watch how you use those eyes next time ...."

Looking for a slightly different type of Valentine's or romantic collection? Something a little darker? Or naughtier? Something large enough to hold your deepest fantasy? You'll want to taste this sultry, lush and decadent collection. Based on the vivid and passionate tones of deep crimson, topaz, and brown, with bittersweet touches of black- reminiscent of a heart burned by love, and touched by a gentle wash of cream, you'll find plenty inspiration in the papers and elements. You can scrap your own romantic tales- or perhaps journal some of your own personal journeys in life with this deep, somewhat dark and mysterious collection. You can use it masculine or feminine layouts- so many possibilities!


In "

Tragic Romance Page Kit

" by Microferk Designs, you get a whopping 22 beautifully blended, patterned and/or textured papers. You also get over 50 elements that include a bracket frame with gemstone embellishments, a golden eyelet, a fiery garnet brad set in gold, a wide piece of gold lace, deep crimson lace piece, red lace, 3 journal blocks with jewel embellishments, a lined glittery journal strip, small gold placard, and ornate journal block, a red satin, sequin-studded mask, a large feathered and sequined mask, a painted heart chained and locked, a satin ribbon lacing with and without eyelets and hand-made shadowing, a distressed tag on twine, a 4 up packaging frame, a diamond design glitter accent, a red feather, a film reel, a cascade of blood red and topaz droplets, a glitter accented chipboard heart frame, a deep red heart-shaped gemstone on a gold chain, 2 red roses, a deep red ribbon with and without shadows, a stamp accents, a ribbon-wrapped frame, a glittery harlequin pattern accent, 2 artistic heart overlays, a cascade of bling (shadowed and unshadowed), 2 gold frames, a gold curly ribbon (shadowed and unshadowed), a lit streetlight with hangers for a placard, and 6 red printed placards and one blank.
In "
Tragic Romance Page Kit
" by Microferk Designs you also get TWO alpha sets -a distressed script- that includes upper and lower case letters, numbers, and 5 extra characters! The other is a burnished gold with inlaid deep red glitter that included full upper and lower case letters, numbers and 7 extra characters! Each element is in its own file - no need to 'cut' apart. All elements and papers are created at 300ppi, with papers saved as high-resolution jpgs for stunning print clarity, and elements saved as png files to preserve transparency. Drop shadows are only applied in instances where layering of pieces within an element necessitate shadowing for realism.

Check out the "

Tragic Romance Collection

" for more coordinating design products by Studio Miki.


(Also available separately as

Tragic Romance Papers

,
Tragic Romance
Elements

,
Tragic Romance Paper Alphas

and
Tragic Romance
Alphas
by Microferk Designs)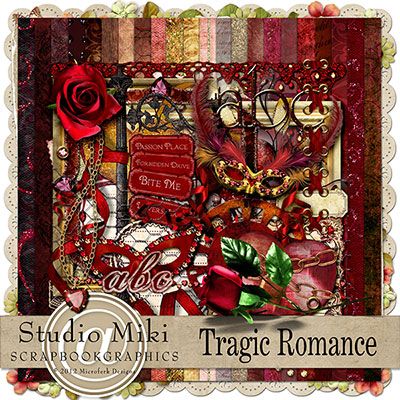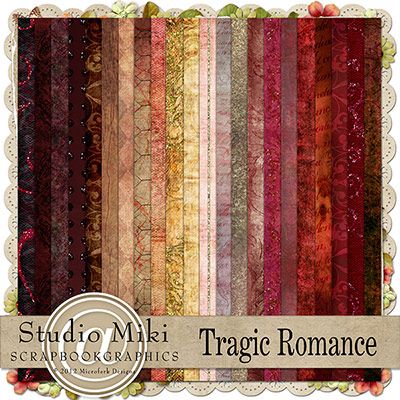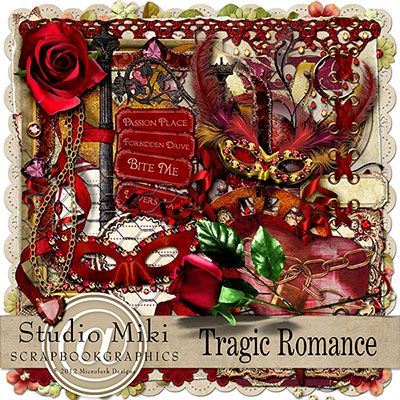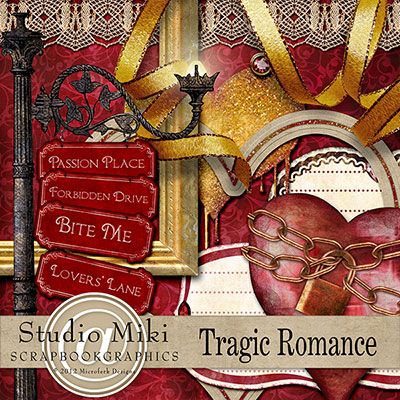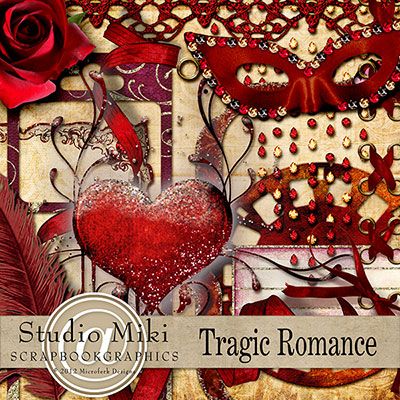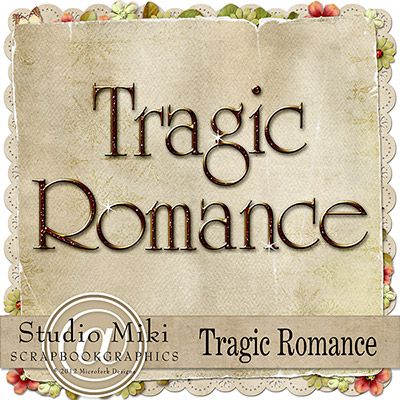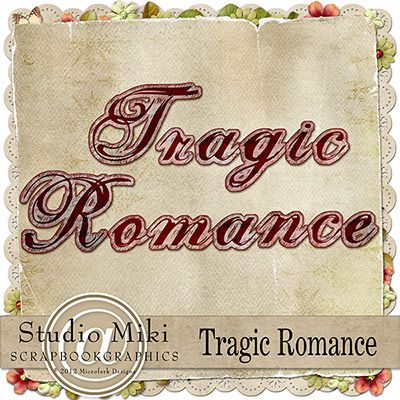 Layout: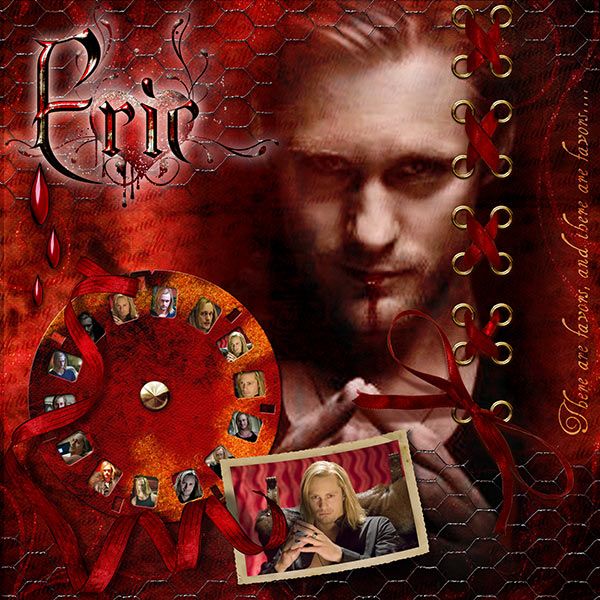 (Alpha from

Love-n-Bruises

, releasing 2/14/2012)