BRAND NEW! "Frolic" with Studio Miki~ special offer, intro sales pricing, + gift 4 limited time!
***

Limited introductory sales pricing

***



EARLY BIRD OFFER!


Act now and get the "Frolic Textured Plains" FREE with purchase of
Frolic Page Kit!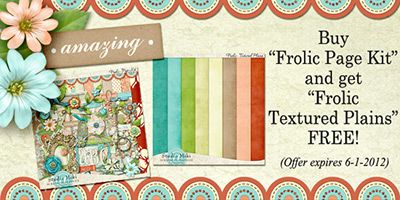 (Offer expires 6-1-2012)

"Frolic" is a playful, sweet and slightly shabby- yet entirely elegant - collection that is bound to provide you with hours of project and layout fun! Using a palette of soft green, aqua, peach to tangerine, ivory to the palest shade of yellow, and kraft brown, this collection is so versatile and timeless it will surely become a fast favorite!

In "
Frolic Page Kit
" by Microferk Designs, you get 12 beautifully blended, patterned and/or textured papers. You also get over 50 elements that include a blue acrylic and gem swirl, aqua bow and aqua curled ribbon, curly ivory ribbon/bow with gem accent, cream bow with gem center, 2 different buttons, 4 sets of unique stitching (with and without shadows), square aqua scalloped frame, ivory scalloped frame, 2 different packaging frames, worn wood frame, peach wood fame, round aqua distressed frame, fancy gold frame, dangling crystal point, small enamel petal frame, gold ball scatter (with and without shadows), 4 unique journal blocks (3"x4"), 3 large unique journal blocks (4"x6"), medium realistic leaf cluster, 2 paper leaf branches, paper branch with buds, rolled silk flower with gem accent, large silk flower with gem accent (2 variations), 3 small flowers (snow in summer), 3 small silk flowers and 5 paper flowers with gem centers, 2 tiny plastic roses (recolored), small painted tag on ribbon, medium kraft tag with knotted bow, jewelry tag, paper doily with gemstones, scalloped border, twine with flower accents, and 7 different word labels.
In
Frolic Page Kit
by Microferk Designs you also get an alpha set- a large chipboard and ivory paper set that includes upper case and lower case letters, numbers, and 7 extra characters! Each element is in its own file - no need to 'cut' apart. All elements and papers are created at 300ppi, with papers saved as high-resolution jpgs for stunning print clarity, and elements saved as png files to preserve transparency. Drop shadows are only applied in instances where layering of pieces within an element necessitate shadowing for realism.
Also included are 6 matching "
Frolic
" glitter styles for your customizing pleasure- as a Photoshop Style file and jpgs for use in other graphic programs.
(Included are xml files for use in Photoshop Elements 6 +)
Check out the "
Frolic Collection
" for more coordinating design products by Studio Miki.
(Also available separately in
Frolic Papers
,
Frolic Elements
,
Frolic Alphas
and
Frolic Glitter Styles
by Microferk Designs)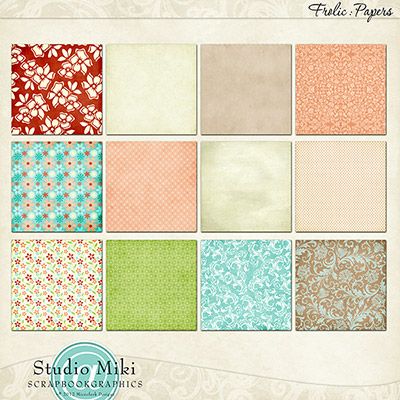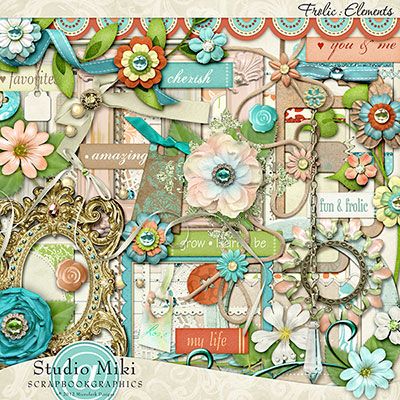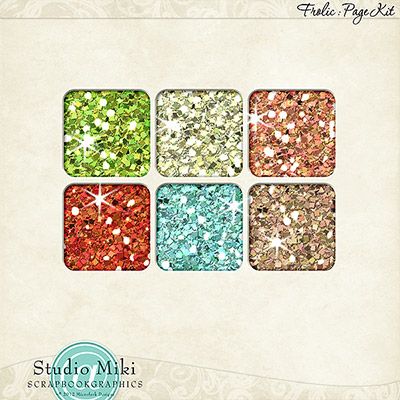 Are you looking for more options to show off your gorgeous photos in your layouts?
Look no further than these beautifully textured papers in "

Frolic

Textured Plains

"
by Microferk Designs. You get 8 slightly worn and lightly grunged plain papers with a delightful watercolor type texturing.
Designed at 300ppi for stunning print clarity, saved as high resolution jpgs.
Layouts:
by Miki:
Please accept this complimentary FREE GIFT Quick Page made with "Frolic"
by Miki Ferkul: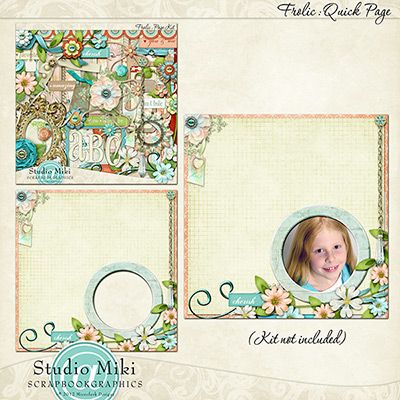 ***************************************************
Download Link:

https://rapidshare.com/files/4259479148/MFERK_FrolicQP.zip
***************************************************
(Expires on 6/5/2012)

Please be sure to pick yours up before expiration!
If you experience any errors
before
the expiration date - just drop me a comment, and I will be happy to re-upload fresh links until the expiration passes.