Step into the past with "Ancient Ways Samhain" by Studio Miki - the original Halloween! On sale 4 limited time!
***

Limited introductory sales pricing

***


The beginning of an amazing journey through the year, and the Wheel of Life!

As we step back in time, we look to the Ancient Ways of our ancestors who walked the earth and learned its seasonal rhythms.
According to the old ways, the year was marked by not only the solstices (the longest and shortest days) and the equinoxes (the 2 days each year where a perfect balance between day and night, dark and light was achieved); but by the "cross-quarter" days. Falling in between Mabon (Autumn Equinox) and Yule (Winter Solstice) is the cross-quarter holiday Samhain. Samhain, pronounced "sow en", which later gave rise to Halloween, or All Hallow's Eve, falls on October 31st and November 1st, and is considered the New Year, in the Wheel of the Year. Linguistically, Samhain is a corruption of the Irish/Celtic "Sainfuin", with "sain' meaning summer, and "fuin" which means ending- thus Samhain is "summer's end".
There are many aspects to this holiday. Samhain was the third in the trio of harvest festivals, with Lammas and Mabon being the first two. It was also the the New Year for the ancient folks. This celebration was also held in honor of the ancient sun god's death, thus becoming a day to reflect on death and our own eventual demise. It was the night when the veil between our physical world and the world of the spirits was thought to be the thinnest, and that we might actually make a connection with those lost loved ones during that time. It was for this reason that some customs arose: setting out a dinner place for those loved ones that had already passed, lighting a candle and leaving it in a window to help guide the spirits of ancestors and loved ones home, Celtic tradition always held that those who passed during the year had to wait until Samhain to pass to the other side. They often lit a fire and it burned continuously until the Spring Equinox (Ostara). They also lit bonfires at sunset in honor of their gods and goddesses and to guide home the souls of those passed. They placed lit candles inside of hollowed-out pumpkins or gourds to keep evil spirits away.
Samhain is a time of family and friends, an affirmation of friendship and family bonds. Traditional colors of Samhain are orange, black, brown, yellow and red (Sound familiar?). Symbols include pumpkins and jack-o-lanterns, brooms, masks, the cauldron, bats, black cats, spiders,apples, nuts, oak, leaves, marigolds, and gourds. The themes of Samhain are death and rebirth, reflections upon our lives, honoring those who have passed and the end of summer. It is a time of reflection., looking backward and wrapping up old projects and releasing their energies so that the new year can be faced anew and fresh.
Remember. Reflect. Release. Revolve. Renew. Rebirth.

In "Ancient Ways ~ Samhain" you will find the darker, more brooding shades of earthy brown and black, deep forest green, and in contrast the bright yellow of corn, the orange of pumpkins, and red of falling leaves. This kit is perfect for your autumn layouts, your Halloween scraps and your powerful journaling projects - you'll find yourself using it for a variety of layouts for years to come!


In "

Ancient Ways Samhain Page Kit

" by Microferk Designs, you get a huge selection of papers- 20 patterned, blended and/or textured papers you will use over and over again! Also included are over 40 elements: 3 brads with the following stones: tiger's eye (a protective stone against negative energy), carnelian (imparts acceptance of the cycle of life and death) and snowflake obsidian (a stone of purity & balance); as well as a witch's broom and hat, candles in the colors of orange and black, as string of stones to span your page, a cauldron, coaster with a woman/goddess/witch, 2 clusters of corn, a large flourish, an oval rope frame studded with stones, a swirled and distressed frame, 2 embellished fancy journal blocks and 3 lined journal shapes, a small journal strip, a set of 7 autumn leaves, a jewelry tag with and without string, a staple, a full moon (with a slight glow), an overlay with the various names for 'Samhain", a set of 5 distressed postcards - 4 featuring original photography and 1, the art work of John William Waterhouse (public domain), 2 large pumpkins, 2 metal symbols (a triskele and unicursal hexagram) and a set of 6 pieces of individually crafted pieces of word art with the words "remember", "reflect", "release", "revolve", "renew" and "rebirth".
In "
Ancient Ways Samhain Page Kit
" by Microferk Designs, you also get a full set of alphas, both upper and lower case letters, numbers and 7 extra characters, made in a burnished burlap and with the upper case letters and numbers embellished with autumn leaves. Each character is in its own file- no need to 'cut' apart. All elements and papers are created at 300ppi, with papers saved as high-resolution jpgs for stunning print clarity, and elements saved as png files to preserve transparency. Drop shadows are only applied in instances where layering of pieces within an element necessitate shadowing for realism.


(Also available separately as "

Ancient Ways Samhain Papers

",
"

Ancient Ways Samhain Elements

" and
"

Ancient Ways Samhain Alphas

" by Microferk Designs.)
Check out the "

Ancient Ways Collection

" for more coordinating products in this line by Studio Miki.
Papers: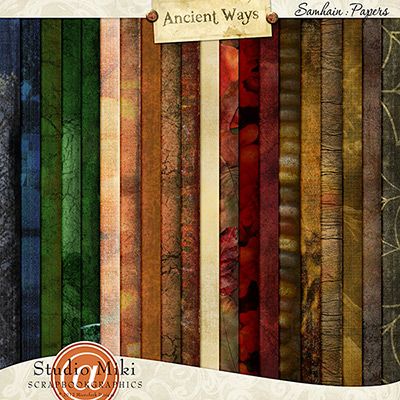 Another View of Papers: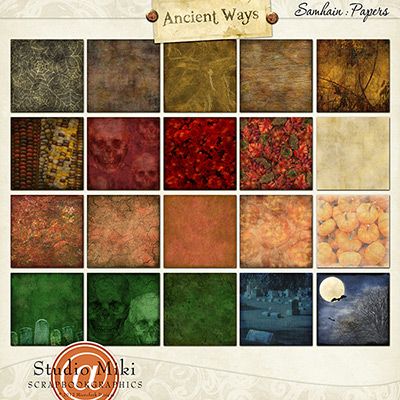 Elements: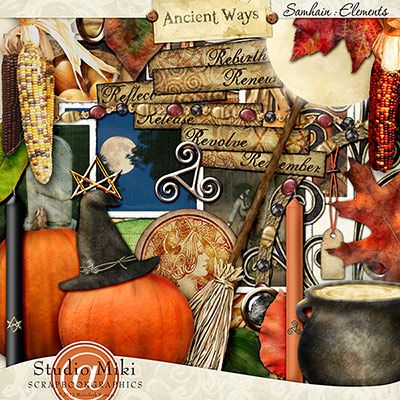 Closeup of Elements: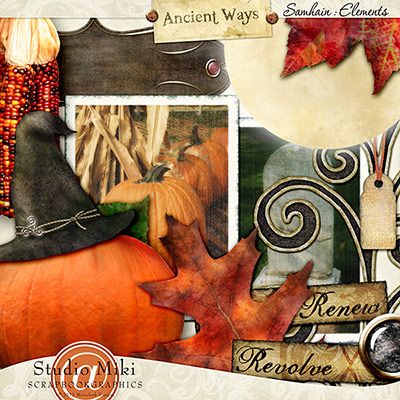 Alphas:
And don't forget to check out other products in the
"

Ancient Ways Collection

" by Microferk Designs: