Step into the past with "Ancient Ways Ostara" - the Spring Equinox celebration by Studio Miki! On sale 4 limited time!
***

Limited introductory sales pricing

***


The beginning of an amazing journey through the year, and the Wheel of Life!

As we step back in time, we look to the Ancient Ways of our ancestors who walked the earth and learned its seasonal rhythms.
In following the old ways, the year was marked by the solstices (the 2 longest and shortest days) and the equinoxes (the 2 days each year where a perfect balance between day and night, dark and light) was achieved. Third in the Ancient Ways Collection, "Ostara", named for the Saxon goddess Eostre, and also called the vernal, or spring, equinox harkens the rebirth of the earth and life within us. Eostre is also associated with Astarte, Ishtar, Demeter and Aphrodite. She is the goddess of desire. This day occurs between March 20th and 22nd each year, and marks the beginning of the agricultural season as well. The first seeds were planted and it was the time of the first birthing of the livestock: the lambs were born. Rich in tradition and symbolism, you will see the many signs of Ostara: eggs and lambs signifying new life and growth, rabbits which represent fertility and this time of creation, and the white lily - the symbol of promise between young men and women as they were traditionally betrothed at this time of the year. Another symbol of Ostara in Celtic lore was the equilateral cross, which symbolized both the equilibrium between dark and light on this day, but also the 4 phases of the moon. Ostar celebrates with new fire and is celebrated with festivals that emphsize balance and fertility.
The themes of Ostara are new life/rebirth, growth, harmony and balance and the beginning of new ideas and goals.

In "Ancient Ways ~ Ostara", you will find the lighter, yet still vibrant colors of light green, lavender, pink, robin egg blue, lemon yellow, silver and white.


In "

Ancient Ways Ostara Page Kit

" by Microferk Designs, you get a huge selection of papers- 20 patterned, blended and/or textured papers you will use over and over again! Also included are over 50 elements: a fancy blue frame, fancy orchid frame, yellow frame, light frame, a blue curly ribbon, a blue clustered bow, orchid bow with gem accent, orchid ribbon with gem accents, 3 pieces of foliage, 4 journal cards, 2 silky rolled flowers, 4 small flowers, a magnolia, a rabbit, a dotted wavy border in iridescent glass, hand-painted eggs, a pastel egg border, an ornate equilateral cross, a flowered and stitched fabric frame, an iridescent glass frame, studded with pearls, 3 beautifully hand-crafted journaling pieces, a jewelry tag with string, a long tag with painted flower blossoms, 3 fabric photo mattes, 2 iridescent photo turns, a set of 5 aged and worn photographic postcards, a semicircle embellished decorative or journaling piece, iridescent stick pin, and gorgeous painterly white lily adornment and 6 word labels.
In "
Ancient Ways Ostara Page Kit
" by Microferk Designs, you also get
a full set of alphas, both upper and lower case letters, numbers and 7 extra characters, all in a delicate, iridescent glass finish.
Each character is in its own file- no need to 'cut' apart. All elements and papers are created at 300ppi, with papers saved as high-resolution jpgs for stunning print clarity, and elements saved as png files to preserve transparency. Drop shadows are only applied in instances where layering of pieces within an element necessitate shadowing for realism.

(Also available separately as "

Ancient Ways Ostara Papers

",
"

Ancient Ways Ostara Elements

" and
"

Ancient Ways Ostara Alphas

" by Microferk Designs.)
Check out the
"

Ancient Ways Ostara Collection

" or the
"

Ancient Ways Collection

" for more coordinating products in this line by Studio Miki.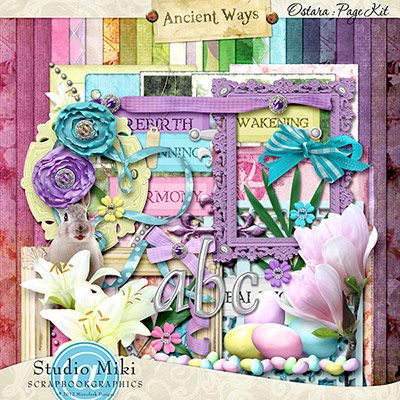 Papers:
Another View of Papers:
Elements: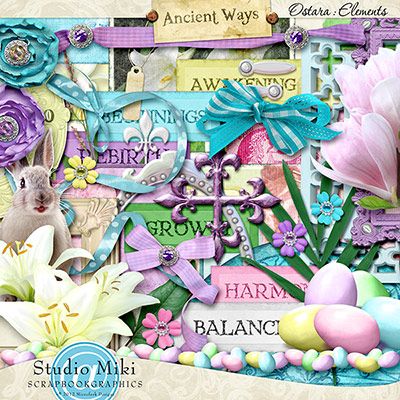 Closeup of Elements: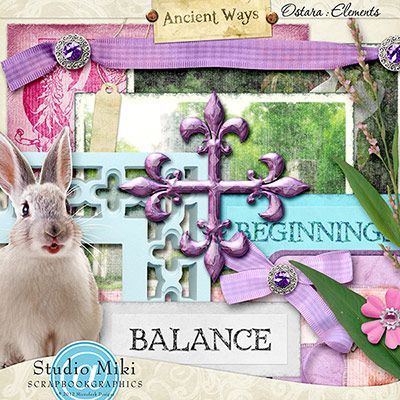 Alphas:
Layouts:

And don't forget to check out other products in the
"

Ancient Ways Collection

" by Microferk Designs: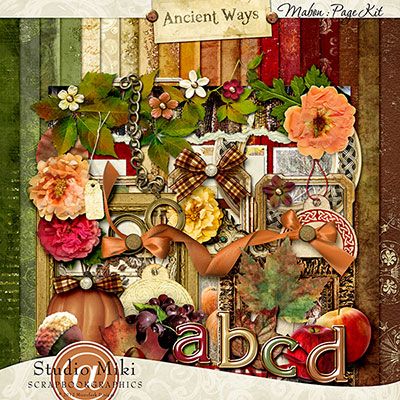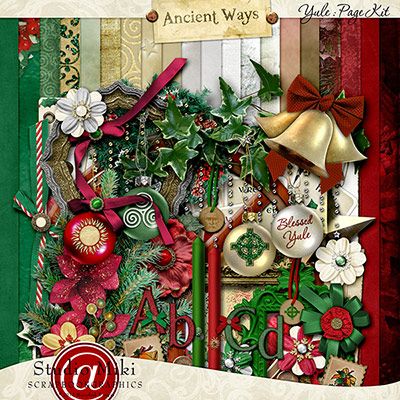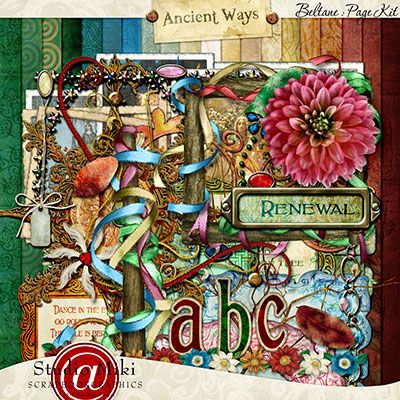 (Lammas- coming in July 2014)