NEW! "Expressions: Genesis" for your scrapping/journaling needs @Studio Miki- on SALE + FWP!
***

Limited introductory sales pricing

***

"What we call the beginning is often the end. And to make an end is to make a beginning. The end is where we start from."
T. S. Eliot


Genesis. The origin. The beginning. The root. The creation of something. Evolving, emerging, developing, and as a result: the ending of something else in your life. It is the time in which we let go of the old, and usher in the new, and is the point in which we are holding our new creation within and making ourselves ready for its expression in the world. Personal growth is rarely easy or without challenge. Like so many other aspects of life, there is the yin and yang, and in this case, beginnings and endings flow into and out of one another. In "Expressions: The Genesis Collection", the third collection in this exciting new line, I bring you an eclectic collection of pieces with which to document your trials and tribulations in life. I added two tarot cards as inspiration for the trip.

First, I give you "The Fool", which is is actually a card that holds out to you the full potential you can reach! It's a card of beginnings, and of an innocence and fresh outlook. You are renewing yourself, letting go of the ghosts of the past and ready to emerge and embrace all of the new rewards you have reaped. You are embarking on a new chapter, and with this is the surge of creative and positive energy: every day is a new adventure, to be seen, tasted and touched with new senses. In letting go, you've taken a leap of faith that what you have created is the best possible avenue for your growth. So take that step, and face your life with the awe, the wonder and the joy that only comes from creating anew!
Next, I give you the "Judgment", a card that calls for evaluating your path, and reflecting upon your journey- a good balance to the Fool. Judgment looks upon your experience and asks you to integrate it into the new chapter of your life, so that the lessons and wisdom you have gleaned are not lost. Judgment exists within this awakening you have experienced and lends understanding to the common themes you have been butting up against in your life. It pulls together all of the pieces of the puzzle, so that in this new journey, you are focused on the positive possibilities and gain readiness to move forward with not only joy, but prudence. You've integrated your lessons, accepted your short-comings, and your ready to move on in peace, absolved of the negativity that had been building up. It is the time of facing fears, forgiveness, embracing our selves in our
totality, and fresh starts.

In the "

Genesis Bundle

"
by Microferk Designs, you get all of the contents of the "

Genesis Page Kit

", which includes:
12 beautifully blended, patterned and/or textured papers. You also get 74 elements that include 3 different pieces of bling/gems, 2 baubles, 2 buttons, 3 hanging charms (a star, a sun and a word with gem accents), 2 butterflies, 4 different bows, 3 different ribbons, 4 pieces of stitching, a piece of lace, 7 pieces of foliage/greenery, 2 large flowers, 1 medium flowers, 9 small flowers, 2 small paper roses, 2 fresh flowers, 4 fancy frames, 2 vintage paper frames, 3 stamp frames (a single, a double and a triple), 2 medium tags, a jewelry tag, a metallic swirl, 2 tarot cards, a small worded banner, a sticker word, 2 worded round/oval tags, and 8 journal cards.
In "
Genesis Page Kit
" by Microferk Designs you also get a complete alpha set, in a lovely silvery glitter that includes upper case and lower case letters, numbers, and 7 extra characters!
Also included are 20 matching "

Genesis

" glitter styles for your customizing pleasure- as a Photoshop Style file and jpgs for use in other graphic programs. (Included are xml files for use in Photoshop Elements 6 +)
In the
"

Genesis Bundle

"
, you also get "

Genesis Metallic Alphas

", 6 complete alpha sets,in a lovely offbeat font, in berry, brass, kiwi, pink, robins egg and terracotta, that include upper case and lower case letters, numbers, and 7 extra characters!
Additionally, you get "

Genesis Textured Plains

" by Microferk Designs, and you get 12 slightly worn and lightly grunged plain papers with a delightful kraft-style texturing.
And, you get
"

Genesis Word Strips

" by Microferk Designs. You get a set of 36 unique word strips. You can add these to give your layout a special treatment.
Each element is in its own file - no need to 'cut' apart. All elements and papers are created at 300ppi, with papers saved as high-resolution jpgs for stunning print clarity, and elements saved as png files to preserve transparency. Drop shadows are only applied in instances where layering of pieces within an element necessitate shadowing for realism.

Save big when you purchase the
"

Genesis Bundle

"
by Microferk Designs -a regular $26.50 value if purchased separately! Over 50% savings!


Check out the "
Genesis Collection
" for more coordinating design products by Studio Miki.
(Also available separately as "
Genesis Papers
",
"

Genesis Textured Plains

",
"
Genesis Elements
", "
Genesis Alphas
",
"

Genesis Metallic Alphas

",
"

Genesis Word Strips

"
and "
Genesis Glitter Styles
" by Microferk Designs)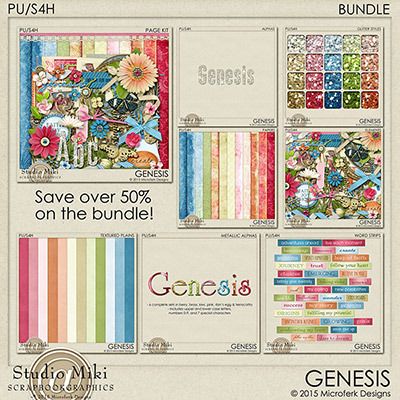 Includes the following:
Page Kit:

Papers:
Another view of Papers: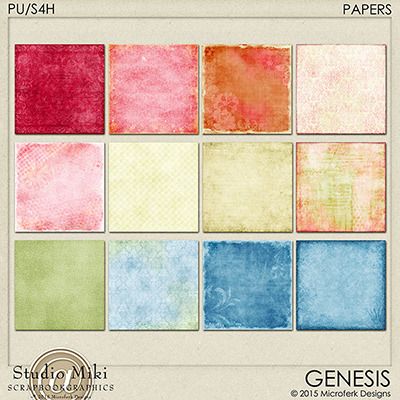 Elements: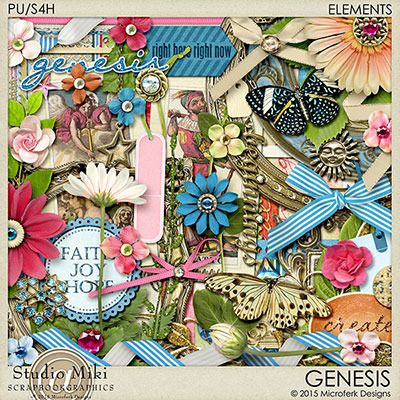 Closeup of Elements: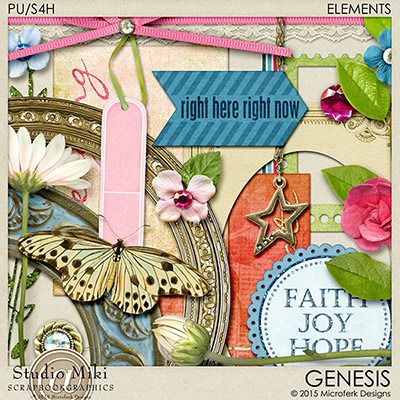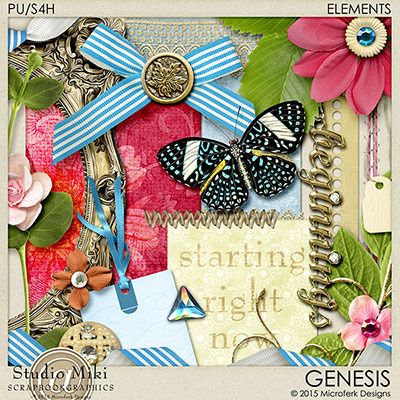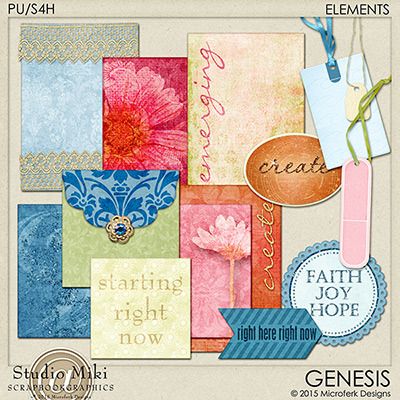 Alphas: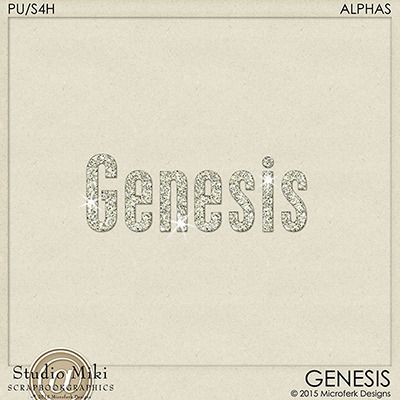 Glitter Styles: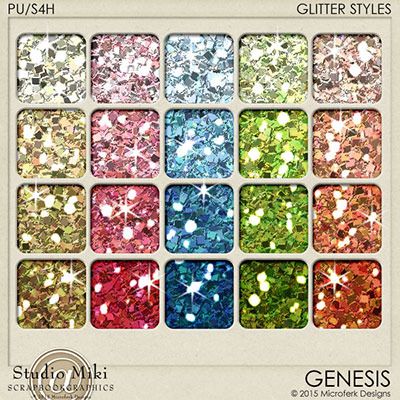 And here are wonderful add ons, all included in the BUNDLE, but not included in the PAGE KIT.
Genesis
Textured Plains:

Genesis
Metallic Alphas
:
Genesis
Word Strips:
Now available as printable sheets:

Layouts:
by Miki:
***

FREE WITH PURCHASE OF
"
Genesis Bundle"
OR
"

Genesis Page Kit

" by Microferk Designs***