NEw at SBG: Impressions of Transformation by the Studio Girls- Intro Pricing!
***

Limited introductory sales pricing

***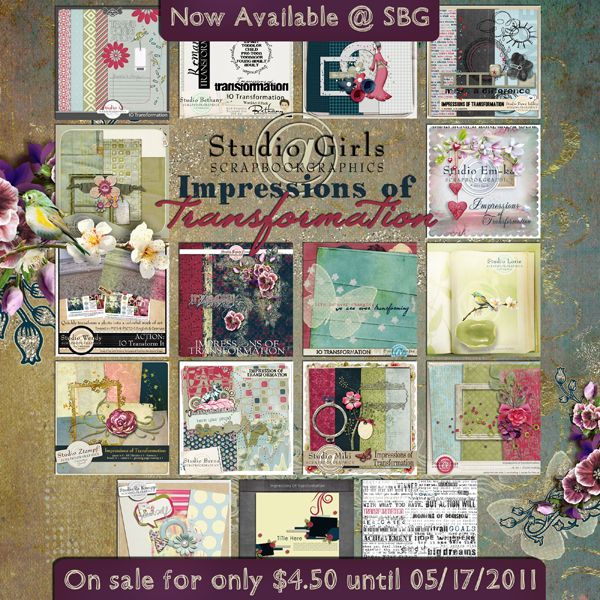 Impressions of Transformation @ Scrapbookgraphics
"You change your life...by changing your mind..." This month we were inspired with the idea of changing.
The transformation that comes from changing our minds and our thoughts.
Impressions of Transformation
With over 100 Elements & Word Art, 1 Action, 1 Template and 42 Gorgeous Papers it's sure to inspire you!
Participating Studios: Berna, Bethany, Buttercup, Charlize, Christina Renee, Dawn, Emka, Flergs, Lorie, Miki, Q, Re, Rosey Posey, Tangie, Vivarant, Ztampf,Wendy
On sale for 1/2 price (only $4.50) until May 17th, 2011.
PLEASE NOTE: This is the LAST collection in the Studio Girls' "Impressions of..." kits!
We're in the process of a transformation ourselves and can't wait to show you what comes next for the Studio Collective.
Check out some of the gorgeousness the Crew has made with it!