Are you "Insouciant" ? OWN it w/Studio Miki @SBG ~INTRO pricing
!***

Limited introductory sales pricing

***


Carefree...Buoyant...Happy-go-lucky....Can you think back to a time when you simply lived IN the moment? Happily, blindly and with no holding back? Capture that flavor with "Insouciant", an in-your-face creation by Studio Miki ~ Microferk Designs based on the bold and striking shades of wine, purple and blue- with gleaming silver for flash!
In "
Insouciant Page Kit
" by Microferk Designs, you get 12 beautifully blended, patterned and/or textured papers. You also get over 40 elements that include 5 metallic tinted frames with embedded gemstone accents, string of purple beads, string of silver beads, painted embellishment with gemstone accents, large fancy tag with ribbon tie, jewelry tag with string topper, paper ornament strip, paper floral ornament, gleaming silver bracket frame, pink bling frame, (with and without shadows), plum acrylic swoosh, blue curly ribbon, acrylic circles border, fancy silver frame, large silk flower, same flower with glitter accent (with and without shadow), purple curly ribbon and bow, 5 journaling cards, knotted ribbon, silver branch, silver leaf cluster, set of 3 teeny flowers, set of 10 small silk flowers, sparkly scatter (with and without shadows), silver string with bling, sloppy stitching (with and without shadow), masked and glittered accent with acrylic ornament and triple stamp frame.
You also get a gleaming and polished silver set of alphas, including all upper case letters, numbers, and 7 extra characters. They are so versatile, they'll quickly become a "go-to" set for you! Each element is in its own file - no need to 'cut' apart. All elements and papers are created at 300ppi, with papers saved as high-resolution jpgs for stunning print clarity, and elements saved as png files to preserve transparency. Drop shadows are only applied in instances where layering of pieces within an element necessitate shadowing for realism, unless otherwise noted in product description.
Also included are 15 matching "Insouciant" glitter styles for your customizing pleasure- as a Photoshop Style file and jpgs for use in other graphic programs.

(Also available separately as Insouciant Papers,
Insouciant Elements,
Insouciant Alphas

and
Insouciant Glitter Styles)
Insouciant
Collection by Studio Miki ~ Microferk Designs
Papers:
Another view of Papers:
Elements:
Closeup of Elements: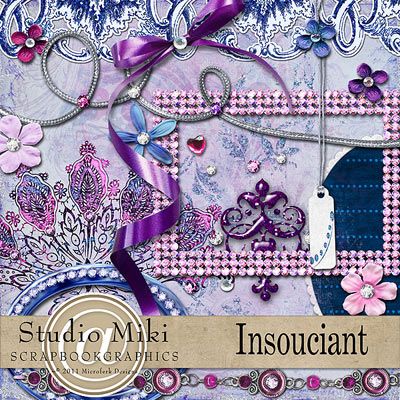 Alphas:
Glitter Styles:

Layouts:
by Miki:

by Kabra: