"Carefree" with Studio Miki @SBG- ***LIMITED INTRO SALES PRICING***
***

Limited introductory sales pricing

***

What gives you that carefree, happy-go-lucky feeling? Is it the first warm sunny day of spring? Spending time with someone you love? Hearing an old favorite song on the radio? Whatever it is, I'm sure you'll find that these warm, cheerful tones of yellow, green, orange and gold add that certain something to your layouts when you are trying to express your joie de livre!



In "
Carefree Page Kit
" by Microferk Designs, you get 12 beautifully blended, patterned and/or textured papers.
You also get over 40 elements that include 2 acrylic funky frames with gemstone accents, 2 ribbon knots with bauble centers, string of beads, beads on a string, butterfly, cream curly ribbon with bow, twill ribbon with gold accents, twill ribbon with gltter accents, double stamp frame, foliage, foliage with flowers (with and without shadows), glittery leaves with bling accents, small cluster of sparkly leaves, knotted bow with bauble accent, curly green ribbon, jewelry tag with bow topper, 6 journal cards, 4 med-large silk flowers with gem centers, 6 small silk flowers with gem centers, leaf/flower accent, string of pennants, 2 chipboard and studded frames, triple stamp frame, and 4 word signs.
You also get an aqua set of chipboard alphas, including all upper case letters, numbers, and 7 extra characters. They are so versatile, they'll quickly become a "go-to" set for you!
Each element is in its own file - no need to 'cut' apart. All elements are created at 300ppi and saved as png files to preserve transparency. Drop shadows are only applied in instances where layering of pieces within an element necessitate shadowing for realism, unless otherwise noted in product description.
Also included are 12 matching "
Carefree
" glitter styles for your customizing pleasure- as a Photoshop Style file and jpgs for use in other graphic programs.

(Also available separately as

Carefree

Papers,

Carefree Elements

,
Carefree
Alphas

, and
Carefree
Glitter Styles by Microferk Designs)
"

Carefree Collection

"
by Microferk Designs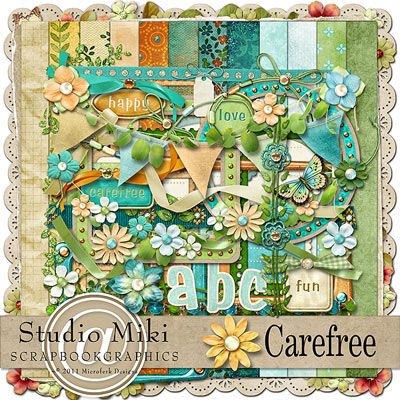 Papers:
Another view of Papers: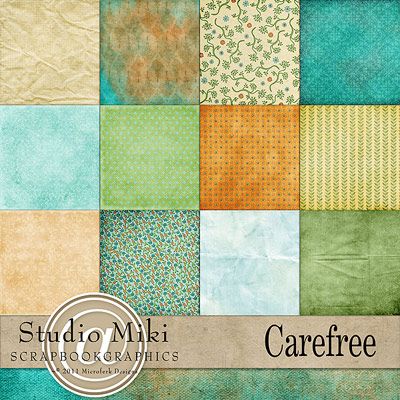 Elements: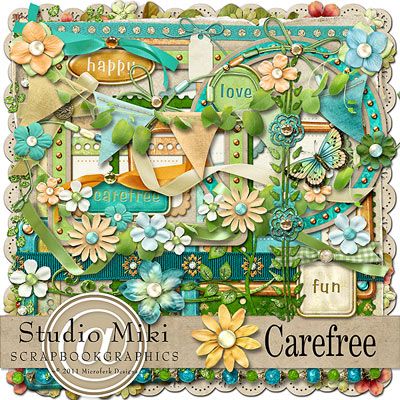 Closeup of Elements:
Alphas: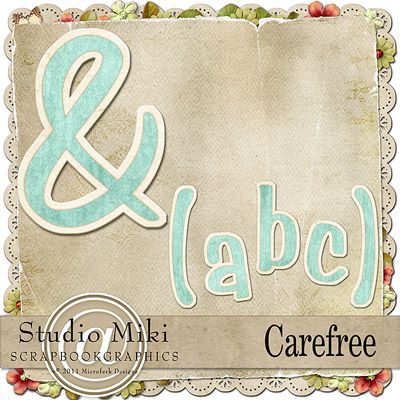 Glitter Styles: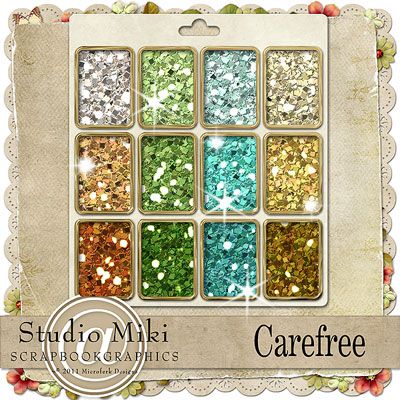 Layouts:

by Miki: