"The Graduate Collection" @ Studio Miki~SBG ~on SALE!
***

Limited introductory sales pricing

***


Do you have a graduate in your family? Or do you need to scrap your own graduation memories?
"The Graduate" by Microferk Designs is THE ultimate, the QUINTESSENTIAL, the complete, overflowing graduation kit! It is filled up with so many goodies that can be used for so many other types of layouts aside from graduations, that this kit will quickly make its way into your "Most Used" folders! Use it to make invitations, diplomas, place cards, thank you notes- and of course your layouts! Use it for high school. college, middle school, kindergarten, and elementary school celebrations!
"The Graduate" by Microferk Designs uses a gold or silver and black and ivory color palette- so that you can choose which metal works best with your layouts!

In "

The Graduate Page Kit

" you get 18 gorgeous papers (9 gold based, 9 silver based) and well over 30 beautifully crafted elements. Elements include a graduation cap and tassle, a diploma in both gold and silver parchment, an announcement in both gold and silver parchment, note cards/journal blocks in both gold and silver parchment, all with embossed foil inset borders, a rolled diploma tied with ribbon, 2 leather frames with foil stamps, a set of black photo corners with gold stamps, a set of tassels in 14 colors (red, gold, yellow, black, silver, brown, green, light green, blue, light blue, maroon, purple, orange, and pink); a confetti-type overlay, a negative strip, a set of 4 gold foil stamps, a set of 3 silver foil stamps, a piece of slightly wrinkled notebook paper, a senior year timeline and red marker circle, a silver and a gold glittered paper clips, a staple and backward staple in both shadowed and unshadowed versions, 3 large glittered decorative stars, a complete set of silver and a complete set of gold "Class of..." charms in years 1990 - 2019, a complete set of foil embossed "Class of...." in years 1990 through 2019 to use on the papers, diplomas, announcements, name cards, etc.; and a file label with 60 paper insets that include sports, clubs, honors etc.......
Also included is not ONE, not TWO, or even THREE, but FOUR complete sets of alphas (upper and lower case letters, numbers and 7 extra characters)! They are made of onyx rimmed in both silver and in gold, and ivory rimmed in both silver and in gold.
And you also get a set of 6 pieces of word art, all relevant quotes with your graduate in mind!
Each element and alpha character is in its own file- no need to 'cut' apart. All elements and papers are created at 300ppi, with papers saved as high-resolution jpgs for stunning print clarity, and elements saved as png files to preserve transparency. Drop shadows are only applied in instances where layering of pieces within an element necessitate shadowing for realism, unless otherwise noted in product description.
Check out the "

The Graduate Collection

" for more coordinating design products by Studio Miki.
Also available separately as

The Graduate Papers

,

The Graduate Elements

,

The Graduate Alphas

and

The Graduate Word Art

by Microferk Designs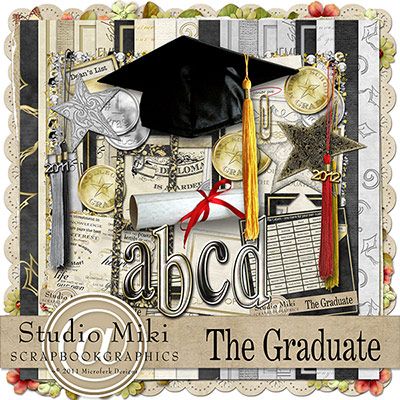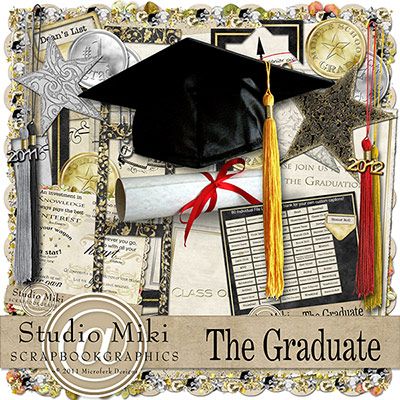 (included in The Graduate Elements AND The Graduate Page Kit):
In "The Graduate Gold Brag Book" and "

The Graduate Silver Brag Book

" by Microferk Designs, you get a collection of 12 4"x6" brag-book sized, quick pages, plus a title page and end page for notes or autographs- giving you 14 pages in all! Just slide your photos behind these richly designed creations and you'll have a small album of graduation memories! All -pages created at 300ppi for outstanding print quality and saved a pngs to provide your transparent windows for your pics.