"Midsummer Dream" by Studio Miki@SBG- savings!
***

Limited introductory sales pricing

***

The eye of man hath not heard, the ear of man hath not seen, man's hand is not able to taste, his tongue to conceive, nor his heart to report, what my dream was.
William Shakespeare ~ "A Midsummer Night's Dream"

Evoke the drama and mystery that was Shakespeare's Midsummer Night's Dream with this kit, designed with a palette of deep nocturnal blues to cerulean, emerald greens to deep teal, lavenders to deep mysterious purples, and dash of moon beams sprinkled lightly over all!
In "
Midsummer Dream Page Kit
" by Microferk Designs, you get 12 beautifully blended, patterned and/or textured papers. You also get over 40 elements that include an acrylic sparkly swirl (shadowed and unshadowed), an adornment (shadowed and unshadowed), 3 art pieces, emerald bauble, bling swirl (shadowed and unshadowed), 2 butterflies, paper crown, double stamp frame, 2 fancy gold frames, oval ornate frame on ribbon, quad packaging frame, slide frame, long branch of foliage, 2 painted foliage pieces, gold cord bow, string with heart charm, golden teardrop accent, gold and rhinestone ornament, 2 separate leaves, 6 individualy made journal blocks, 3 large fresh flowers, set of 8 small silk flowers, ribbon with 3 bows, scatter (shadowed and unshadowed), and a small jewelry tag with and without bow topper.
You also get a dark and gleaming set of alphas that hold all the nighttime colors with a glistening sparkle on top, including all upper case letters, numbers, and 7 extra characters. They are so versatile, they'll quickly become a "go-to" set for you! Each element is in its own file - no need to 'cut' apart. All elements and papers are created at 300ppi, with papers saved as high-resolution jpgs for stunning print clarity, and elements saved as png files to preserve transparency. Drop shadows are only applied in instances where layering of pieces within an element necessitate shadowing for realism, unless otherwise noted in product description.
Also included are 10 matching "
Midsummer Dream
" glitter styles for your customizing pleasure- as a Photoshop Style file and jpgs for use in other graphic programs.
Check out the "
Midsummer Dream Collection
" for more coordinating design products by Studio Miki.
(Also available separately as
Midsummer Dream Papers
,
Midsummer Dream Elements
,
Midsummer Dream Alphas
and
Midsummer Dream Glitter Styles
by Microferk Designs)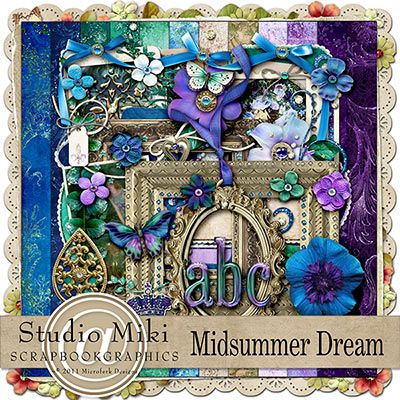 Papers:
Another view of Papers: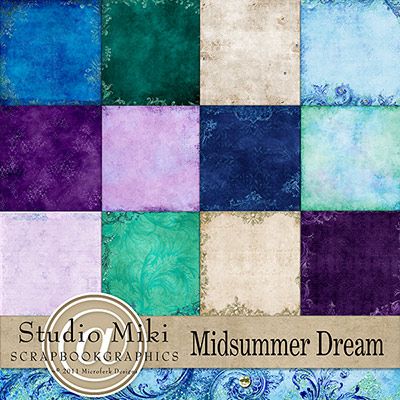 Elements: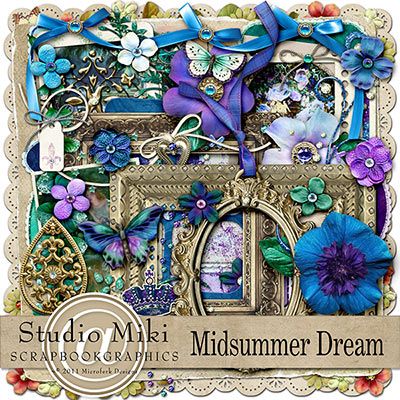 Closeup of Elements: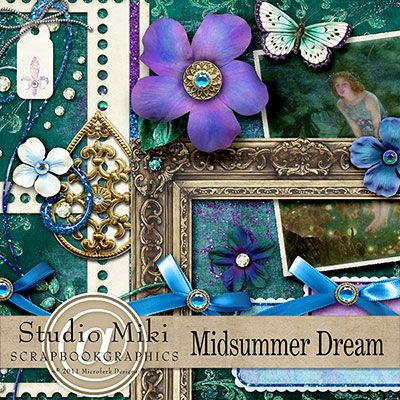 Alphas: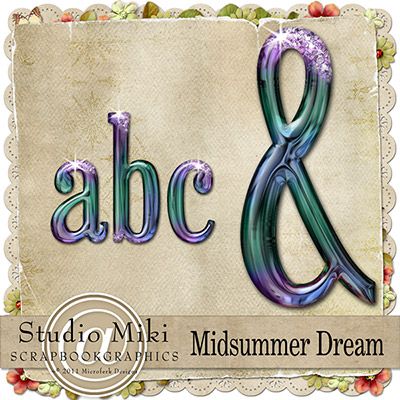 Glitter Styles: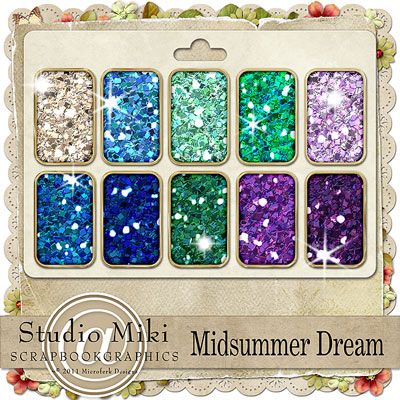 Layouts:
by Miki: