It's Glitter PALOOZA! CU Glitter Styles by Studio Miki - Intro Sales Prices for a limited time!~
***

Limited introductory sales pricing

***
Here's the ultimate in glitter styles~ 40 whopping shades ranging from light silver to black ~ and everything in between! In "

Glitter Styles ~ Basic

" there are primary colors, deep tones, pastels and some delicate multi-colors~ Use them on your elements ~ fill them, paint them, stroke them- you name it! Have fun with glitter and sparkle up those pages!
Included is the Layer Style for Photoshop and PSE products, and 40 individual jpgs that can be used in Paint Shop Pro and other programs.
This set is for

Personal, Scrap-4-Others and Commercial Use

.

No credit required

.
See Terms of Use for further details.

(Warning: Styles zip file is 275 MB. Sheets zip file is 95 MB)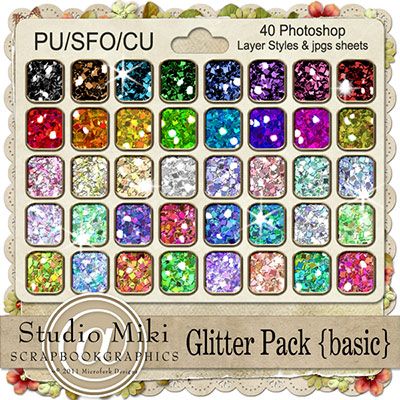 Have you found regular sized glitter styles don't always work well on your smaller elements- or more thin edges? If so, "

Glitter Styles Small Fleck

" by Microferk Designs are PERFECT for your needs!
Here's the ultimate in glitter styles~ 40 whopping shades ranging from light silver to black ~ and everything in between!
There are primary colors, deep tones, pastels and some delicate multi-colors~ Use them on your elements ~ fill them, paint them, stroke them- you name it! Have fun with glitter and sparkle up those pages!
Included is the Layer Style for Photoshop and PSE products, and 40 individual jpgs that can be used in Paint Shop Pro and other programs.
This set is for

Personal, Scrap-4-Others and Commercial Use

.

No credit required

.
See Terms of Use for further details.


(Warning: Styles zip file is 325 MB. Sheets zip file is 150 MB)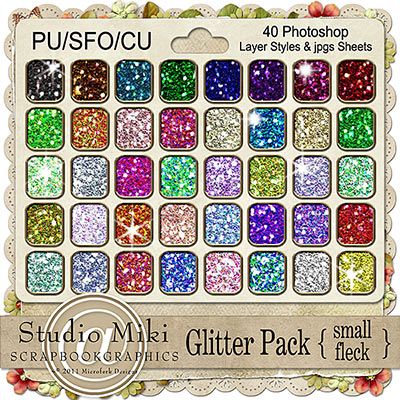 Here's the best holiday accessory you can have~ a whopping 36 "

Glitter Styles Holidays

" by Microferk Designs in shades ranging from stocking red, evergreen, golden, ivory, silver bell, yule log, shimmery silver, light cloud blue, midnight blue, angel wing lavender, royal, sky blue, cotton candy pink, sugarplum, mint, mistletoe, toy soldier blue, gingerbread, camel gold, halo, royal purple, cream, sea green, poseidon, beige, burgundy, gold, hunter green, rose, celery, antique gold, ecru, maroon, stormy sky, tannenbaum, and walnut! Get this for all of your holiday scrapping needs ~ dressing up edges of papers or elements- or filling flourishes and baubles- your imagination is the limit!
Included is the Layer Style for Photoshop and PSE products, and 6 individual jpgs that can be used in Paint Shop Pro and other programs.
This set is for
Personal, Scrap-4-Others and Commercial Use

.

No credit required

.
See Terms of Use for further details.
(Broken into 7 zip files. Max size 66 MB)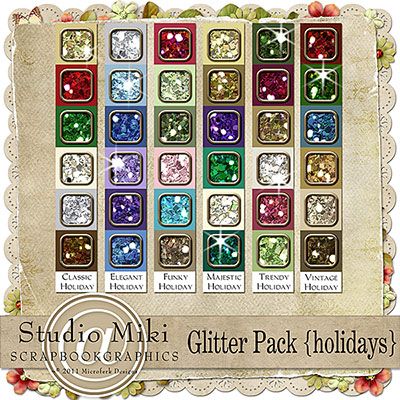 (Complimentary Color Swatches included!)


Contains these packs: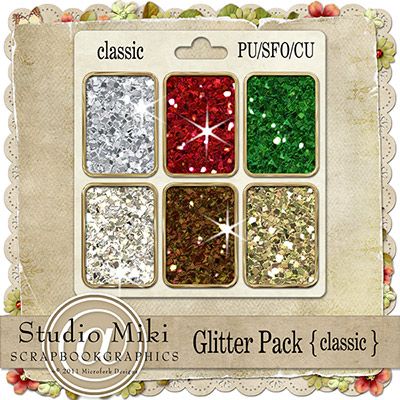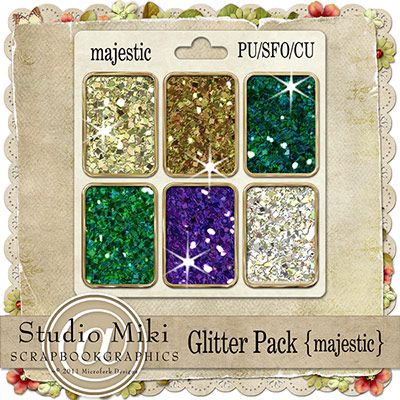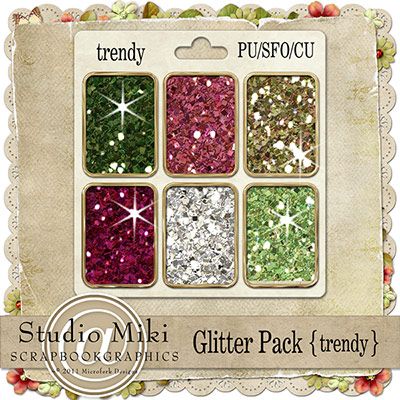 http://tinyurl.com/StudioMiki-GlitterStylesCU