NEW: "Catalina Collection" hitting Studio Miki's shelves- INTRO SALES pricing!
***

Limited introductory sales pricing

***

"She was the apple of her parents eye- petite, beautiful, intelligent and inquisitive- but Catalina wondered if they ever felt the strange and exotic rhythms that pounded in her veins with every beat of her heart. Sometimes she wanted to defy the expectations put before her- and forge her own path, dance in the moonlight til she dropped, swim in the ocean until she collapsed in the sand, and drink the last drop of rich red wine from the bottle. She heard a snap and turned with small smile on her face- she knew who had followed her out into the garden- and she met his stare with a dare of her own."

Something fresh, something jazzy, something funky and in your face- something you can use for all seasons! Catalina is such a versatile collection that lends itself to almost any scrapping or crafting need. Based on a palette that mixes island blues, nature's greens and autumn's wines and browns, you won't find yourself limited with "Catalina" by Microferk Designs.
In "
Catalina Page Kit
" by Microferk Designs, you get 12 beautifully blended, patterned and/or textured papers. You also get over 35 elements that include a rhinestone round frame, small distressed brown fancy tag with string topper, butterfly, double stamp frame with floral embellishment, ornate blue frame, oval fancy frame, small gold tone frame, metallic ornament, 2 branches of foliage and a leaf, 6 different chrysanthemums, 3 small silk flowers, rhinestone heart, rhinestone heart on string, small jewelry tag, 3 beautiful journal blocks, 3 mini tags with gold string toppers, gold and acrylic heart hung from bow, keyhole, sparkly leaf scatter (with and without shadows), round leafy frame, sparkly masked accent, pennant (with and without word "happy"), pink flower (with and without cast shadow), wine ribbon and bow, wine string with bling, staples (with and without shadows), stitching (with and without shadows), and sparkly floral swirl (with and without shadows).
In "
Catalina
" by Microferk Designs you also get a gorgeous alpha set - each made of a gleaming soft brown metallic in upper and lower case characters, numbers and 7 extra characters! Each element is in its own file - no need to 'cut' apart. All elements and papers are created at 300ppi, with papers saved as high-resolution jpgs or pngs for stunning print clarity, and elements saved as png files to preserve transparency. Drop shadows are only applied in instances where layering of pieces within an element necessitate shadowing for realism.
Also included are 6 matching "
Catalina
" glitter styles for your customizing pleasure- as a Photoshop Style file and jpgs for use in other graphic programs.
Check out the "
Catalina Collection
" for more coordinating design products by Studio Miki.
(Also available separately in
Catalina Papers
,
Catalina Elements
,
Catalina Alphas
and
Catalina Glitter Styles
by Microferk Designs)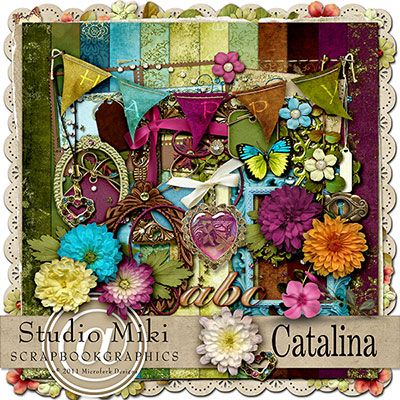 Papers:
Another view of Papers:
Elements: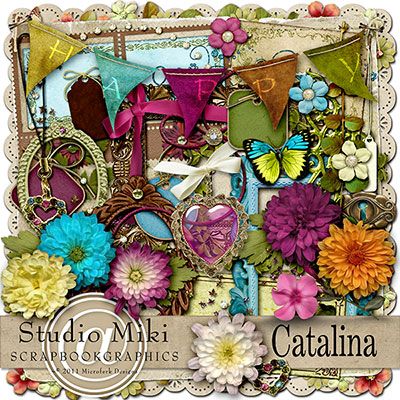 Closeup of Elements: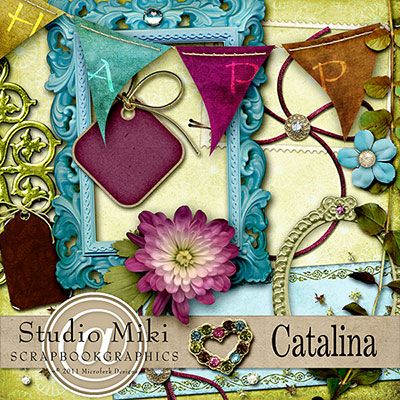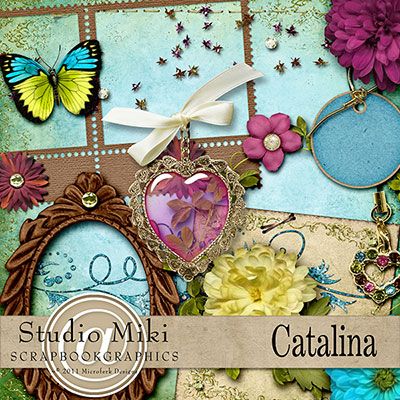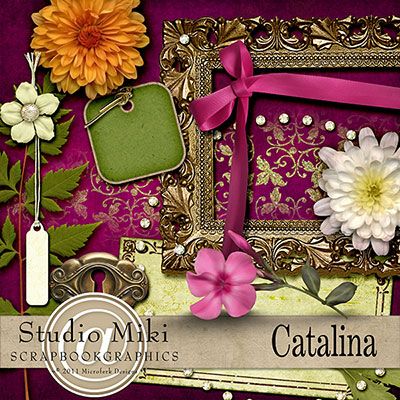 Alphas:
Glitter Styles: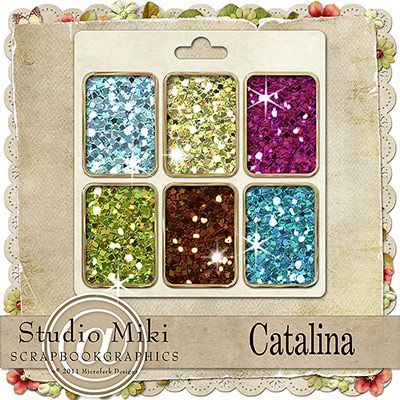 Layout:
by Miki: