Brand new "Old Ivy" by Studio Miki at Intro Sales Pricing
***

Limited introductory sales pricing

***

Gold was one of the first Christmas gifts, along with myrrh and frankincense, presented to the Baby Jesus by the 3 Wise Men. Accordingly, gold has remained a classic color and trim for the holiday season ever since! And you'll get no more gold than you can handle in "Old Ivy" by Microferk Designs- from a pale champagne to gleaming gold to a coppery tinted gold, this collection can be used for far more than the holiday season. Use it for golden anniversaries, births, weddings and engagements too.


In "
Old Ivy
" by Microferk Designs, you get 12 beautifully blended, patterned and/or textured papers. You also get over 50 UNIQUE elements that include a curly ribbon (in 3 shades all pre-shadowed and unshadowed), twill bow (re-colored in 2 shades), gemstone bauble, red and gold berry cluster, copper berry cluster, glittery gold berry cluster, set of 3 fabric holly leaves, ivy cluster, paper Christmas tree, ivory bow with gemstone center, gold satin bow with gemstone center, 3 flat ribbons (grosgrain and twill) with words, set of 6 Christmas/holiday labels, set of 7 glitter and chipboard holiday word arts, red curly ribbon with gemstone anchors, fancy tag (with and without bow topper), jewelry tag (with and without string bow topper), paper and glitter white dove, golden ball ornament, glitter stitching with buttons (both shadowed and unshadowed), red cross stitch (both shadowed and unshadowed), short ivory stitching piece (both shadowed and unshadowed), line of gold accents, gold twig (small), 4 journaling cards, golden key on a ribbon, knotted bows with bauble center, lamp post embellished with Christmas ornaments, crystal snowflake ornament, 2 pine cones with red glitter and one pine cone with gold paint and glitter, small gold frame on chain, round frame (in two variations), small square green frame (3 variations: plain, hung from chain, and hung from chain with a bow), 7 small silk flower with gemstone centers (one re-colored to make 8), silk leaf to lace behind flowers, metallic swoosh, triple hung gold frame, old vintage paper frame embellished (with and without shadows), and a stick and berry wreath tied with a gorgeous silk bow (can be used as is, or as a frame).
In "
Old Ivy
" by Microferk Designs you also get an alpha set- a slightly worn and antiqued gold-tone set that includes upper case and lower case letters, numbers, and 7 extra characters! Each element is in its own file - no need to 'cut' apart. All elements and papers are created at 300ppi, with papers saved as high-resolution jpgs for stunning print clarity, and elements saved as png files to preserve transparency. Drop shadows are only applied in instances where layering of pieces within an element necessitate shadowing for realism.
Also included are 10 matching "
Old Ivy
" glitter styles for your customizing pleasure- as a Photoshop Style file and jpgs for use in other graphic programs.
Check out the "
Old Ivy Collection
" for more coordinating design products by Studio Miki.
(Also available separately as "
Old Ivy Papers
", "
Old Ivy Elements
", "
Old Ivy Alphas
" and "
Old Ivy Glitter Styles
" by Microferk Designs)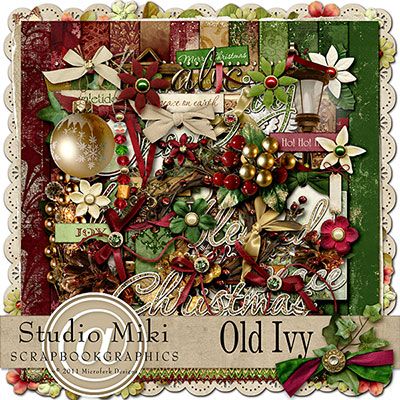 Papers: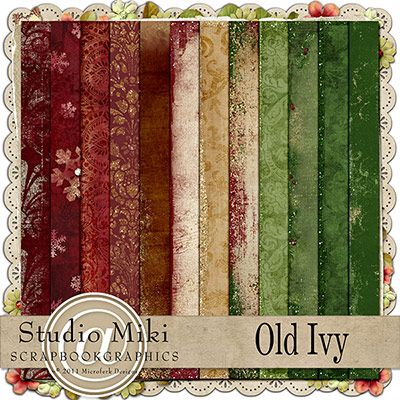 Another view of Papers: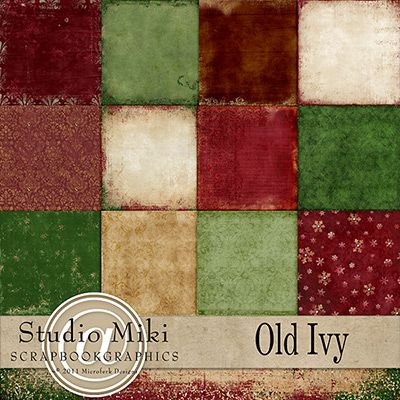 Elements: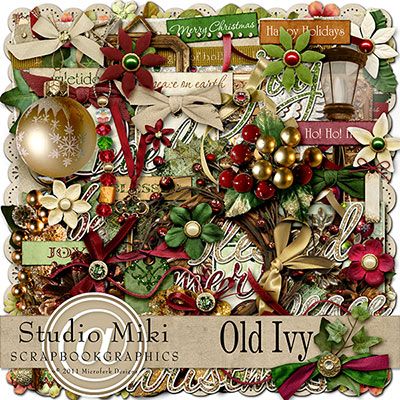 Closeup of Elements: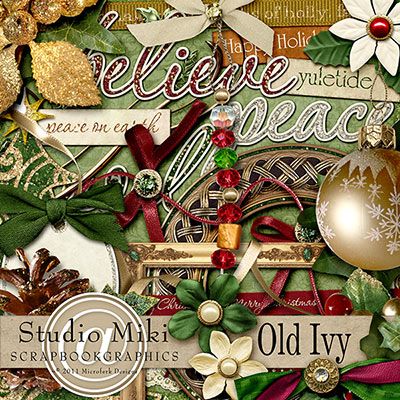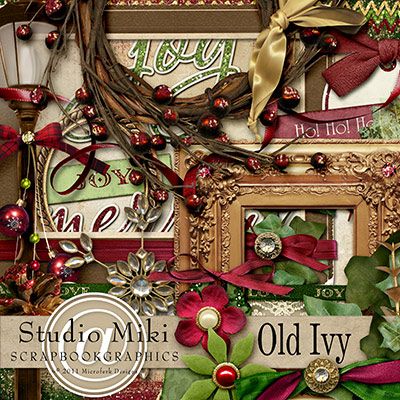 Alphas:
Glitter Styles:
Layouts:


by Miki: