Sip on a cool refreshing "Mojito" by Studio Miki @ SBG- Intro SALES pricing + gift!Q
***

Limited introductory sales pricing

***
Cool and refreshing, like the drink after which it was named, "Mojito" was created in the clean sophisticated palette of lime, teal, aqua, yellow and black.
In "

Mojito Page Kit

" by Microferk Designs, you get 12 beautifully blended, patterned and/or textured papers. You also get over 30 elements that include a drink napkin (plain and emblazoned with "Mojito"), a double packaging frame, postage stamp single frame, 2 acrylic and bling frames, a silver wire frame with beads, a vintage frame wrapped with a ribbon, 2 large acrylic swirls, a ball chain and 4 rim tags (also clustered together), a bling border, office supply clip, cord with ribbon ties, a mojito drink, leaf, 2 different lime slices, a set of three fabric flowers with glittery acrylic centers, 6 individual journal blocks, acrylic brackets, curly ribbon (with and without shadow), long ribbon with bling accents, small tag, small tag on ribbon, and a staple (with and without shadow).
In
"

Mojito Page Kit

"
by Microferk Designs you also get an adorable alpha set - each made of glass/acrylic, half full of mojitos- and each upper case character has its own straw! You also get the lower case characters, numbers and 7 extra characters (without the straws)! Each element is in its own file - no need to 'cut' apart. All elements and papers are created at 300ppi, with papers saved as high-resolution jpgs or pngs for stunning print clarity, and elements saved as png files to preserve transparency. Drop shadows are only applied in instances where layering of pieces within an element necessitate shadowing for realism.
Also included are 6 matching "

Mojito

" glitter styles for your customizing pleasure- as a Photoshop Style file and jpgs for use in other graphic programs. (Included are xml files for use in Photoshop Elements 6 +)
(Also available separately as

Mojito Papers

,

Mojito Elements

,

Mojito Alphas

and

Mojito Glitter Styles

)
Check out the "Mojito Collection" for more coordinating design products by Studio Miki.
Please accept this complimentary FREE GIFT Quick Pages made with "
Mojito
":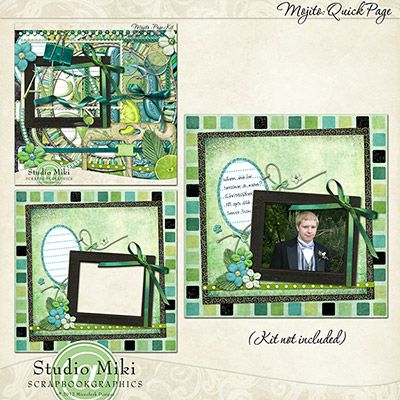 ***************************************************

Download Links:
https://rapidshare.com/files/4153299057/MFERK_MojitoQP.zip
***************************************************
(Expires on 6/15/2012)

Please be sure to pick yours up before expiration!
If you experience any errors
before
the expiration date - just drop me a comment, and I will be happy to re-upload fresh links until the expiration passes.