Let there be "Peace on Earth"- a holiday kit for Christmas & Hannukah~ on SALE!
***LIMITED INTRO SALES PRICING***


Want a classic, yet unique collection for the holiday season? Want something that has little of this and that for your cards, projects and layouts? "Peace on Earth" by Microferk Designs is a beautiful, elegant collection- combining a winter wonderland palette of hues with a few icons from both Christian and Judaic beliefs. Based on the peaceful and inspiring blues, whites, greys and purples of a twilight snow storm, you'll find this kit versatile enough to reach for again and again for almost any kind of layout at all!


In the
"

Peace on Earth Page Kit

"
by Microferk Designs, you get 20 beautifully blended, patterned and/or textured papers. You also get over 16 artistically detailed papers- all textured and/or patterned individually, as well as over 30 beautifully crafted elements. These include: a large silver beaded frame, a large silver beaded snowflake, a silver bookplate and 4 journal strips you may tuck inside it or use separately, a set of 4 silver jewelled brads, a holly piece, 3 large journal blocks, a jewelry tag with and without the string topper, round tag with and without the topper, 3 large decorative stylized snowflakes with jewel centers, 3 vintage frames, a velvet ribbon page wrap, a wide sheer ribbon wrap, a photocluster already embellished for you, a large metallic star, a large silver Star of David. and 4 pieces of word art ("Merry Christmas", "Happy Hanukkah", "Season's Greetings" and "Peace on Earth".

In the
"

Peace on Earth Page Kit

"
by Microferk Designs,
you also get a complete alpha set- containing both upper and lower case letters, numbers and 7 extra characters, created in burnished silver with blue pearlized inlaid accents. Each element is in its own file - no need to 'cut' apart. All elements and papers are created at 300ppi, with papers saved as high-resolution jpgs for stunning print clarity, and elements saved as png files to preserve transparency. Drop shadows are only applied in instances where layering of pieces within an element necessitate shadowing for realism, unless otherwise noted in product description

Check out the "
Peace on Earth Collection
" for more coordinating design products by Studio Miki.
(Also available separately as "
Peace on Earth Papers
", "
Peace on Earth Elements
", and "
Peace on Earth Alphas
" by Microferk Designs)
http://tinyurl.com/StudioMiki-PeaceonEarth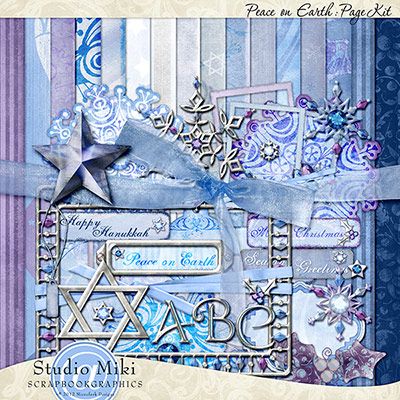 Papers:
Another view of Papers: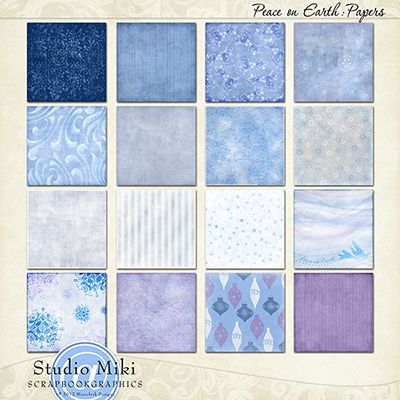 Elements: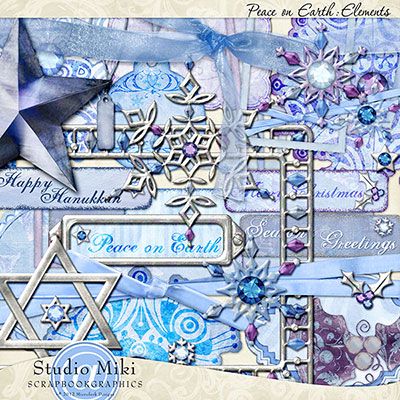 Closeup of Elements:
Alphas: