Something to celebrate! "Jazzy" by Studio Miki @SBG on SALE!
***LIMITED INTRO SALES PRICING***
Something bright, shiny, invigorating something that makes you want to jump up and dance! That's "Jazzy" with live-out-loud colors and feel.
In
"

Jazzy Page Kit

"
by Microferk Designs, you get 12 beautifully blended, patterned and/or textured papers. You also get over 30 elements that include an adornment (shadowed and unshadowed), 3 cord bows (recolored), a gemstone button, a piece of ricrac, a satin curly ribbon/bow, silk vine, 2 small silk flowers, 1 large fancy silk flower, 2 fresh flowers, fresh leaf, fresh branch, butterfly, acrylic swirly with bling, curly string, fancy frame, gold triple frame, old vintage photo frame with flower (shadowed and unshadowed), floral sticker, small gold painted fan, 4 large journal cards, and 3 unique tags.
In "Jazzy Page Kit" by Microferk Designs, you also get a copper metallic button alpha set that includes all upper and lower case letters, numbers 0-9 and 8 special character/punctuation characters.
Each element is in its own file - no need to 'cut' apart. All elements are created at 300ppi and saved as png files to preserve transparency. Drop shadows are only applied in instances where layering of pieces within an element necessitate shadowing for realism, unless otherwise noted in product description.

Also included are 5 matching "

Jazzy

" glitter styles for your customizing pleasure- as a Photoshop Style file and jpgs for use in other graphic programs. (Included are xml files for use in Photoshop Elements 6 +)

Check out the "
Jazzy Collection
" for more coordinating design products by Studio Miki.
(Also available separately as "
Jazzy Papers
", "
Jazzy Elements
", "
Jazzy Alphas
" and
"

Jazzy Glitter Styles

"
by Microferk Designs)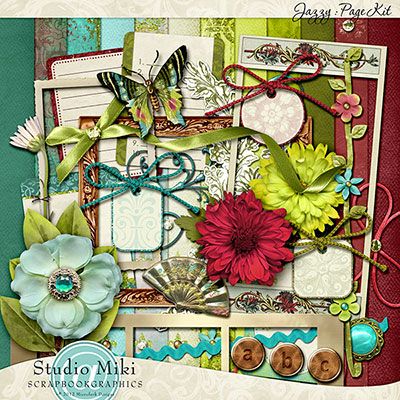 Papers: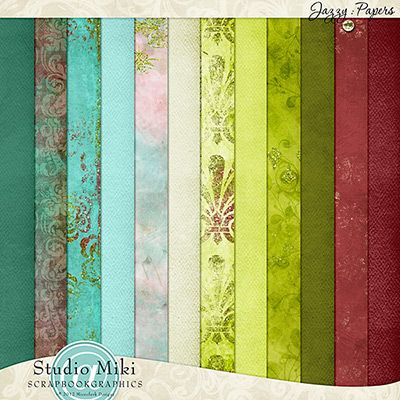 Another view of Papers:
Elements:
Alphas: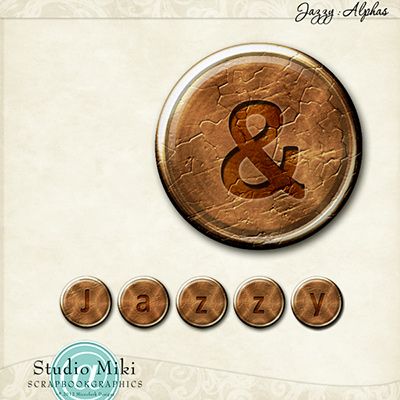 Glitter Styles: