Step into the past with "Ancient Ways Yule" - the Winter Solstice celebration by Studio Miki! On sale 4 limited time!
***

Limited introductory sales pricing

***


The beginning of an amazing journey through the year, and the Wheel of Life!



As we step back in time, we look to the Ancient Ways of our ancestors who walked the earth and learned its seasonal rhythms.




According to the old ways, the year was marked by not only the solstices (the longest and shortest days) and the equinoxes (the 2 days each year where a perfect balance between day and night, dark and light was achieved; and also known as the quarter sabbats); but by the "cross-quarter" days. Yule was one of the Quarter Sabbats and was a sun festival celebrated especially, with fire. As it is also Winter Solstice, it marks the shortest day of the year, and the longest night. It occurs between December 20 and the 23rd each year. "Yule" literally means "wheel" as the ancient peoples saw the year as a continuous wheel that moved through the seasons of dark and light, birth, maturation & fruition, the harvests and the fading and dying away. "Yule" is celebration of the return of the light, the sun. This day marks the vanquishing of the Holly King, God of the waning year, by the Oak King, God of the waxing year.




Tradition and customs of Yule vary from one culture to the next. It is also known as Alban Arthan' (by the Druids),Winter Rite, Midwinter and Yuletide. Other holidays that are celebrated around this time include Christmas, Hanukkah, Kwanzaa, Boxing Day, Saule (in Latvia and Lithuania),Twelfth Night, Muslim month of Ramadan (Nov. 15 to Dec. 15), St Lucy's Day, New Year's Day, Kalends and Saturnalia. Since the light appears to be growing with each passing day after Yule, this holiday is celebrated as the birth of the sun, and the birth of the son of the goddess. Pagan religions encompass the male as well as the female essence of divinity, and the Sun is representative of the Male Aspect, as the Goddess is represented by the Moon. So Yule is s the celebration of the return of the Sun God as he is reborn to the Goddess.




Customs of Yule include feasting, caroling, and of course- fires. Many burned a Yule log with oak being a popular wood.




Common symbols with which to celebrate this holiday include the evergreen tree and its branches, holly, ivy, poinsettias and mistletoe, wreathes made of the aforementioned materials, candles, bells, the 5 pointed star, and the wheel. The customs include decorating the tree with bells, candles, fruits and nuts, caroling, burning the Yule log and giving gifts. The theme of Yule is renewal, re-birth, returning hope and life.



In "Ancient Ways ~ Yule by Microferk Designs", you will find the symbolic colors of this festive holiday: green, red, gold, silver and white. This collection is perfect for your Christmas layouts, your holiday scraps and your powerful journaling projects - you'll find yourself using it for a variety of layouts for years to come!

In "

Ancient Ways Yule Page Kit

" by Microferk Designs, you get a huge selection of papers- 20 patterned, blended and/or textured papers you will use over and over again! Also included are over 45 elements: a heritage journal block, gold bells, a set of 11 cards with Yule symbols (and one blank), a golden star, a metallic dotted circular frame, an evergreen branch, a large wreath, a holly border, 2 large embellished tags, a striped ribbon tie, a bunch of mistletoe, a poinsettia, 2 fancy gold brads, 2 postage-style stamps, a wooden wheel, a round tag (3 variations), large embellished tag, 5 layered silk flowers with accents, 5 plain small silk flowers, a large red flower cluster, a red and a green candle with Yule symbols, a small vintage paper frame with scattered glitter, red ribbon and bows, a green bow cluster, 3 ornate frames, 4 ornaments (with plain version variations), branch of ivy, poinsettia and gold berry cluster, a cascade of metallic bling, and 5 painterly 'postcards' featuring original photography.
In "
Ancient Ways Yule Page Kit
" by Microferk Designs, you also get 2 FULL sets of alphas: with both upper and lower case letters, numbers and 6 extra characters- in both evergreen and crimson! The upper case letters are all embellished with bows and fancy brads to add a little extra holiday cheer to your Yule layouts! Each character is in its own file- no need to 'cut' apart. All elements and papers are created at 300ppi, with papers saved as high-resolution jpgs for stunning print clarity, and elements saved as png files to preserve transparency. Drop shadows are only applied in instances where layering of pieces within an element necessitate shadowing for realism.


(Also available separately as "

Ancient Ways Yule Papers

",
"

Ancient Ways Yule Elements

" and
"

Ancient Ways Yule Alphas

" by Microferk Designs.)
Check out the
"

Ancient Ways Yule Collection

" or the
"

Ancient Ways Collection

" for more coordinating products in this line by Studio Miki.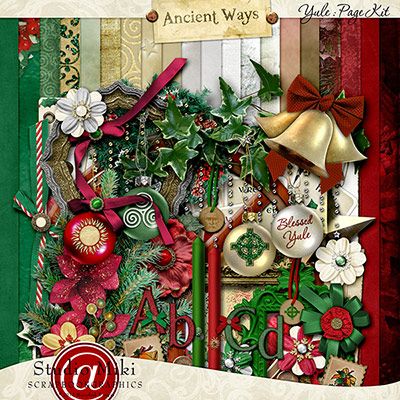 Papers: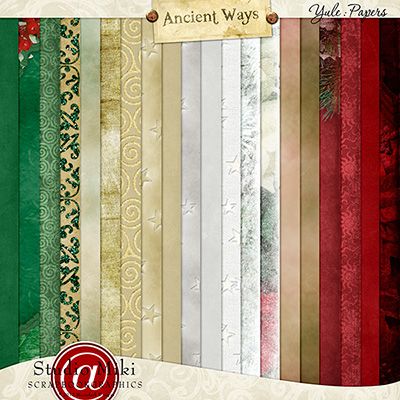 Another View of Papers: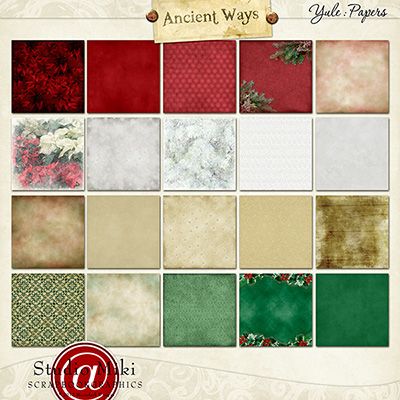 Elements: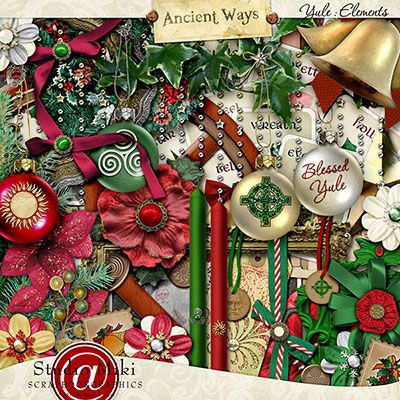 Closeup of Elements: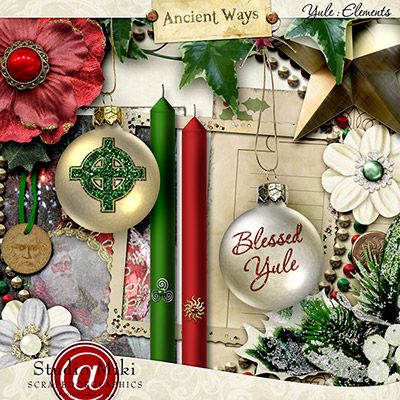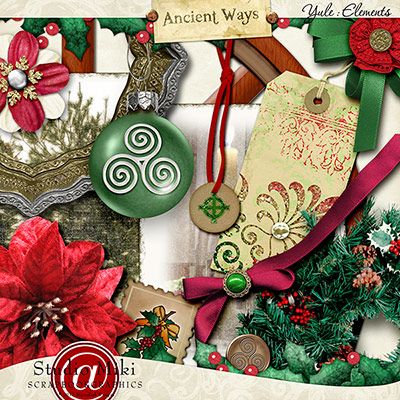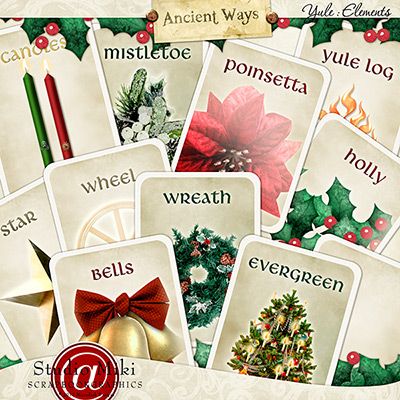 Alphas: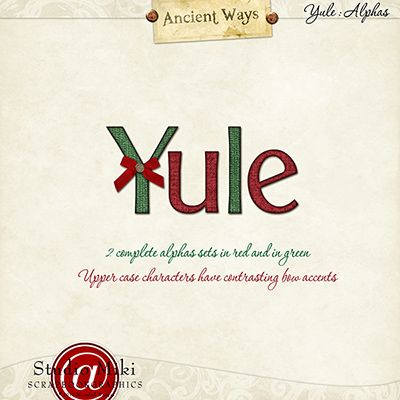 And don't forget to check out other products in the
"

Ancient Ways Collection

" by Microferk Designs: