Blessed Imbolc! Step into the "Ancient Ways" w/Studio Miki @ SBG- on SALE!
***

Limited introductory sales pricing

***


The beginning of an amazing journey through the year, and the Wheel of Life!

As we step back in time, we look to the Ancient Ways of our ancestors who walked the earth and learned its seasonal rhythms.
According to the old ways, the year was marked by not only the solstices (the longest and shortest days) and the equinoxes (the 2 days each year where a perfect balance between day and night, dark and light was achieved); but by the "cross-quarter" days. Falling in between Yule (Winter Solstice) and Ostara (Spring Equinox) is the cross-quarter holiday, Imbolc, on February 2nd. Imbolc, (pronounced 'im'olk' also known as Oimelc), is said to mean "in the belly"- and relates to the stirring of new life deep within the earth itself at this time of year! It falls at the time of the lambing, when ewes give birth to the new flock. It's the time when the tools that are used to sow the seeds of the harvest are blessed and consecrated. It is also the celebration of the maiden, who prepares for her growth and renewal before the Spring Equinox, or Ostara. At this time, people begin to notice the lengthening of the daylight hours, and thusly, this festival is marked by with the essence of that light and that of candles.
Legends abound relative to St. Brigid of the Church and the earlier manifestation of Brigid, the old Irish Goddess of Fire, Healing and Fertility. Brigid's Cross is a customary symbol of this day, its history extending back into the Neolithic age when it symbolized the seasons. These crosses are woven on Imbolc and hung above the doorway to protect the home and its inhabitants all through Ireland. There's one in this kit for your enjoyment as well!
The colors of this hopeful holiday include white, pink, red, blue, yellow, gold, brown, silver and green. Symbols include candles, the sun, the wheel of the year, seeds, St. Brigid's cross, spring flowers and brides. Stones and crystals used in conjunction with the festivities of this holiday include amethyst (for calming one's mind, protection), bloodstone (for courage, healing and balancing the energies), garnet (to draw people and bring friendship, and balance your energies), black onyx (for determination, it is a grounding stone, good for centering) and turquoise (for seeking the truth within, self-realization). Traditions of this day not only include making Brigid's crosses, but lighting candles and burning fires, blessing seeds and preparing for our gardens, and cleaning the home in preparation for this day.
Themes: Renewal. Starting fresh. Purification. Initiation.Dedication. Beginnings.

In "Ancient Ways ~ Imbolc" by Microferk Designs, you will find a mix of the darker colors of the winter with plenty of brighter, lighter and fresher colors coming in to stand side by side. I find Imbolc to be a holiday on the cusp- so you will have a mix of contradictions- some browns, and greens and blues- in both lighter and darker shades, rich red, and plenty of pinks, whites, silvers, and yellow to symbolize fresh starts and new hope. You will find emerging signs of spring in a crocus and the next day the snow of ferocious winter weighing down the branches of your evergreens! Thus the mystery and marvel of Imbolc!


In "

Ancient Ways Imbolc Page Kit

" by Microferk Designs, you get a huge selection of papers- 20 patterned, blended and/or textured papers you will use over and over again! Also included are over 45 elements: a heritage journal block, gold bells, a set of 11 cards with Imbolc symbols (and one blank), a golden star, a metallic dotted circular frame, an evergreen branch, a large wreath, a holly border, 2 large embellished tags, a striped ribbon tie, a bunch of mistletoe, a poinsettia, 2 fancy gold brads, 2 postage-style stamps, a wooden wheel, a round tag (3 variations), large embellished tag, 5 layered silk flowers with accents, 5 plain small silk flowers, a large red flower cluster, a red and a green candle with Imbolc symbols, a small vintage paper frame with scattered glitter, red ribbon and bows, a green bow cluster, 3 ornate frames, 4 ornaments (with plain version variations), branch of ivy, poinsettia and gold berry cluster, a cascade of metallic bling, and 5 painterly 'postcards' featuring original photography.
In "
Ancient Ways Imbolc Page Kit
" by Microferk Designs, you also get an extremely versatile, large (3" tall) alpha, both upper and lower case letters, numbers and 7 extra characters, made of cardstock in neutral cream and brown and delightfully distressed. Each character is in its own file- no need to 'cut' apart. All elements and papers are created at 300ppi, with papers saved as high-resolution jpgs for stunning print clarity, and elements saved as png files to preserve transparency. Drop shadows are only applied in instances where layering of pieces within an element necessitate shadowing for realism.

(Also available separately as "

Ancient Ways Imbolc Papers

",
"

Ancient Ways Imbolc Elements

" and
"

Ancient Ways Imbolc Alphas

" by Microferk Designs.)
Check out the
"

Ancient Ways Imbolc Collection

" or the
"

Ancient Ways Collection

" for more coordinating products in this line by Studio Miki.
Papers:
Another View of Papers:
Elements:
Closeup of Elements: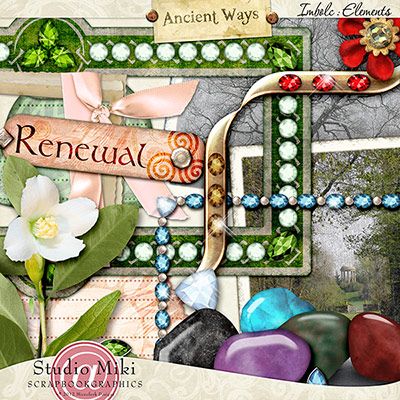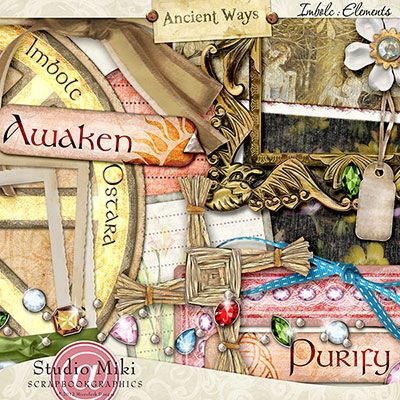 Alphas:
And don't forget to check out other products in the
"

Ancient Ways Collection

" by Microferk Designs: