NEW! "Daybreak" a lush new collection @Studio Miki- on SALE + FWP!
***

Limited introductory sales pricing

***

"When you arise in the morning, think of what a precious privilege it is to be alive - to breathe, to think, to enjoy, to love."
- Marcus Aurelius


In the "Daybreak Collection" I bring the drenching golden warmth of the morning sun, with sweet blooms and a rosy glow. Throw in a dash of muted chartreuse and you have a very versatile palette with which to commit your cherished memories in layouts and other projects.
In the "

Daybreak Bundle

"
by Microferk Designs, you get all of the contents of the "

Daybreak Page Kit

", which includes:
12 beautifully blended, patterned and/or textured papers. You also get 55 elements that include an art deco card, paper flower border, glittery foliage border, 2 different pieces of stitching, a gingham ribbon, gingham bow, red ribbon, red bow, paper banner, "today" paper piece, wood veneer chevrons, a bird, bird house, wooden ornament, 2 button/baubles with gem accents, 2 gingham buttons (threaded), a butterfly, paper foliage, 4 pieces of real foliage, pussy willow branch, 2 dahlias, 3 medium silk flowers, 6 small silk/paper flowers, 4 fancy gold frames, vintage paper frame, charm with a picture of sunrise and one blank for your own picture, a large tag, a long tag, 6 journal cards, and bakers twine.
In "
Daybreak Page Kit
" by Microferk Designs you also a button alpha set, in a lovely vintage typewriter key style, that includes upper case and lower case letters, numbers, and 8 extra characters!
Also included are 8 matching "

Daybreak

" glitter styles for your customizing pleasure- as a Photoshop Style file and jpgs for use in other graphic programs. (Included are xml files for use in Photoshop Elements 6 +)
In the
"

Daybreak Bundle

"
, you also get "

Daybreak Metallic Alphas

", 5 complete alpha sets, in a lovely san serif font, in rosé, champagne, white zin, olive and peach, that include upper case letters only, numbers 0-9, and 7 extra characters!
Additionally, you get "

Daybreak Textured Plains

" by Microferk Designs, and you get 8 slightly worn and lightly grunged plain papers with a delightful texturing.
And, you get
"

Daybreak Word Art

" by Microferk Designs. You get a set of 4 unique, pre-shadowed word arts to "prettify" your layouts!
Each element is in its own file - no need to 'cut' apart. All elements and papers are created at 300ppi, with papers saved as high-resolution jpgs for stunning print clarity, and elements saved as png files to preserve transparency. Drop shadows are only applied in instances where layering of pieces within an element necessitate shadowing for realism.

Save big when you purchase the
"

Daybreak Bundle

"
by Microferk Designs -a regular $26.50 value if purchased separately! Over 50% savings!


Check out the "
Daybreak Collection
" for more coordinating design products by Studio Miki.
(Also available separately as "
Daybreak Papers
",
"

Daybreak Textured Plains

",
"
Daybreak Elements
", "
Daybreak Button Alphas
",
"

Daybreak Metallic Alphas

",
"

Daybreak Word Art

"
and "
Daybreak Glitter Styles
" by Microferk Designs)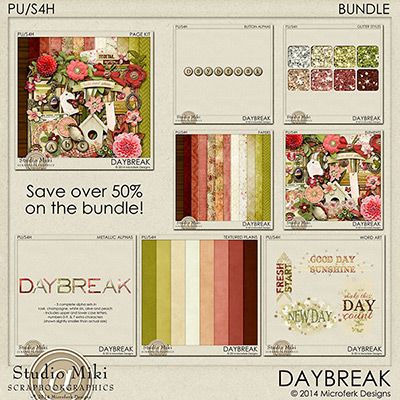 Includes the following:
Page Kit: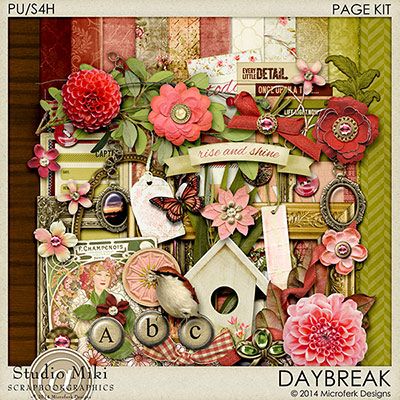 Papers: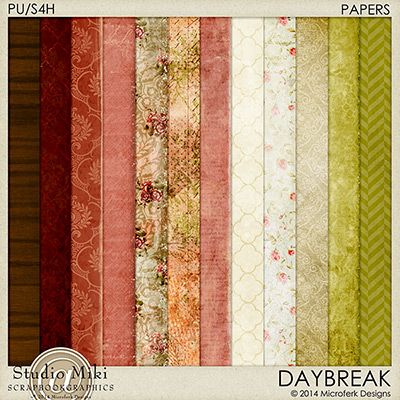 Another view of Papers:
Elements: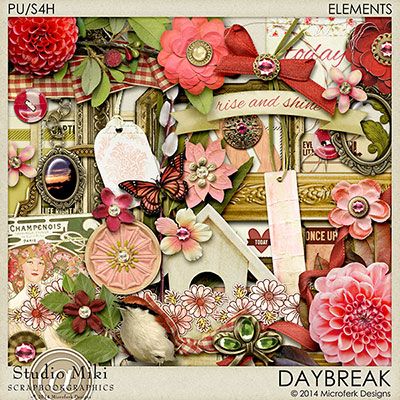 Closeup of Elements: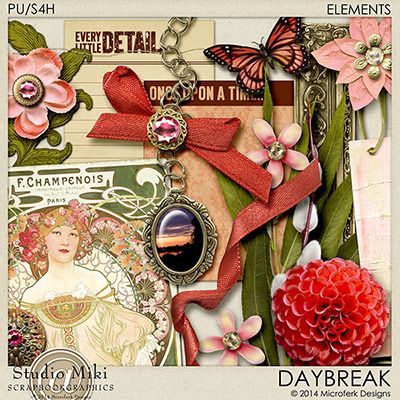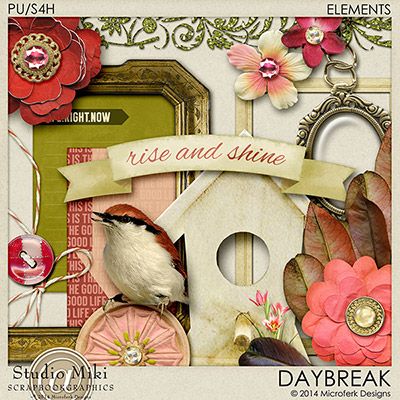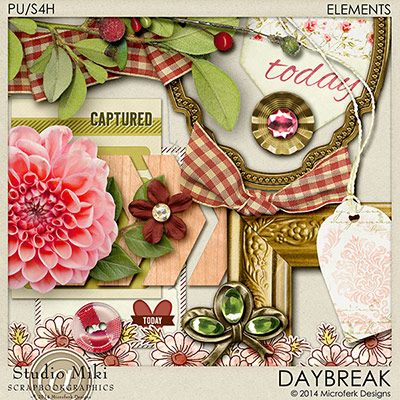 Alphas:
Glitter Styles:
And here are wonderful add ons, all included in the BUNDLE, but not included in the PAGE KIT.
Daybreak
Textured Plains:

Daybreak
Word Strips: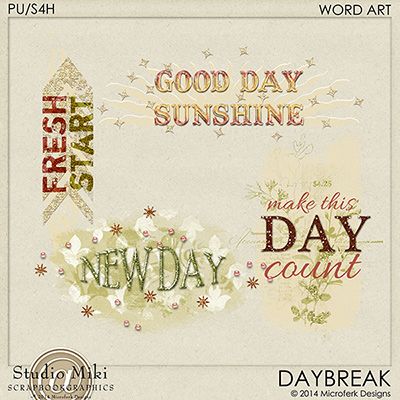 Daybreak
Metallic Alphas
: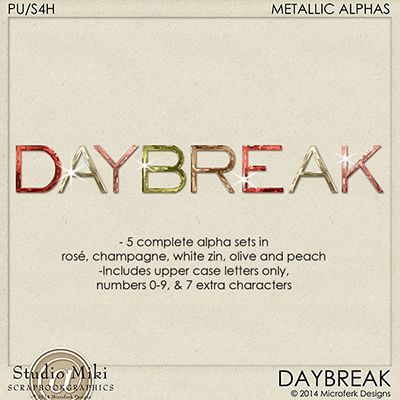 L

ayouts: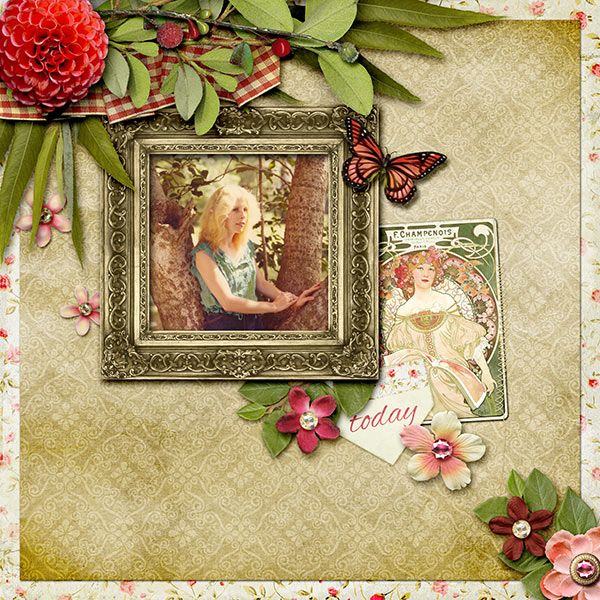 ***

FREE WITH PURCHASE OF
"
Daybreak Bundle"
OR
"

Daybreak Page Kit

" by Microferk Designs***