NEW! "Happy Go Lucky" for your everyday inspiration @Studio Miki- on SALE!
***

Limited introductory sales pricing

***

"Don't dull your sparkle,
Nor dim your shine
Be happy-go-lucky
and you'll be fine."


Are you ready for collection filled to overflowing with papers, elements and alphas to last layout after layout? The "Happy-Go-Lucky Collection" by MicroferkDesigns just might be the collection for you! Based on a well-rounded palette that includes pink, reds, blues, aquas, yellow, tan and olive- you'll find something in here for every layout, every occasion- every person in your life!
In the
"

Happy Go Lucky Page Kit

"
by Microferk Designs,
you get:
12 beautifully blended, patterned and/or textured papers. You also get 45 beautifully crafted elements including 2 cascades of shimmery, sparkly dots, a glittery bracket frame, lacy paper border, 2 fancy paper frames (one large, one small), beribboned matte both shadowed and unshadowed, a pink glittered ornament, a fan-shaped ornament with bling, 5 journal spots, a jewelry tag plain, with pin and bead and with shadows, a file tab with 5 "word" cards that read "dream", "aspire", "achieve", "enchanted" and "wishes" (in the Selfish font) and a blank card for your own customization, a negative strip frameset, a leafy overlay border, a fancy border, 3 bows, 2 ribbons, 2 beaded safety pins, a ribboned slide-frame with and without shadows, a postage stamp-edged matte, a staple with and without shadow, a string of beads, a swirl, a vintage frame with foliage spray with and without shadows, 2 pieces of foliage, and 5 small fabric flowers with brad centers.
In "
Happy Go Lucky Page Kit
" by Microferk Designs you also get not one, but TWO complete alpha sets that include upper and lower case letters, numbers and 7 extra characters. The first is created with a slightly distressed chipboard in blue, and the second a chipboard in coral. Both make this kit so versatile you will go back to it again and again!
Also included are 11 matching "

Happy Go Lucky

" glitter styles for your customizing pleasure- as a Photoshop Style file and jpgs for use in other graphic programs. (Included are xml files for use in Photoshop Elements 6 +)

Each element is in its own file - no need to 'cut' apart. All elements and papers are created at 300ppi, with papers saved as high-resolution jpgs for stunning print clarity, and elements saved as png files to preserve transparency. Drop shadows are only applied in instances where layering of pieces within an element necessitate shadowing for realism.


Check out the "
Happy Go Lucky Collection
" for more coordinating design products by Studio Miki.
(Also available separately as "
Happy Go Lucky Papers
", "
Happy Go Lucky Elements
", "
Happy Go Lucky Blue Alphas
",
"

Happy Go Lucky Coral Alphas

",
and "
Happy Go Lucky Glitter Styles
" by Microferk Designs)
Page Kit: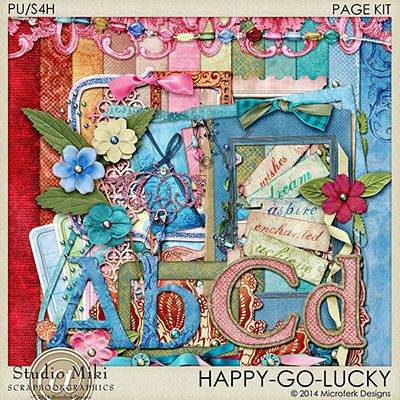 Papers: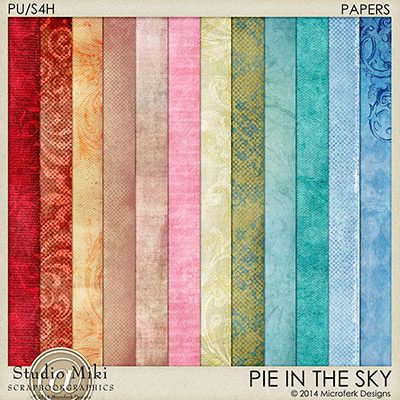 Another view of Papers:
Elements: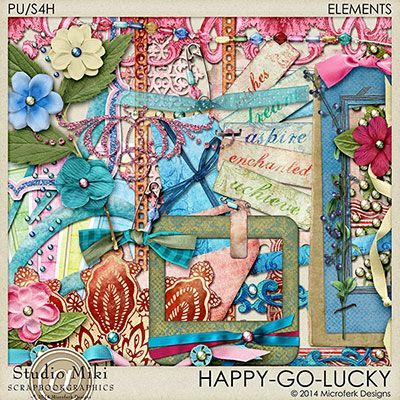 Closeup of Elements:
Alphas: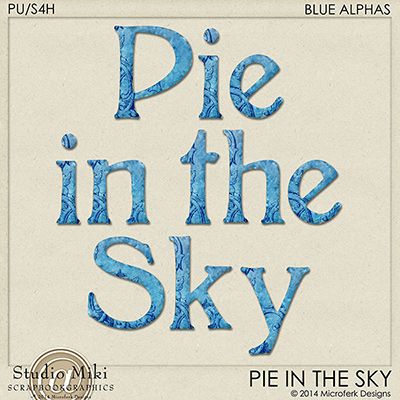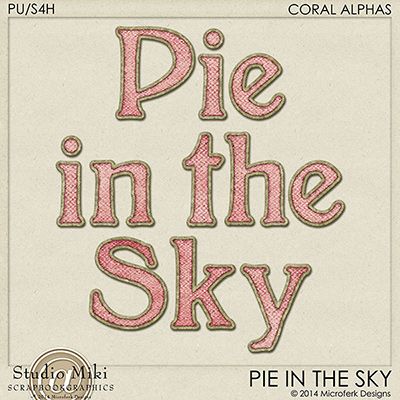 Glitter Styles: