Spring is in the air with "Printemps" by Studio Miki~ on SALE !
***

Limited introductory sales pricing

***
There's a certain feel to the air- a combination of the scent, the warmth, the flowers- and an indefinable fragrance of spring! It's called "springtime", "vernal equinox", "primavera" and "printemps". But it all means one thing: the end of the cold season, and the beginning and rebirth of sweet earth.



So take a step into "

Printemps

" by Studio Miki- a collection awash in delicate, yet vibrant shades of green, blue and pink!



In "

Printemps Page Kit

" by Microferk Designs, you get 12 beautifully blended, patterned and/or textured papers.
You also get over 40 elements that include 2 different buttons with string, fat ribbon, ric rac, flat ribbon cluster, ric rac with flowers, 2 different sets of stitching (with and without shadowing), curly ribbon, sheer knotted bow, a clock face, flower petals, branch of leaves, 6 different journaling cards, small jewelry tag, 4 labels (one blank and 3 with words for "spring"), wooden label holder, small frame on key chain, heart pendant, heart ornament, jeweled border, 2 rolled paper flowers, set of 7 small paper flowers with gem centers, an acrylic glittery swirl, painted floral ornament, gold frame, single packaging frame, fancy blue frame stamp frame and ornate triple round frame.
You also get a slightly-worn set of wooden button alphas, including all upper case letters, numbers, 7 extra characters anda blank. They are so versatile, they'll quickly become a "go-to" set for you! Each element is in its own file - no need to 'cut' apart. All elements are created at 300ppi and saved as png files to preserve transparency. Drop shadows are only applied in instances where layering of pieces within an element necessitate shadowing for realism, unless otherwise noted in product description.
Also included are 7 matching "

Printemps

" glitter styles for your customizing pleasure- as a Photoshop Style file and jpgs for use in other graphic programs.

(Also available separately as
Printemps
Papers

,
Printemps
Elements,
Printemps
Alphas

and
Printemps
Glitter Styles)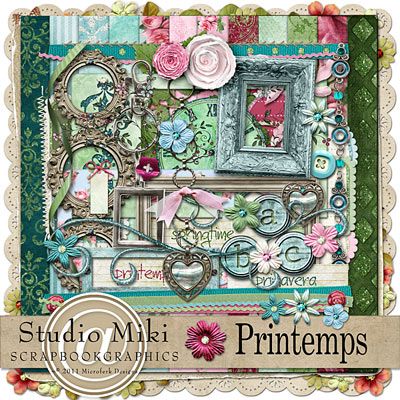 Papers: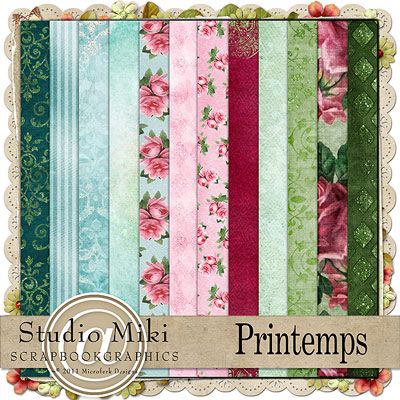 Another view of Papers:
Elements:
Closeup of Elements: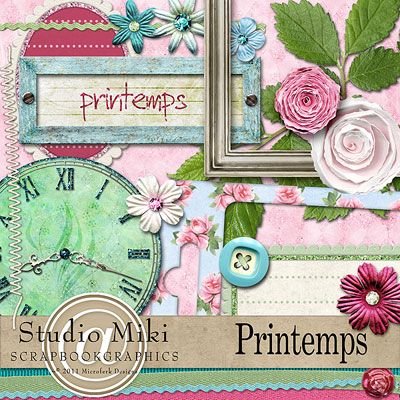 Alphas:
Glitter Styles:

Layouts:

by Miki:

by Kabra: