Proud as a"Peacock" with Studio Miki @ SBG - INTRO SALES PRICING !
Have you ever been amazed by the magnificent plumage of the peacock? The most rich shades of teal, ultramarine and green you can imagine- what a proud bird indeed! Get a feel for our most beautiful feathered friend in "Peacock" by Microferk Designs, a full kit based on the shades of blue, teal, turquoise, greens and cream~
In "
Peacock Page Kit
" by Microferk Designs, you get 12 beautifully blended, patterned and/or textured papers.
You also get over 40 elements that include an acrylic swirl, gemstone bauble, paper vines (large), paper vines (small), branch of leaves, large silk flower (with and without shadows and glitter accent), set of 6 small silk flowers with gemstone centers, teal curly ribbon and bow, cream satin ribbon, silky ribbon knot, cream paper swirl, brushed gold metal frame, 4 metallic frames with rhinestone accents, 4 fancy journal cards (ATC sized), 6 scalloped journal blocks, a peacock feather, peacock tag, gold spiral frame, zig zag stitching (with and without shadows), straight stitching (with and without shadows), small row of 3 cross stitches (with and without shadows), masked sparkly accent, metallic swirly peacock accent, and a triple hanging gold frame.
You also get a gleaming, slightly iridescent set of blue metallic alphas, including all upper case letters, numbers, and 7 extra characters. They are so versatile, they'll quickly become a "go-to" set for you! Each element is in its own file - no need to 'cut' apart. All elements and papers are created at 300ppi, with papers saved as high-resolution jpgs for stunning print clarity, and elements saved as png files to preserve transparency. Drop shadows are only applied in instances where layering of pieces within an element necessitate shadowing for realism, unless otherwise noted in product description.
Also included are 6 matching "
Peacock
" glitter styles for your customizing pleasure- as a Photoshop Style file and jpgs for use in other graphic programs.


(Also available separately as
Peacock
Papers

,
Peacock
Elements,
Peacock
Alphas and Peacock Glitter Styles )

Peacock Collection by Studio Miki ~ Microferk Designs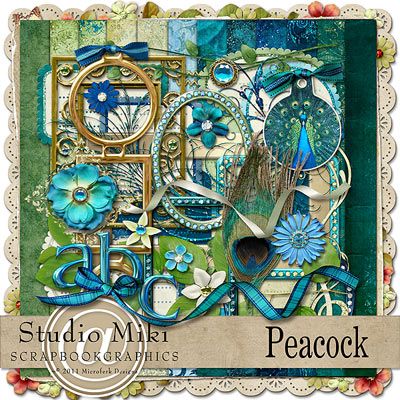 Papers: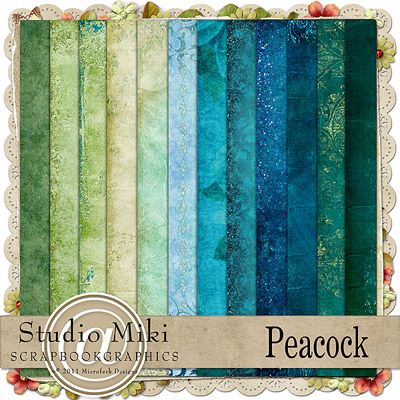 Another view of Papers: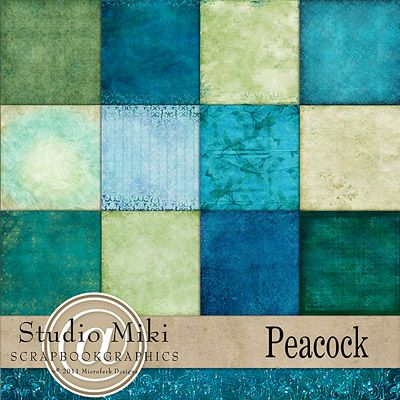 Elements: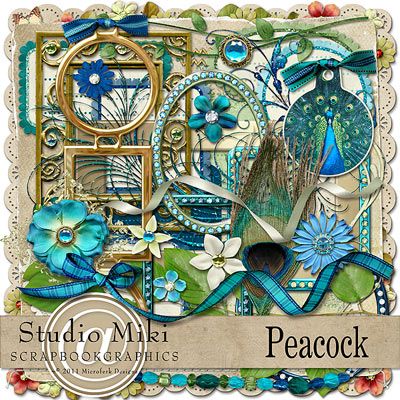 Closeup of Elements: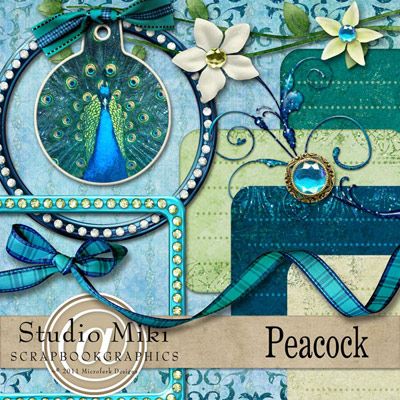 Alphas: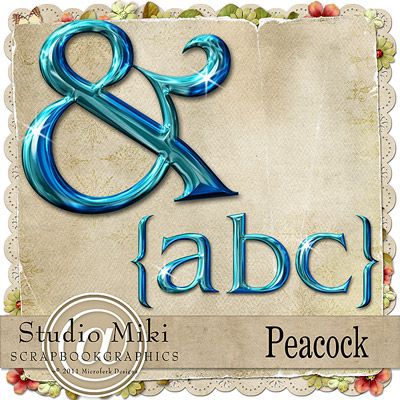 Glitter Styles: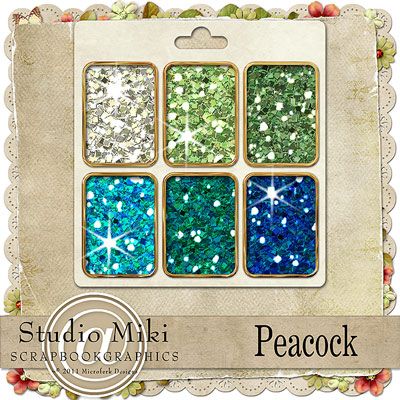 Layouts:

by Miki: