What a "Glorious" day ~ Studio Miki @ SBG- on SALE!
***

Limited introductory sales pricing

***


The vivid pink and orange-red of a sunrise or sunset.......the colors that wake you up and make you stand at attention... for they are wondrous...they are vivid....they are GLORIOUS!
In "
Glorious Page Kit
" by Microferk Designs, you get 12 beautifully blended, patterned and/or textured papers. You also get over 40 elements that include a set of 6 medium-small tags with a bow, stitching, metal key chain, stapled ribbon bow with which to fasten them, charm on a chain, ring scatter, cross-stitching (with and without shadows), double stitch (with and without shadows), short row of fancy stitching (with and without shadows), curly satin ribbon & bow, stamp frame (double), gold tone dragonfly charm, and key, fancy key on chain, ornate gold frame, fancy gold frame, green metal frame with pink bling, gold knotted cord, ivy, smaller vine, branch of leaves, gold button with gemstones, triple stitched square frame, wild flowers, jewelry tag with and without bow, larger silk flower with gemstone center, daisy with gemstone center, set of 7 small silk flowers with gemstone centers, ornate gold tone border, glittered sparkly floral accent, acrylic swirly, 3 acrylic frames with gem accents and masked sparkly accent.
You also get a gleaming tinted gold set of alphas, including all upper case letters, numbers, and 7 extra characters. They are so versatile, they'll quickly become a "go-to" set for you! Each element is in its own file - no need to 'cut' apart. All elements are created at 300ppi and saved as png files to preserve transparency. Drop shadows are only applied in instances where layering of pieces within an element necessitate shadowing for realism, unless otherwise noted in product description.
Also included are 12 matching "
Glorious
" glitter styles for your customizing pleasure- as a Photoshop Style file and jpgs for use in other graphic programs.

(Also available separately as Glorious Papers, Glorious Elements, Glorious Alphas and

Glorious Glitter Styles

)

Glorious Collection by Studio Miki ~ Microferk Designs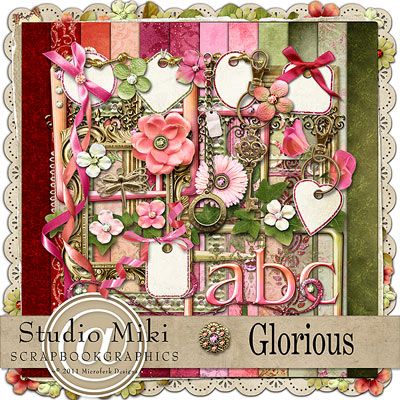 Papers: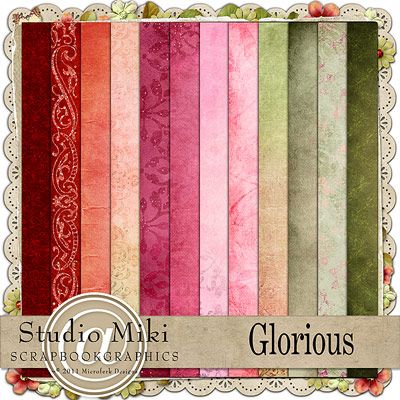 Another view of Papers: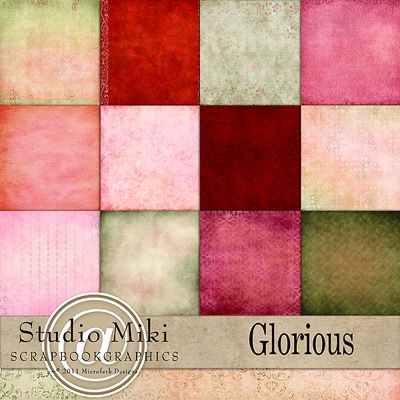 Elements:
Closeup of Elements: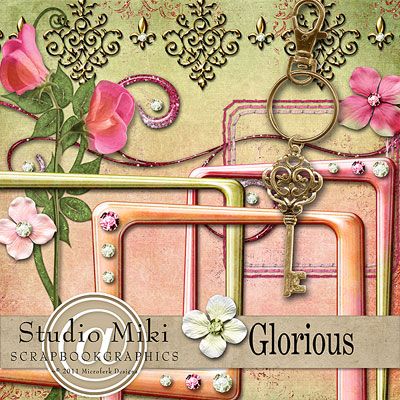 Alphas:
Glitter Styles:

Layout:

by Miki: