A fresh Bouquet for you from Studio Mki@SBG- on SALE!
***

Limited introductory sales pricing

***

Take a moment.. Close your eyes. Inhale. What do you smell? What does your mind's eye paint? A lush, vibrant and fragrant bouquet of flowers- in riotous of shades of orange, pink, rose, gold and green! With a dash of contrasting silver for added elegance and style, the "Bouquet Collection" by Microferk Designs will frame your pictures and memories with drama and impact.

In "
Bouquet Page Kit
" by Microferk Designs, you get 12 beautifully blended, patterned and/or textured papers. You also get over 40 elements that include an acrylic foliage accent, 2 leafy paper branches, a glittery ivy branch, large realistic foliage, signature Microferk Designs' "adornment" (with and without shadows), bow with jeweled center, butterfly, double stamp frame, fancy silver frame, fancy green satiny frame, floral sticker, bouquet of flowers, net mesh in gold and in pink, jewelry tag (with and without string), 6 journal blocks, key on a ribbon, plain labels made of kraft paper and chipboard in 5 colors and four with words, a silver bookplate that fits labels, lace with gem accents, piece of link fence, 4 medium silk flowers with fancy centers, deep orange bow and gems, scatter (with and without shadows), silver frame with bauble accents, 4 small silk flowers, a small silver "frame" accent with stitches, and a silver triple frame.
You also get a set of gorgeous silver, script alphas, including all upper case letters, numbers, and 7 extra characters. They are so versatile, they'll quickly become a "go-to" set for you! Each element is in its own file - no need to 'cut' apart. All elements and papers are created at 300ppi, with papers saved as high-resolution jpgs for stunning print clarity, and elements saved as png files to preserve transparency. Drop shadows are only applied in instances where layering of pieces within an element necessitate shadowing for realism, unless otherwise noted in product description.
Also included are 12 matching "
Bouquet
" glitter styles for your customizing pleasure- as a Photoshop Style file and jpgs for use in other graphic programs.
Check out the "
Bouquet Collection
" for more coordinating design products by Studio Miki.
(Already available separately as
Bouquet Papers
,
Bouquet Elements
,
Bouquet Alphas
and
Bouquet Glitter
Styles
by Microferk Designs)
Papers: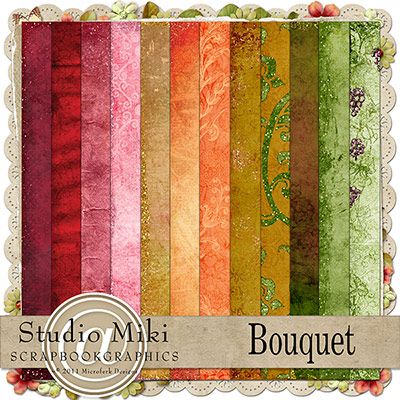 Another view of Papers: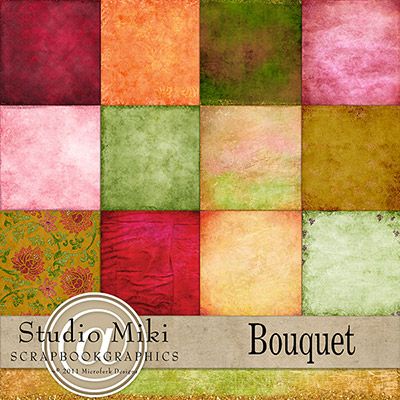 Elements: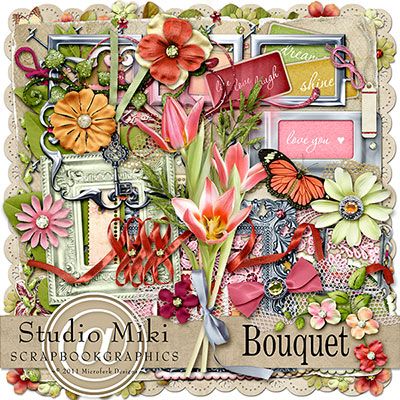 Closeup of Elements:
Alphas: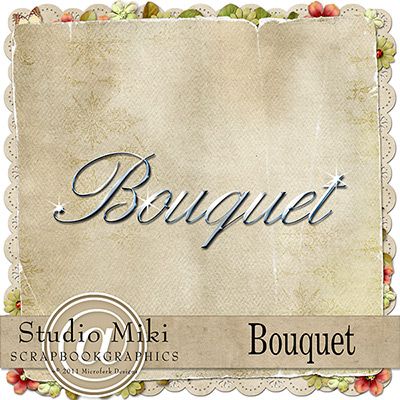 Glitter Styles:

Layouts:
by Miki: