NEW: Toil & Trouble- get "Grimoire" by Studio Miki @ Intro Sales Pricing & a gift!
***

Limited introductory sales pricing

***

In the poison'd entrails throw.—
Toad, that under cold stone,
Days and nights has thirty-one;
Swelter'd venom sleeping got,
Boil thou first i' the charmed pot!
Double, double toil and trouble;
Fire burn, and caldron bubble.

William Shakespeare "Macbeth"


Can't you already feel the wind rustle through the bare branches of the trees that seem to have come to a life of their own? What was that noise- what's that smell? Why it's the witches tending their cauldron of spooky herbs and preparing their spells to use on the most important night of their year: All Hallows' Eve- also known as Halloween, Samhain, Hallowtide, etc.
So in "Grimoire" (which is the Book of Shadows/Spells every good witch uses), I bring you a witchy concoction of blacks, browns, oranges, golds, pale greens and a dash of purple for luck!

In "
Grimoire Page Kit
" by Microferk Designs, you get 14 beautifully blended, patterned and/or textured papers. You also get over 40 elements that include 4 paper pumpkins (2
plain and 2 filigree), 3 different realistic pumpkins, a swirly pumpkin vine, an orange black frame, an ornate antiqued frame, an ornate gold frame, a double hanging frame set, a raffia wreath and ribbon frame, a double stamp frame, double hanging frameset, vintage paper frame, a witches' spell book, witches' hat, scary tree, a bow with raffia, a chandelier, string, dark ribbon and bows, dry leaf (with and without cast shadow), branch of foliage, turning leaves, jewelry tag on string, fancy tag with raffia and ribbon bow, 6 different journal cards, knotted bow, leaf and flower cluster, large orange flower, potion bottle and a set of 6 small silk flowers.
You also get TWO chipboard and glitter alpha sets (one black, one orange) including all upper case letters, numbers, and 7 extra characters. They are so versatile, they'll quickly become a "go-to" set for you! Each element is in its own file - no need to 'cut' apart. All elements and papers are created at 300ppi, with papers saved as high-resolution jpgs for stunning print clarity, and elements saved as png files to preserve transparency. Drop shadows are only applied in instances where layering of pieces within an element necessitate shadowing for realism, unless otherwise noted in product description.
Also included are 6 matching "
Grimoire
" glitter styles for your customizing pleasure- as a Photoshop Style file and jpgs for use in other graphic programs.
Check out the "
Grimoire Collection
" for more coordinating design products by Studio Miki.
(Also available separately in
Grimoire Papers
,
Grimoire Elements
,
Grimoire Alphas
and
Grimoire Glitter Styles
by Microferk Designs)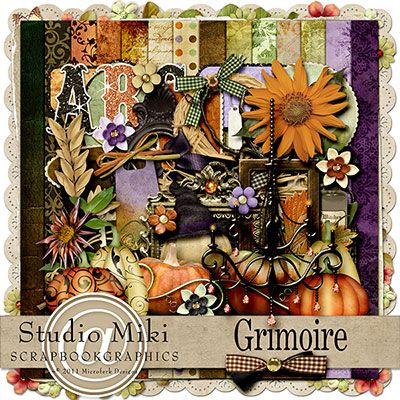 Papers: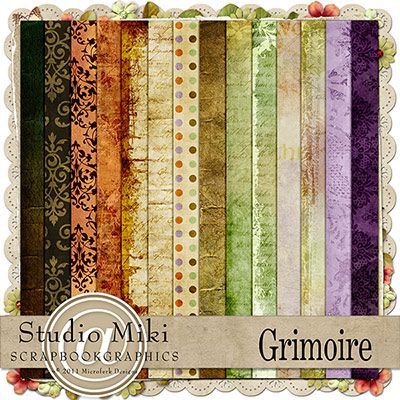 Another view of Papers: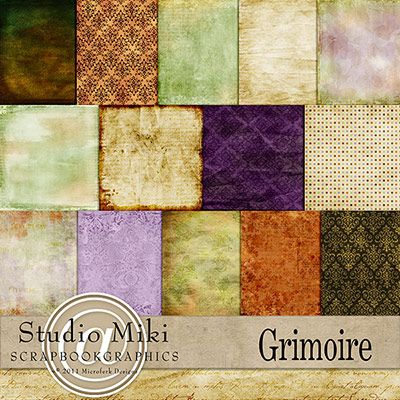 Elements: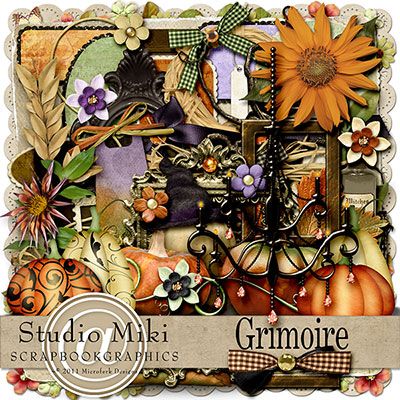 Closeup of Elements: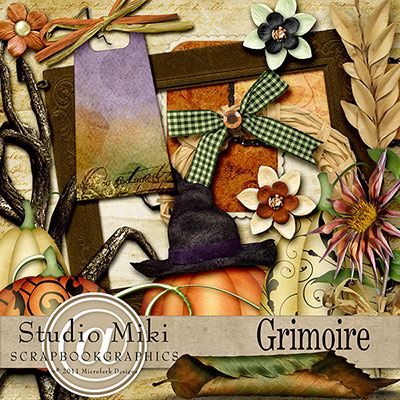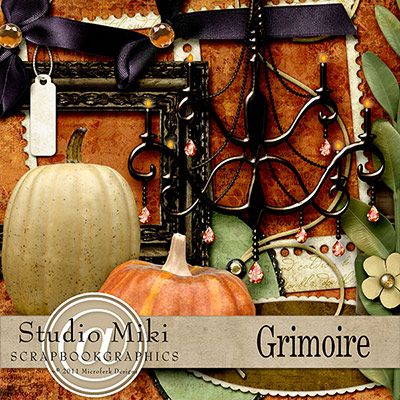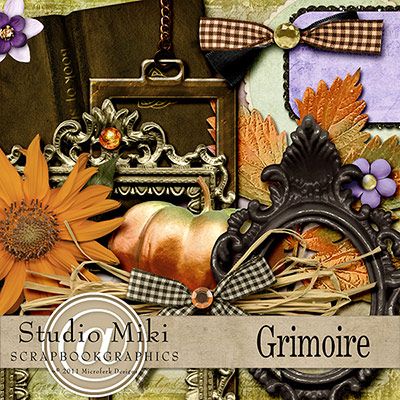 Alphas: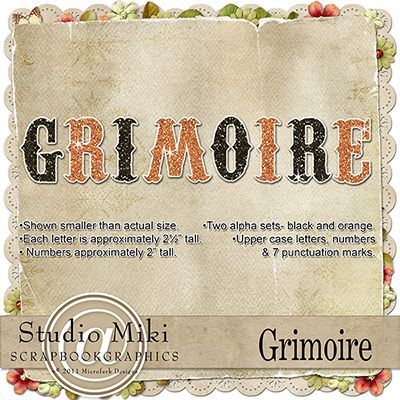 Glitter Styles: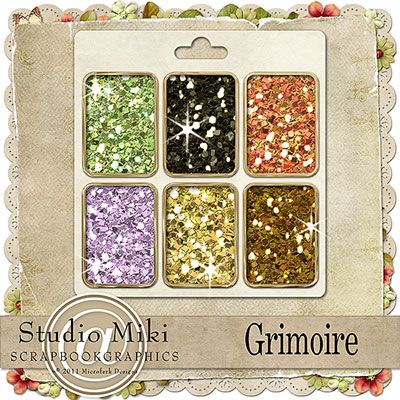 Layouts:


by Miki: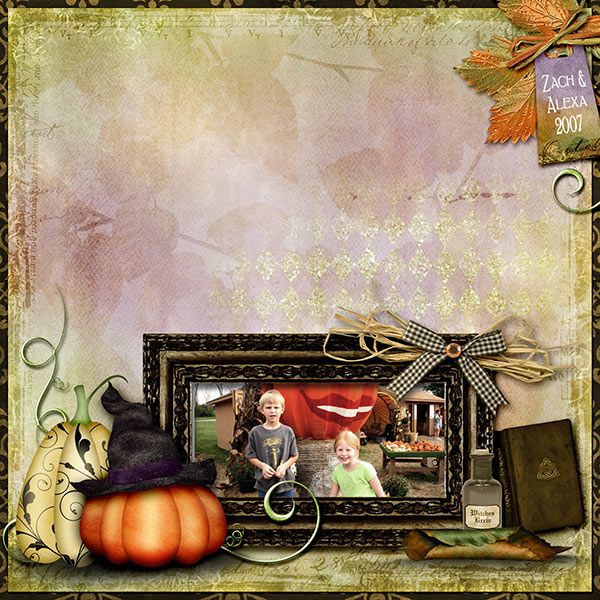 by Nagato:
by Kabra: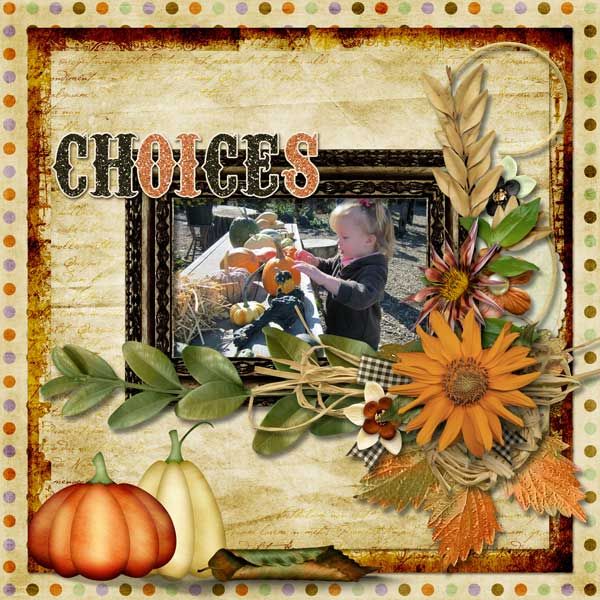 by Danesa: