"Mardi Gras" is back! Limited Intro Sales Pricing @ Studio Miki!
***

Limited introductory sales pricing

***

"Mardi Gras" is French for "Fat Tuesday"- and even has more monikers! "Shrove Tuesday" in England, and "Fastnach" in Germany. "Carnival" is quite a spectacular version of

Mardi Gras- and actually has roots in pagan Rome's traditions. In the second century, however, it became the traditional celebration just before the somber commencement of

Lent on Ash Wednesday. It's a boisterous and uninhibited celebration of excess- lush color, overflowing libations and delicacies- masks and costumes, parades and

masquerades, music and dance!



So in "Mardi Gras" by Microferk Designs, I bring all the frivolity, sparkle and shine of this wild party to you, in the traditional colors of gold, green and purple!
In "

Mardi Gras Page Kit

" by Microferk Designs, you get 14 beautifully blended, patterned and/or textured papers. You also get over 30 elements that include a string of the infamous
green, gold and purple beads (careful how you use those ;-) a golden key (by itself and on green satin ribbon), a lion's head with emerald accent, a golden lion's head, triple
oval frames studded with beads and tied with golden ribbons, a fancy green velvet mask adorned with gold trim and feathers & ribbons, a knotted gold cord with colored pearls,
2 cascades of bling (with and without shadows), a swirl of bling (with and without shadows), a set of 3 jewelled brads, an embellished crown, curly golden ribbon (with and
without shadow), a large fancy floral frame, golden frame (both plain and with ribbon wrap and feather accents), 3 larger glass ornaments with slight glittering, spiral curled
golden cord, gold fancy face mask, 6 individually made journal blocks with beaded accents, large golden frame, a peacock feather, fancy mask, quad packaging frame, a single
packaging frame, purple ribbon wrap, and a shabby wooden fleur de lis.
In "Mardi Gras" by Microferk Designs you also get an alpha set- a metallic gold, green and purple set with gold glitter inlay that includes upper case and lower case letters,
numbers, and 7 extra characters! Each element is in its own file - no need to 'cut' apart. All elements and papers are created at 300ppi, with papers saved as high-resolution
jpgs for stunning print clarity, and elements saved as png files to preserve transparency. Drop shadows are only applied in instances where layering of pieces within an element
necessitate shadowing for realism.
(Also available separately as

Mardi Gras Papers

,

Mardi Gras Elements

,
and
Mardi Gras Alphas

by Microferk Designs)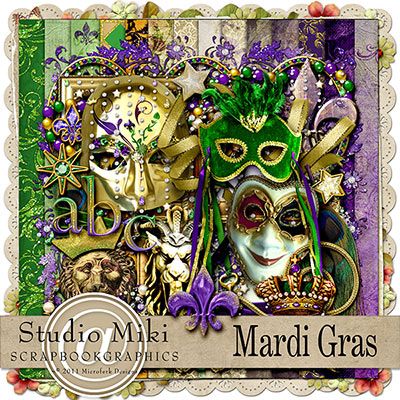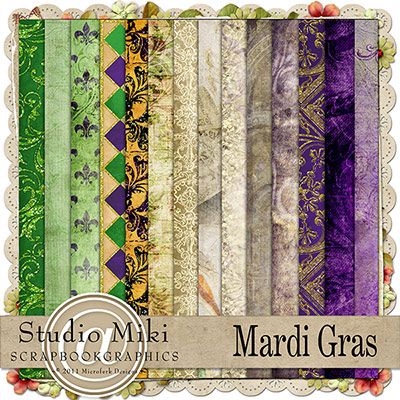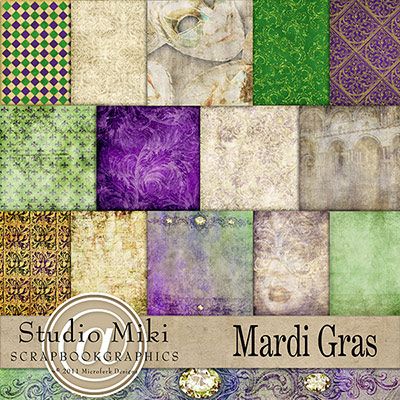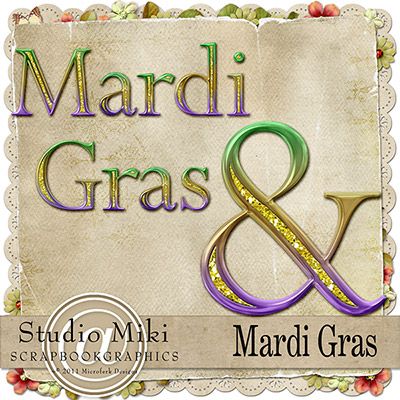 Sample Layout: