"Alluring" a romantic perfect for valentines and holiday layouts by Studio Miki on SALE + gift!!
***

Limited introductory sales pricing

***


"She danced down the stairs for the Twelfth Night Ball, soundlessly in those gorgeous red satin slippers. She had enlisted the aid of her maid to help her change from the golden velvet gown he had last seen her in. Since many of the guests had come in masquerade, she would be able to blend in without either her Papa or the dark stranger ever knowing who she was with her matching red masque, dripping with faux gems. Alas, she did not factor in how enticing, how beautiful- how very ALLURING she would look in her sleek red satin strapless gown, slit up one endless leg, and with those memorable red satin slippers to match....
As she descended the final steps of the staircase, one dark eyed stranger in the shadows attended her every move, a small, seductive and totally determined smile began to spread across his face. She startled as he stepped forward and firmly took her elbow and led her across the hall into the conservatory instead of the ballroom. She was just too alluring to share......"

In "Alluring Collection ", I bring you a seductive and gorgeous collection. In shades of white, cream, silver, gold and the deep promise of red for good measure, this kit can also be used for your winter holiday projects and layouts- as well as your Valentine's, wedding, anniversary, and romantic creations- you name it! It's overflowing with goodies- and it's one you'll find yourself reaching for again and again!

In the "

Alluring Page Kit

" by Microferk Designs, you get 12 beautifully blended, patterned and/or textured papers. You also get over 30 elements that includes a butterfly, gem spray, curly gold ribbon, golden pine branch, golden leaves and silver leaves, gold, silver and red rolled flowers, gold cord with gemstone accents, golden ornate frame, hanging frame-ribbon, wire and bead heart frame with hanging ribbon, fancy frame, fancy tag with gold bow topper, faux crystal hanging ornament, 4 fancy journal cards, matte board frame, red gem brad, red hanging ornament, red satin ribbon with bow, rose, ribbon and mesh cluster (with and without cast shadow), silver rolled flower, small tag with topper, set of 6 silk flowers with gemstone centers, pearl brad and a triple stamp frame.
You also get an alpha set - a gorgeous and iridescent gold script character set that includes upper case and lower case letters, numbers, and 7 extra characters! Each element is in its own file - no need to 'cut' apart. All elements and papers are created at 300ppi, with papers saved as high-resolution jpgs or pngs for stunning print clarity, and elements saved as png files to preserve transparency. Drop shadows are only applied in instances where layering of pieces within an element necessitate shadowing for realism.
Also included are 6 matching "

Alluring

" glitter styles for your customizing pleasure- as a Photoshop Style file and jpgs for use in other graphic programs.


Check out the"Alluring Collection" by Microferk Designs for more coordinating design products by Studio Miki.

(Also available as

Alluring Papers

,

Alluring Elements

, Alluring Alphas and

Alluring Glitter Styles

by Microferk Designs.)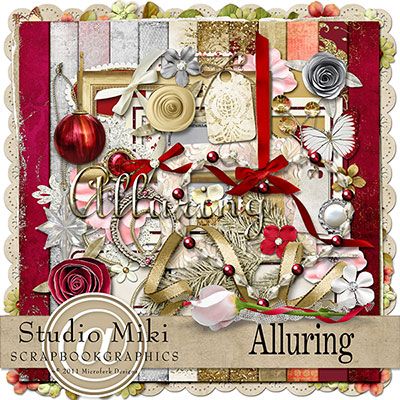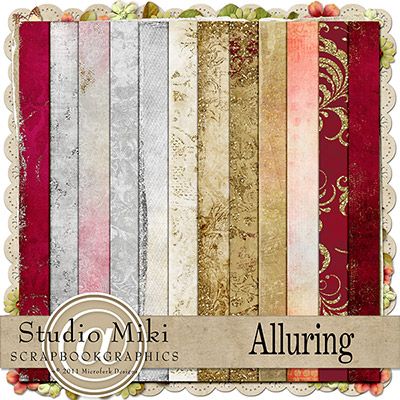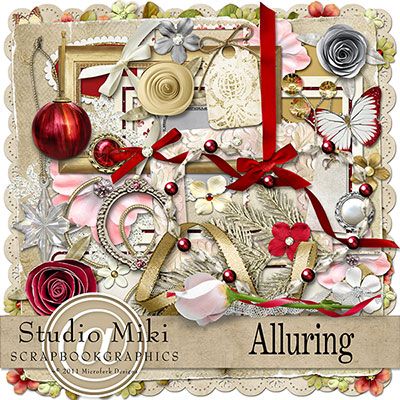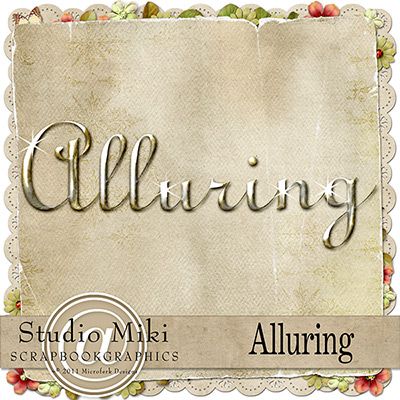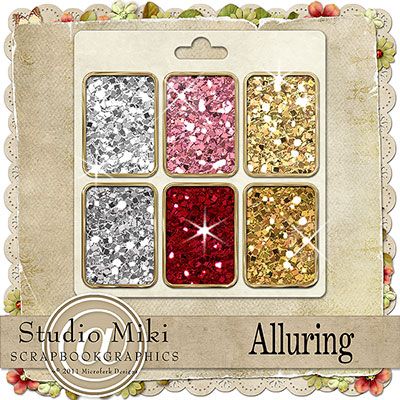 Layout
by Miki:
Please accept this complimentary FREE GIFT Quick Page made with
"Alluring Page Kit"
by Miki Ferkul: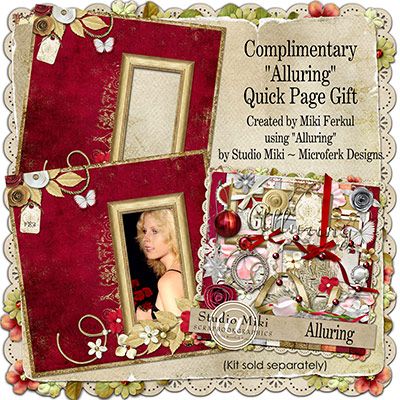 ***************************************************

Download Links:
https://rapidshare.com/files/3105749687/MFERK_AlluringQP.zip
or:
http://www.mediafire.com/?3pbw6nsfmct12wd
***************************************************
(Expires on 1/13/2012)

Please be sure to pick yours up before expiration!
If you experience any errors
before
the expiration date- just drop me a comment, and I will be happy to re-upload fresh links until the expiration passes.