Once upon a time, in a land " Far Far Away"....by Studio Miki @ SBG, on SALE!
***

Limited introductory sales pricing

***


Imagine yourself in land far, far away.... where magic isn't so rare, and the possibilities are endless. Conjuring up a palette of natural golds to browns, spicy cinnamon, mint to forest green, and throwing in some magical plums and berry with liberal sparkles and the gleam of gold, slip in this land "Far, Far Away" by Microferk Designs.


In "

Far Far Away Page Kit

" by Microferk Designs, you get 14 beautifully blended, patterned and/or textured papers. You also get over 30 elements that include 2 weathered gold brads, an acrylic palm branch, a set of 6 acrylic mini flowers and 2 leaves, a large fancy journal blocks/mattes, a brushed golden Celtic frame, a coiled god cord, a knotted golden cord, a sparkly flourish, a messy sparkly flourish, a jewelry tag with and without ribbon topper, a sprig of leaves, a set of 3 large silk flowers, set of 2 medium flowers, a set of 3 small flowers, an antique key, the key on a silk ribbon, an old painted stone arch/door, a worn photograph frame, a ribbon and eyelet overlay (with and without shadows), 2 different curling ribbons (with and without shadows), a fancy paper frame, a hammered gold frame inset with acrylic sparklies, an acrylic vine, and a wooden frame with sparkled vines.
In "
Far Far Away Page Kit
" by Microferk Designs you also get an alpha set - a large, golden set made of gold glitter that includes upper case and lower case letters, numbers, and 7 extra characters! Each element is in its own file - no need to 'cut' apart. All elements and papers are created at 300ppi, with papers saved as high-resolution jpgs for stunning print clarity, and elements saved as png files to preserve transparency. Drop shadows are only applied in instances where layering of pieces within an element necessitate shadowing for realism.

(Also available separately as "Far Far Away Papers", "Far Far Away Elements" and "Far Far Away Alphas" by Microferk Designs)


Check out the "
Far Far Away Collection
" by Microferk Designs for coordinating design products in this line.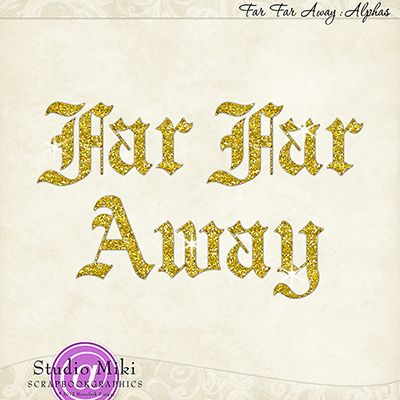 Layouts:

by Miki Ferkul