A taste of tropical in "Tahiti Treat" by Studio Miki on SALE now!
Dive into the sweet lush tones of "Tahiti Treat" by Microferk Designs! Based on a soft cheerful and candy-sweet palette of pinks, melons, lemons and limes, you will use this kit again and again! You'll find this collection perfect for scrapping your summer beach, tropical vacation or even winter water park getaway layouts!

In
"

Tahiti Treat Page Kit

"
by Microferk Designs, you get you get 10 gorgeous papers- all individually created and textured in lush tropical sweet shades! You also get over 20 beautifully crafted elements including a checkered ribbon wrap to span your page, glittery elements including a butterfly, a vibrant sun, an extra-large swirly and a medium flourish. Additionally, you get 3 journal spots, a floral embellished frame, a large acrylic frame embellished with shiny ribbon, a quad-frame packaging piece, a border strip of leaves, a set of 6 small flowers with beaded centers, 2 small bows, a large circular *sun* frame with ribbon woven through it, and four tabs with words ("dance", "empower", "paradise" and "wonder") as well as 4 blank pieces for your customizing pleasure.

In
"

Tahiti Treat Page Kit

"
by Microferk Designs, you
also get an acrylic, softly striped alpha set that includes upper and lower case letters, numbers and 7 extra characters. These are the perfect touch for so many of your layouts! Each element and alpha character is in its own file- no need to 'cut' apart. All elements and papers are created at 300ppi, with papers saved as high-resolution jpgs for stunning print clarity, and elements saved as png files to preserve transparency. Drop shadows are only applied in instances where layering of pieces within an element necessitate shadowing for realism.
Check out the "
Tahiti Treat Collection
" for more coordinating design products by Studio Miki.
(Also available separately as "
Tahiti Treat Papers
", "
Tahiti Treat Elements
", and "
Tahiti Treat Alphas
" by Microferk Designs)
http://tinyurl.com/StudioMiki-TahitiTreat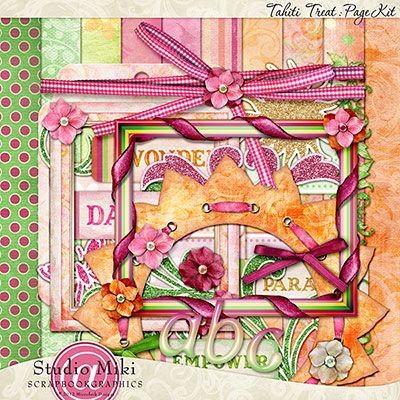 Papers: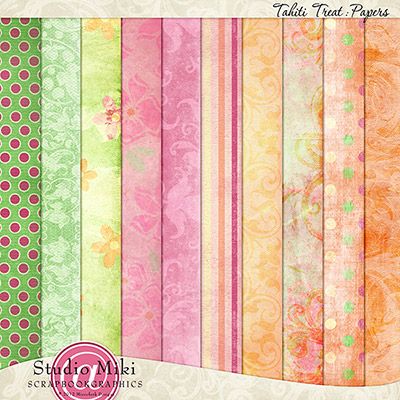 Another view of Papers:
Elements: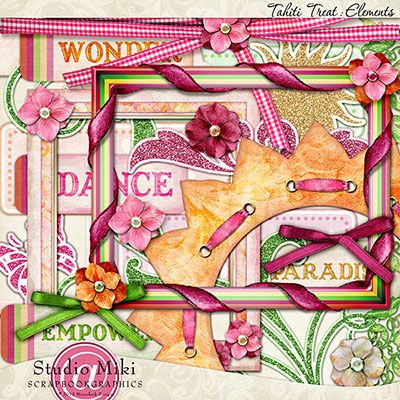 Closeup of Elements: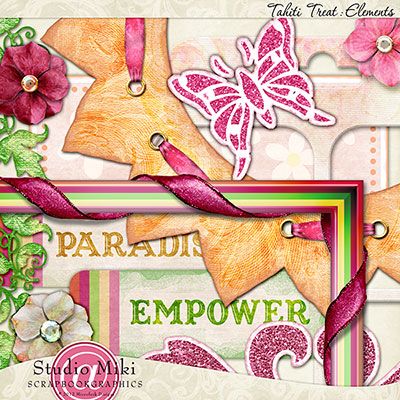 Alphas: