"Camo Boy" by Studio Miki @SBG ~ Intro Sales Pricing ~ plus gift!
***

Limited introductory sales pricing

***


Introducing "

Camo Boy

" by Microferk Designs ~ a tribute to my youngest son who wears just about NOTHING but camouflage clothing! His bedroom decor is camouflage, his coat is camo, his hats, gloves, scarves- you name it, they are camo! So this kit came about as we were deciding how to make his birthday invitations one year. I give you "

Camo Boy

", a collection based on the palette of military camouflage: the olives and the tans and browns- a kit bursting with the flavor of camo and versatile enough to use for your military layouts and your little tough layouts as well!
In "

Camo Boy Page Kit

" by Microferk Designs, you get 12 beautifully blended, patterned and/or textured papers. You also get over 35 elements that include a small ball chain, a dog blank tag (for your custom *engraving*, as well as 4 pre-made ones, a long chain with 2 dog tags on it (blank), a tan flat ribbon, a dark olive flat ribbon with embroidered yellow stars, 6 different glass and weathered metal-rimmed buttons, a weathered oval frame hanging from an olive ribbon, 5 different journal blocks, 3 weathered metallic frame (round, star and square), an olive canvas frame mounted on chipboard, 2 paint splats, 3 paper stars, paper stop sign, paper biohazard sign, and paper target, yellow radioactive caution tape, a cluster of flat ribbons stitched together, round tag, staple (with and without shadow), square camo patterned frame, 2 stamps ("Property of:", and "my hero"), and three tabbed folder frames.
Also included is an alpha set made of stamped, distressed characters containing upper case letters only, numbers and 7 extra characters.
Each element is in its own file - no need to 'cut' apart. All elements and papers are created at 300ppi, with papers saved as high-resolution jpgs for stunning print clarity, and elements saved as png files to preserve transparency. Drop shadows are only applied in instances where layering of pieces within an element necessitate shadowing for realism, unless otherwise noted in product description.

(Also available separately as

Camo Boy Papers

, Camo Boy Elements and

Camo Boy Alphas

by Microferk Designs)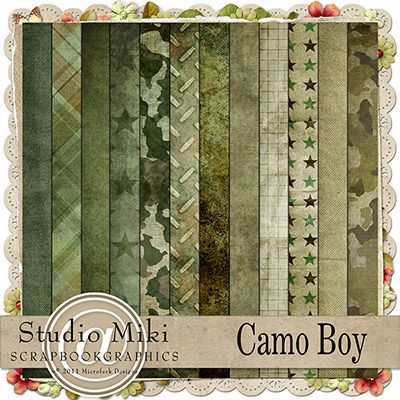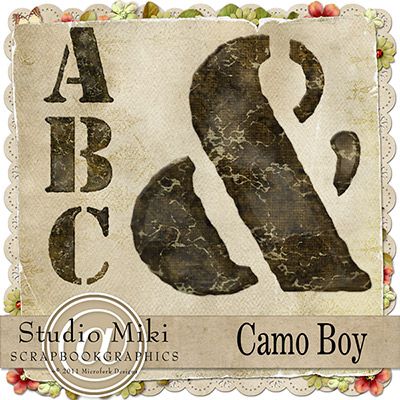 Layouts:
by Danesa: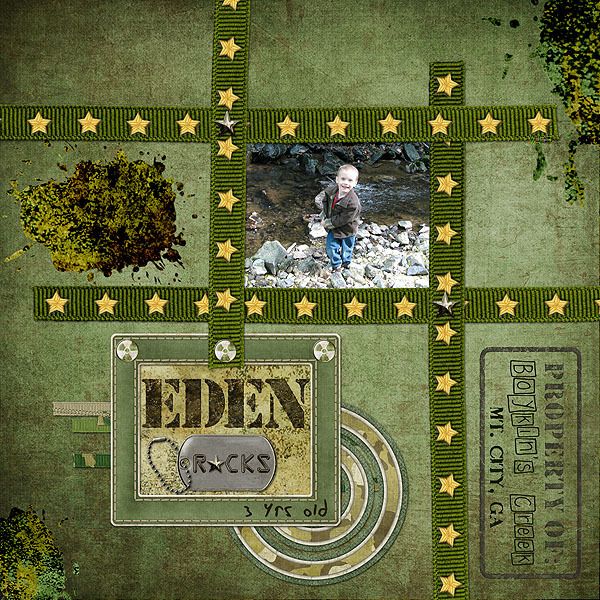 by Saxon: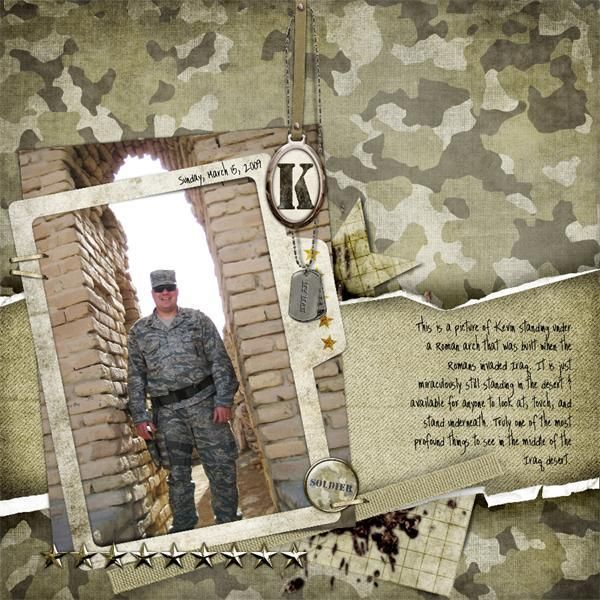 by Beckie:
by Sandy: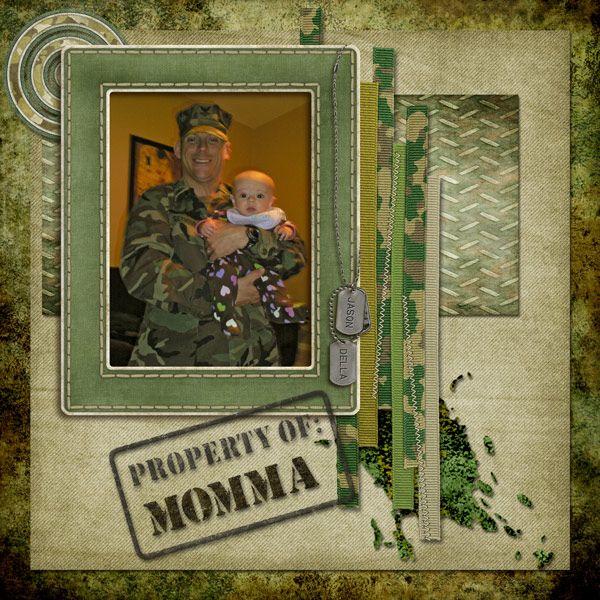 and:
by Lorraine:
by Miki:

Please accept this complimentary FREE GIFT Quick Page made with "Camo Boy":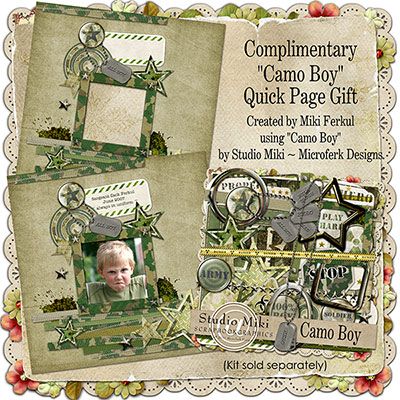 ***************************************************

Download Links:
https://www.yousendit.com/download/UnlBWGJNcklsamMwTVE9PQ
***************************************************
(Expires on 6/25/2011)

Please be sure to pick yours up before expiration!
If you experience any errors
before
the expiration date (file
does
expire on the date listed) it may be that the file was downloaded the maximum amount of times permitted per yousendit Terms. Should that occur- just drop me a comment, and I will be happy to re-upload fresh links until the expiration passes.