Have you ever been "Mellow"? -Get Mellow w/Studio Miki- Intro Sales
***

Limited introductory sales pricing

***

"Season of mists and mellow fruitfulness,
Close bosom-friend of the maturing sun;
Conspiring with him how to load and bless
With fruit the vines that round the thatch-eaves run."

by John Keats
In "
Mellow Page Kit
" by Microferk Designs, you get 12 beautifully blended, patterned and/or textured papers. You also get over 40 elements including a butterfly, golden locket on ribbon, hanging gold heart charm (alone and with silky knotted bow), gold key with bow, 2 different wildflower clusters, 2 pieces of golden foliage, 3 different paper folded flowers, large fancy silk flower, 7 small silk flowers, double stamp frame, instant photo frame, fancy square gold frame, small shabby pale gold frame, distressed vintage peach frame, an offset frame with embellishment, fancy triple frame on hanging ribbon and bow, jewelry tag on string, heart-shaped flair, silky knotted bow, 4 journal cards, 2 metallic word pieces, paper lace with gem accents (recolored once), curly ribbon with and without cast shadow, patterned ribbon and bauble piece, sand dollar, clam shell and conch shell, and a sparkly flourish with and without shadow.
You also get a slightly worn set of gleaming gold alphas, including all upper case letters, numbers, and 7 extra characters. They are so versatile, they'll quickly become a "go-to" set for you! Each element is in its own file - no need to 'cut' apart. All elements and papers are created at 300ppi, with papers saved as high-resolution jpgs for stunning print clarity, and elements saved as png files to preserve transparency. Drop shadows are only applied in instances where layering of pieces within an element necessitate shadowing for realism, unless otherwise noted in product description.
Also included are 5 matching "
Mellow
" glitter styles for your customizing pleasure- as a Photoshop Style file and jpgs for use in other graphic programs.
Check out the "
Mellow Collection
" for more coordinating design products by Studio Miki.
(Also available separately in
Mellow Papers
,
Mellow Elements
,
Mellow Alphas
and
Mellow Glitter Styles
by Microferk Designs)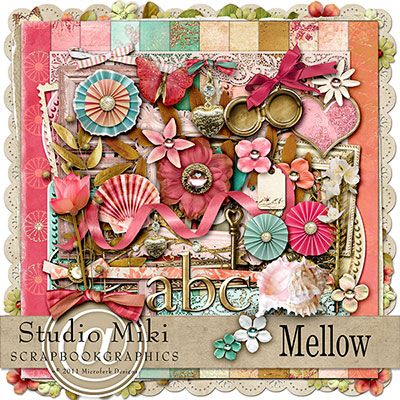 Papers: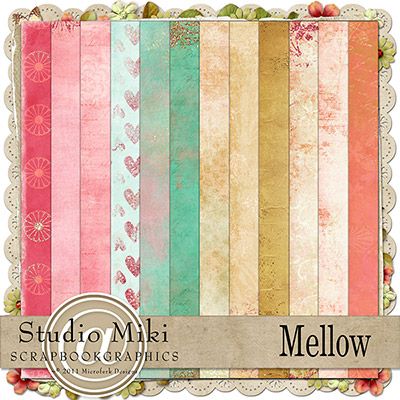 Another view of Papers: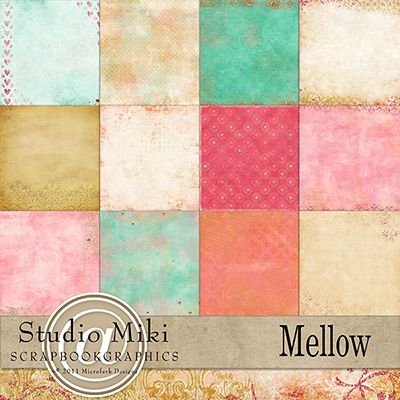 Elements: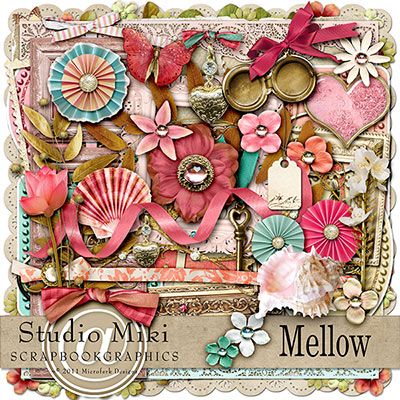 Closeup of Elements: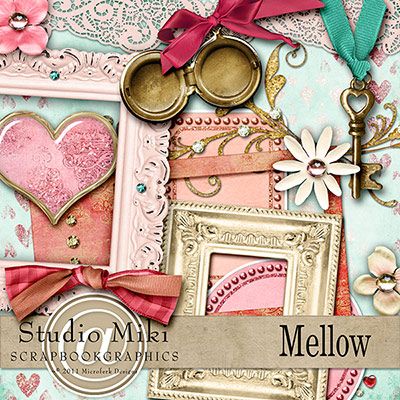 Alphas:
Glitter Styles: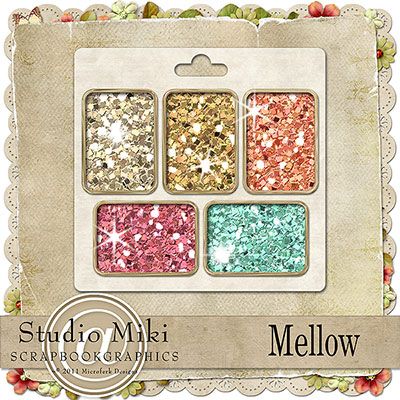 Layouts:
by Miki: