It's funky, it's fresh- it's FERKILICIOUS! Intro SALES pricing @ Studio Miki !
***

Limited introductory sales pricing

***

Introducing "Ferkilicious" by Microferk Designs a totally funky, fresh, bold and beautiful collection for people of all ages! Using a palette that includes chartreuse, blue Hawaiian, champagne, cosmopolitan, Kahlua, and cointreau, you will find gorgeous pieces to work with- on so many different scrapping projects!
In "

Ferkilicious Page Kit

" by Microferk Designs, you get 12 beautifully blended, patterned and/or textured papers. You also get over 35 elements that includes a vintage bauble, old lock and key, long piece of twill ribbon (15"), long piece of skinny ricrac (15"), guitar, 2 separate ribbon flowers, set of 2 paper flowers, set of 3 silk flowers, 4 up stamp frame, triple stamp frame, 2 fancy gold frames (an oval and a square), a double packaging frame, acrylic sparkly foliage, butterfly, curly ribbon with and without perspective shadow, curled piece of hemp, small tag with and without ribbon tie, 6 individually crafted journal blocks, stringed beads, 3 golden accents, 3 different sparkly masked accents, a sparkly green flourish, and a winged heart.
In "
Ferkilicious Page Kit
" by Microferk Designs you also get an alpha set an alpha set made of slightly weathered brushed gold/brass containing all upper and lower case letters, numbers and 7 extra characters. Each element is in its own file - no need to 'cut' apart. All elements and papers are created at 300ppi, with papers saved as high-resolution jpgs for stunning print clarity, and elements saved as png files to preserve transparency. Drop shadows are only applied in instances where layering of pieces within an element necessitate shadowing for realism.
As if this wasn't enough- you also get a matching pack of "

Ferkilicious

" glitter styles- SIX different shades. These come as a Photoshop Style and as separate jpgs for use in other graphics programs.
(Also available separately as

Ferkilicious Papers

,

Ferkilicious Elements

,

Ferkilicious Alphas

and

Ferkilicious Glitter Styles

)


Check out the "Ferkilicious Collection" for more coordinating design products by Studio Miki.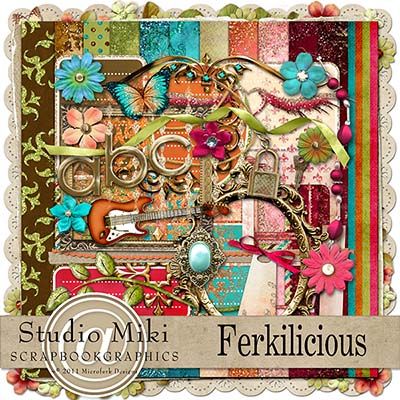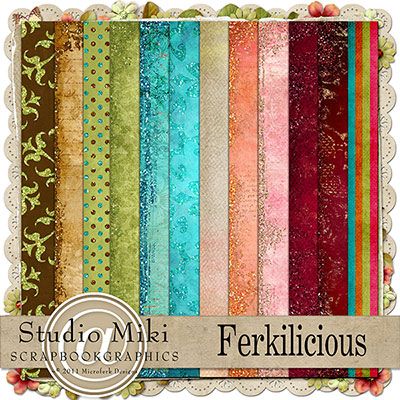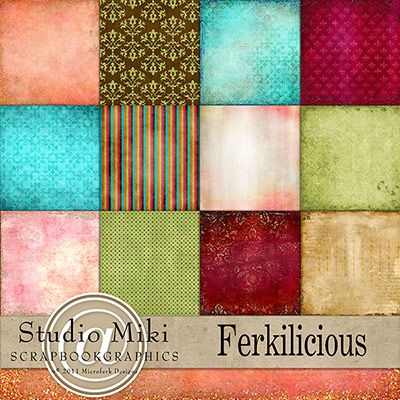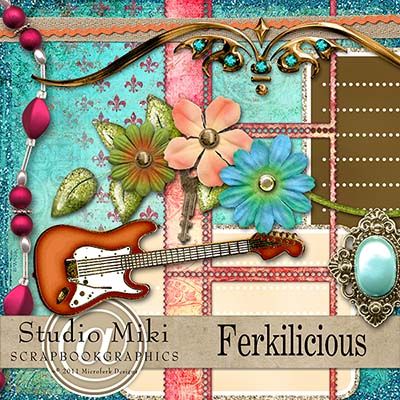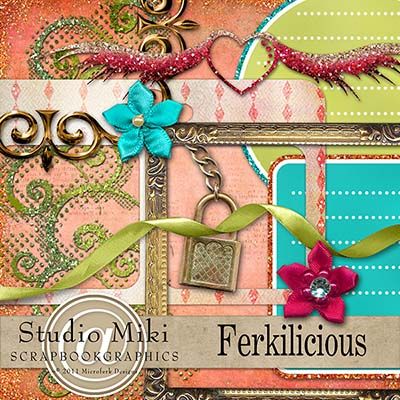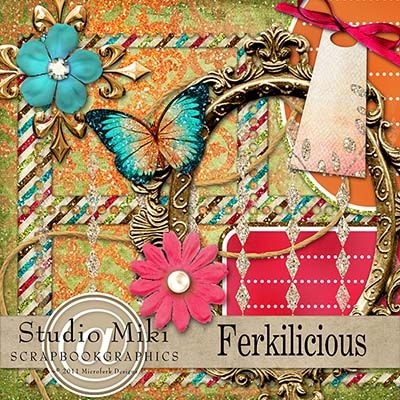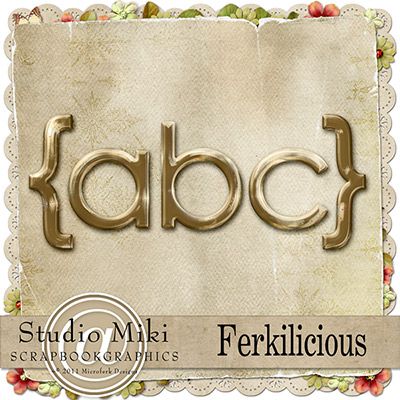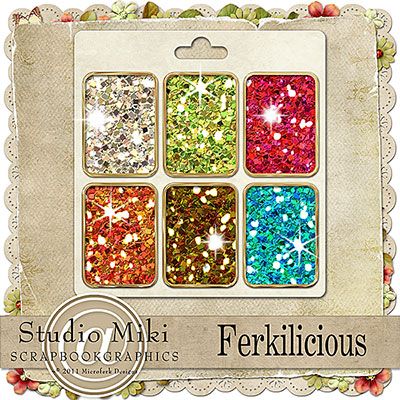 Layouts:
by Miki: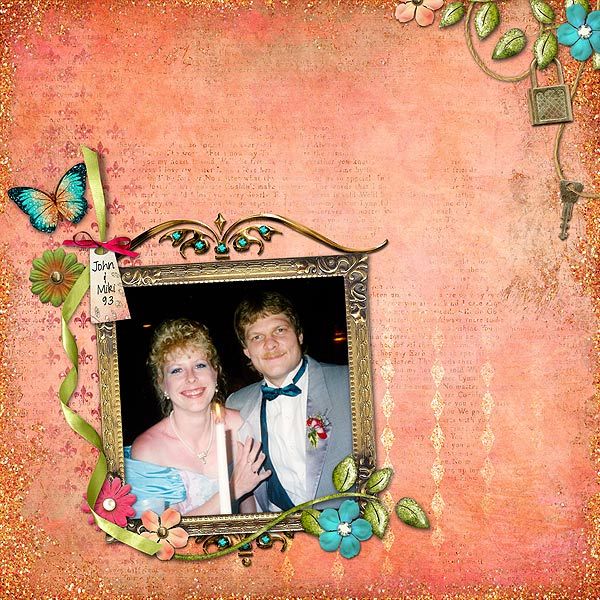 by Sandy: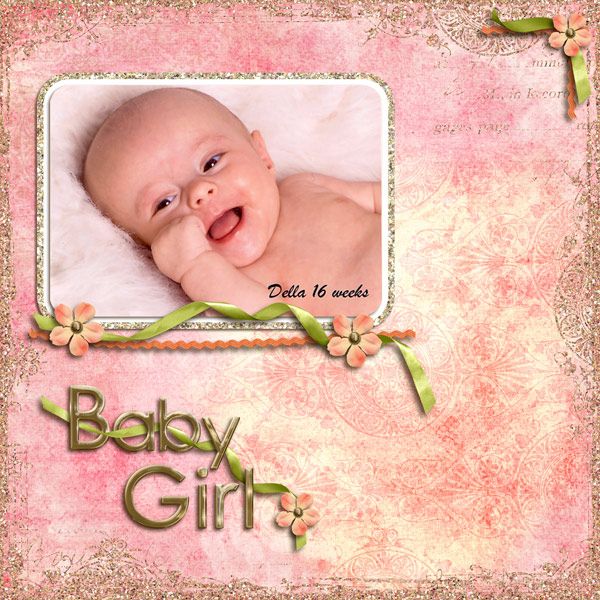 by Danesa: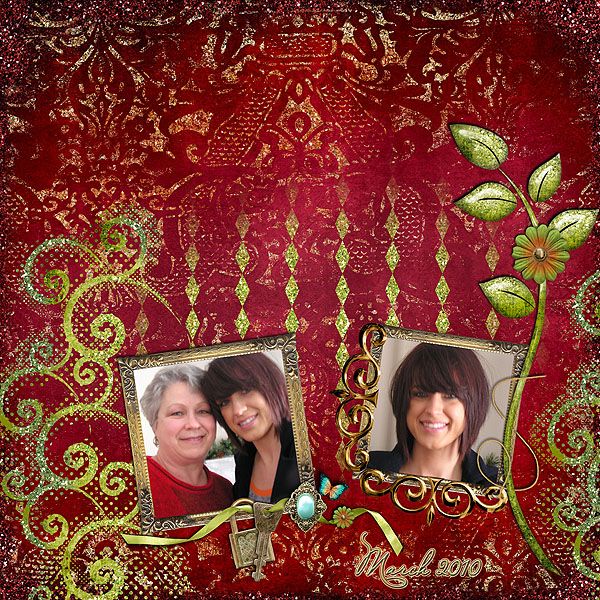 by Lorraine: