"Antique Typeset Alphas" and "Damask Dreams Papers" at Studio Miki- on SALE!
"

Antique Typeset

" by Microferk Designs is antiqued fontograph set on parchment and inked arounds its edges. This is an upper case set only. Use it on your vintage, heritage, travel or family layouts for that extra touch of aging authenticity!
Drop shadows are not applied, and each character is in its own file- no need to cut part! All files are created at 300ppi and saved as png files to preserve transparency.
(Shown larger. Each tile is 585 x 588 pixels)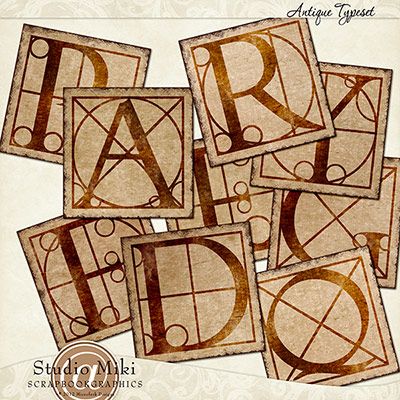 Have you seen more damask peeping out from layouts lately? I have! ~as a background, an accent- so versatile and yet so timeless!
In "

Damask Dreams

" by Microferk Designs you get twelve gorgeously rendered damask papers- in bolds and lights.
Use these in any of your layouts - vintage, modern, casual! The papers were created at 300ppi, and saved as high-resolution jpgs for stunning print clarity.