"Pan's Folly" by Studio Miki ~ on SALE for a limited time!
***LIMITED INTRO SALES PRICING***


"Pan" was one of the Greek gods, with a body that was half man, half goat. He had the horns and hind-quarters of a goat- not to mention the propensity for sexual dalliances. He was widely worshiped and well-chronicled as early as the 6th century BC. He was the foster brother of Zeus himself. He was the god of goats, sheep and shepherds, as well as bee-keeping, music, mountains and meadows, and was also the god of prophecy. His most enduring claim to fame was his randy nature- always being found with one woman or another.
So, in "Pan's Folly" by Microferk Designs, I bring you a robust collection filled with the colors of nature: green, brown, gold, orange and dash of scarlet! This kit will suit any season, masculine or feminine layouts- you name it!


In the
"

Pan's Folly Page Kit

"
by Microferk Designs, you get 12 beautifully blended, patterned and/or textured papers. You also get over 30 elements that include a 2-up packaging frame. a single packaging frame, a quad packaging frame, a string of gold-copper beads on twine, sprig of baby's breath, a jeweled border, dried carnation and set of carnation petals, 2 small glitter-edged and jewel-centered flowers, a fleur de lis piece with gemstone accent, gold curly cord with 2 bows, gold jeweled pin, jewelry tag with and without string, 4 individually made journal blocks in classic style, a branch of leaves and 2 single leaves, gilt frame, 2 cards with Pan art, a large satin bow/wrap, a golden separator, jewel-accented swirly, a piece of curled twine and a thick curled cord.
In the "
Pan's Folly Page Kit
" by Microferk Designs you also get an alpha set- a large, gleaming gold set that includes upper case and lower case letters, numbers, and 7 extra characters! Each element is in its own file - no need to 'cut' apart. All elements and papers are created at 300ppi, with papers saved as high-resolution jpgs or pngs for stunning print clarity, and elements saved as png files to preserve transparency. Drop shadows are only applied in instances where layering of pieces within an element necessitate shadowing for realism.


Check out the "
Pan's Folly Collection
" for all coordinating design products by Studio Miki.
(Also available separately as "
Pan's Folly Papers
", "
Pan's Folly Elements
", and "
Pan's Folly Alphas
" by Microferk Designs)
Papers:
Another view of Papers:
Elements: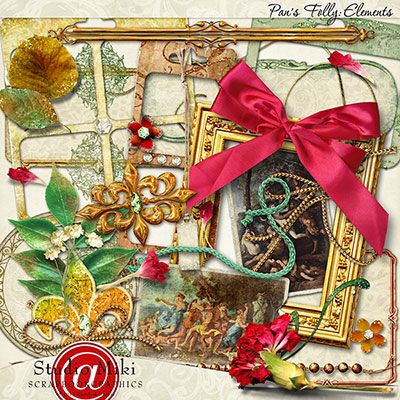 Closeup of Elements:
Alphas:
Layouts:
by Miki Ferkul: