NEW! "Plantation" with Studio Miki- LIMITED Intro Sales Pricing + Free With Purchase!
***

Limited introductory sales pricing

***

Spanish moss, thick sticky summers, glorious gardens and foliage, sweet tea or bourbon in the evening, listening to the critters wind the day down, and the soaring pillars of a white-washed plantation- all of things evoke the deep south and the lazy summers there. In the "Plantation Collection" by Microferk Designs, I evoke the ambiance of the south with the greens of its foliage, the slight blue that white clapboard takes at dawn and dusk, and a splash of muted red from the blooms! But you'll find this is an extremely versatile collection with pieces that will become quick favorites and part of your scrapping stash!


In the "
Plantation Bundle
" by Microferk Designs, you get all of the contents of the "

Plantation Page Kit

", which includes:
12 beautifully blended, patterned and/or textured papers. You also get over 45 elements that include a worn Southern belle card, a hanging charm with lady, gold-tone button, gold dragonfly, 3 pieces of foliage, checkered bow, blue ribbon, cream ribbon, fresh dahlia, fresh rose, a fresh purple magnolia blossom, 3 fabric roses, 3 medium silk flowers, 2 small silk flowers, an instant photo frame, stamp frame, 2 different wooden frames, a fancy ornate frame, a plastic flowered frame, set of mini keys, fancy antiqued but distressed key hole, 5 journal cards (3 with alternate lined versions), a vintage photo of a plantation, 3 different sets if stitching, 4 fancy tags, and 5 word strips.
In "
Plantation Page Kit
" by Microferk Designs you also get a set of old wood alphas that includes upper case and lower case letters, numbers, and 7 extra characters!
Also included are 6 matching "

Plantation

" glitter styles for your customizing pleasure- as a Photoshop Style file and jpgs for use in other graphic programs. (Included are xml files for use in Photoshop Elements 6 +)

In the "
Plantation Bundle
", you also get these additional packs:
"

Plantation Weathered Alphas

" , a delightful and charming set of distressed wood and peeling paint fancy alphas, that includes ONLY upper case letters, numbers 0 - 9, and 7 special characters.
"

Plantation Textured Plains

", 8 slightly worn and lightly grunged plain papers with a delightful texturing.

"

Plantation Word Art

", a set of 4 unique, pre-shadowed word arts to "prettify" your layouts!
Each element is in its own file - no need to 'cut' apart. All elements and papers are created at 300ppi, with papers saved as high-resolution jpgs for stunning print clarity, and elements saved as png files to preserve transparency. Drop shadows are only applied in instances where layering of pieces within an element necessitate shadowing for realism.

Save big when you purchase the
"

Plantation

Bundle" by Microferk Designs -a regular $25.50 value if purchased separately! Over 50% savings!


Check out the "
Plantation Collection
" for more coordinating design products by Studio Miki.
(Also available separately as "
Plantation Papers
",
"

Plantation Textured Plains

",
"
Plantation Elements
", "
Plantation Alphas
",
"
Plantation Word Art
",
"
Plantation Weathered Alphas
"
,
and "
Plantation Glitter Styles
" by Microferk Designs)
http://tinyurl.com/StudioMiki-Plantation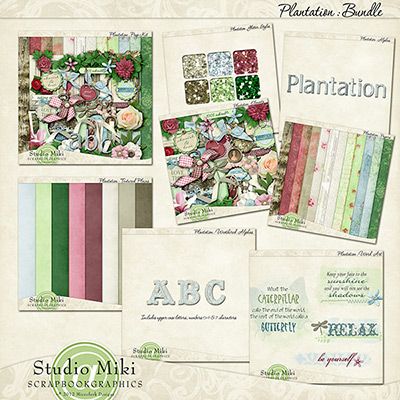 Includes the following:
Page Kit:

Papers: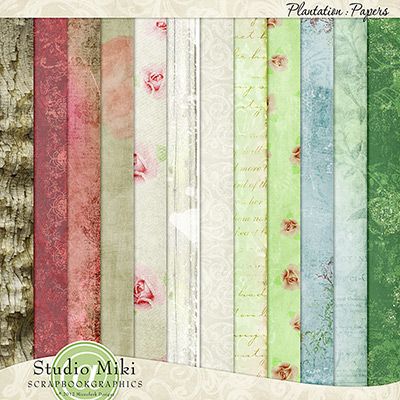 Another view of Papers: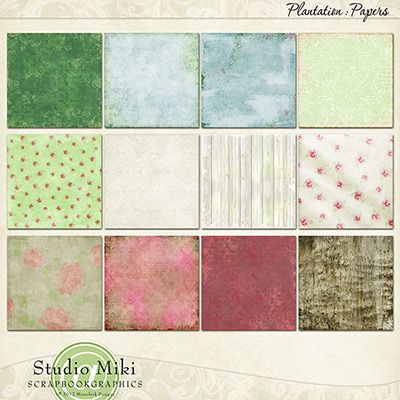 Elements: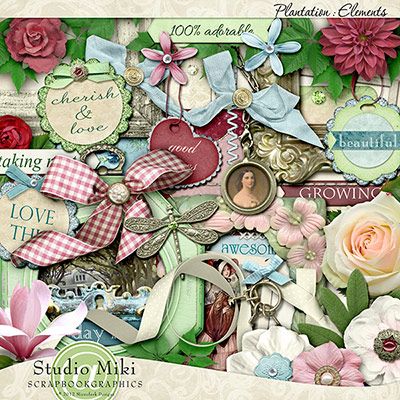 Closeup of Elements: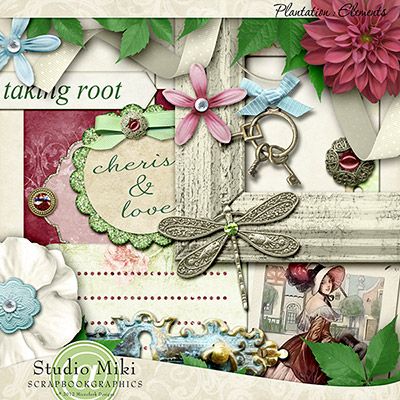 Alphas: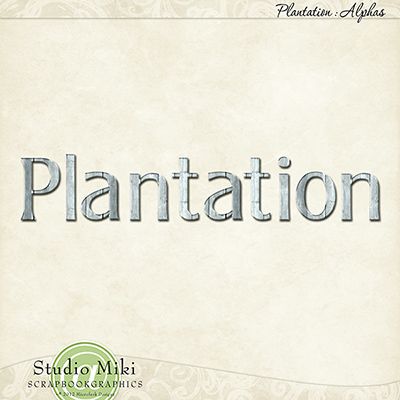 Glitter Styles:
And here are wonderful add ons, all included in the BUNDLE, but not included in the PAGE KIT.

Plantation
Textured Plains: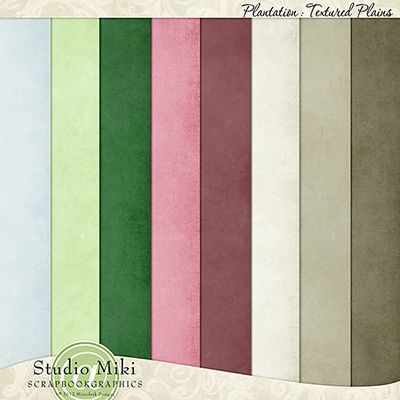 Plantation
Weathered Alphas
: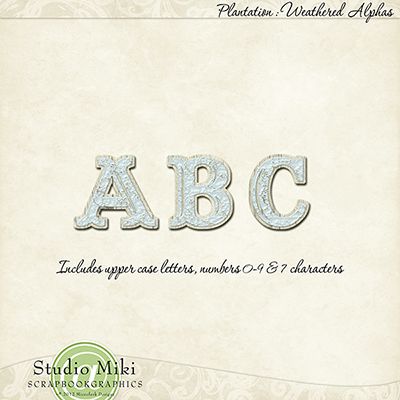 Plantation
Word Art:
***

FREE WITH PURCHASE OF
"
Plantation Bundle"
OR
"

Plantation Page Kit

" by Microferk Designs***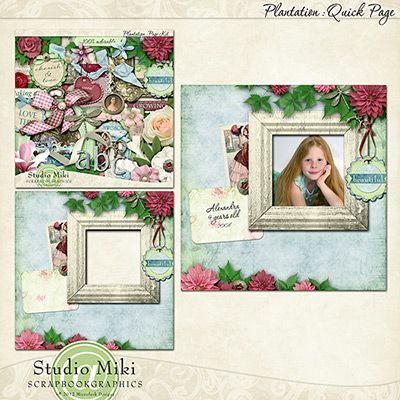 Layouts:
by Miki: