Warm up for autumn with "Abundance" by Studio Miki- on SALE 4 limited time!
***

Limited introductory sales pricing

***

With deep rich tones reminiscent of autumn, you will love "Abundance" by Microferk Designs! Using golds, greens, reds, oranges and soft plums, you get an extremely versatile kit that will provide you with many papers and pieces beyond just your autumn layouts!


In "

Abundance Page Kit

" by Microferk Designs, you get 12 beautifully blended, patterned and/or textured papers. You also get 30 beautifully crafted elements including 3 different packaging frames- a quad frame, a two-up and a three-across- each embellished with ribbon and gems, a corner cluster both shadowed and unshadowed, an "abundance" definition card, 3 flower clusters, 4 small flowers with beaded centers, a glittery diamond stack accent, a glittery swirly (large), a jewelry tag plain and with stitch fastener, 5 beautiful journal blocks with stitching accents, a leaf cluster, 2 individual leaves, 2 pieces of foliage, a red ribbon wrap, staple with and without shadows, a string of beads, a beaded wire frame with ribbon hanger, and a piece of word art*.

In "

Abundance Page Kit

" by Microferk Designs,
you also get an alpha set - created in a richly textured canvas on chipboard. Each set contains both upper and lower case letters, numbers and 7 extra characters. Each element is in its own file - no need to 'cut' apart. All elements and papers are created at 300ppi, with papers saved as high-resolution jpgs for stunning print clarity, and elements saved as png files to preserve transparency. Drop shadows are only applied in instances where layering of pieces within an element necessitate shadowing for realism, unless otherwise noted in product description.


(Also available separately as Abundance Papers, Abundance Elements and Abundance Alphas by Microferk Designs)


Check out the "

Abundance Collection

" for more coordinating design products by Studio Miki.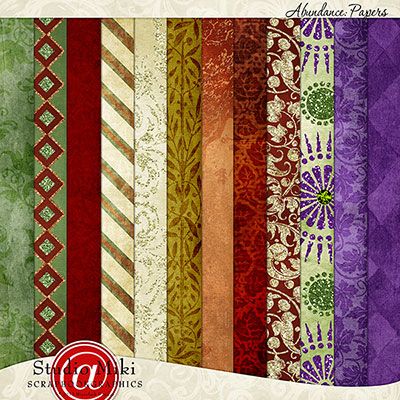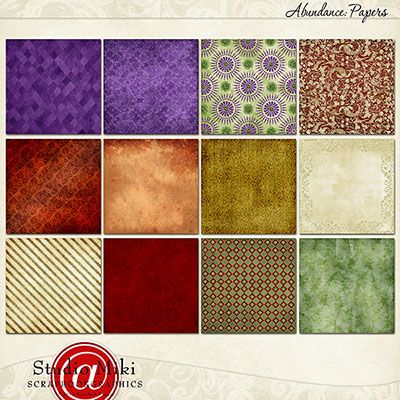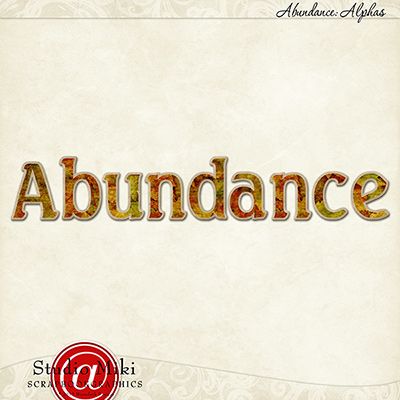 Layouts: