BRAND NEW! "Floralia" @ Studio Miki, LIMITED SALES PRICING + gift!
"Floralia" , also known as the "Florifertum" was an ancient Roman festival in honor of the goddess of flowers & plants, Flora. It was typically held around the first of May (between April 27 - May 3), at the same time as the "Beltane" holy day of the Celts. Like Beltane, it was also considered an ancient May Day celebration, and a festival that celebrated fertility, renewal and the cycle of life. It was celebrated with food, drink, dance and, of course, flowers. It is with the sense of wonder, joy and hope engendered by these May celebrations that I bring you"Floralia", a collection based on the vibrant hues of spring, first blooms and an homage to the hope that the beginning of each life cycle brings us. Expressed through the vivid shades of yellow, orange, red, pink, blues and greens, this is a brilliant collection that will help you create stunning layouts of your own life's moments!

In "
Floralia Page Kit
" by Microferk Designs, you get 12 beautifully blended, patterned and/or textured papers. You also get over 50 elements that include 5 unique sets of stitching (with and without shadows), 3 acrylic glitter frames, triple frame arrangement, chipped paint wooden frame, ornate frame, blue resin frame with painted roses, double stamp frame, triple stamp frame, bauble and accordion combo, 3 medium silk flowers, 7 small silk flowers, 3 fresh flowers, a leaf, a paper leaf branch, an acrylic swirly leaf, an ornate paper swirl, antiqued paper heart, wing and crown, red curly ribbon, blue curly ribbon and bow with bauble accents, small gem, beige flat ribbon, checkered flat ribbon, green ric rac, checked bow (recolored once), postcard with modified "The Roses of Heliogabalus" by Lawrence Alina-Tadena (public domain resource), small brown jewelry tag, larger gold tag with and without leather cord bow, 6 unique journal cards, a key with and without ribbon topper, daisy (plain and with perspective shadow), pearl, pearl arrangement with cast shadow, satin string with sequin decoration, set of "helicopter" seed pods, 2 dried yellow leaves and an antique paper frame.
In "Floralia" by Microferk Designs you also get an alpha set- a metallic gold, with messy[painted blue enamel that includes upper case and lower case letters, numbers, and 7 extra characters! Each element is in its own file - no need to 'cut' apart. All elements and papers are created at 300ppi, with papers saved as high-resolution jpgs for stunning print clarity, and elements saved as png files to preserve transparency. Drop shadows are only applied in instances where layering of pieces within an element necessitate shadowing for realism.
Also included are 12 matching "Floralia" glitter styles for your customizing pleasure- as a Photoshop Style file and jpgs for use in other graphic programs.
(Included are xml files for use in Photoshop Elements 6 +)
Check out the "
Floralia Collection
" for more coordinating design products by Studio Miki.
(Also available separately in
Floralia Papers
,
Floralia Elements
,
Floralia Alphas
and
Floralia Glitter Styles
by Microferk Designs)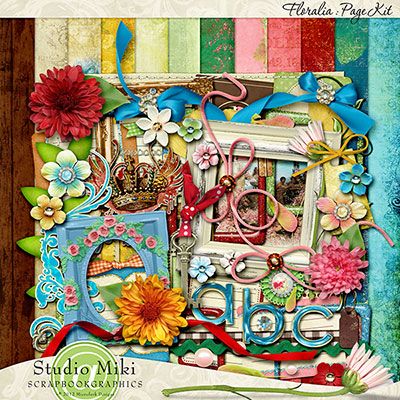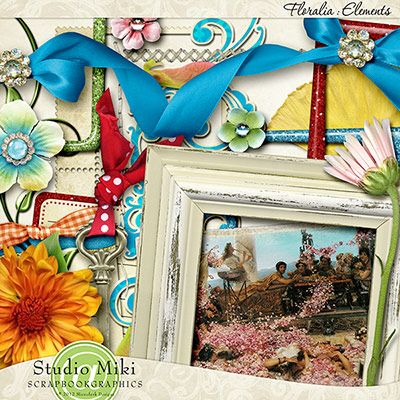 Layouts:

by Miki: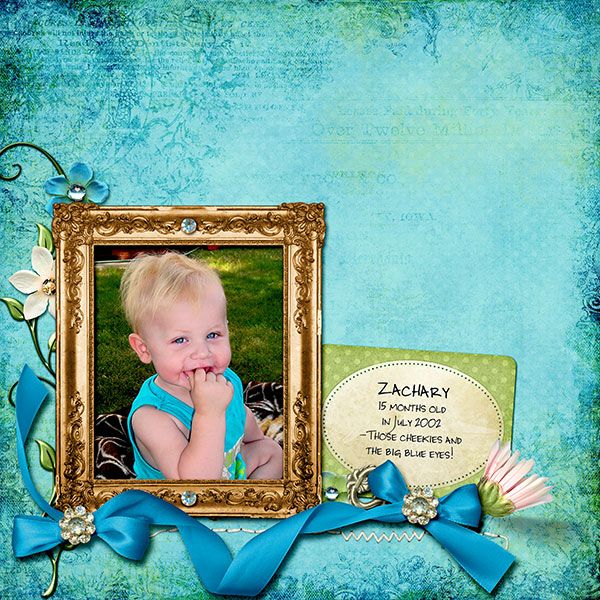 Please accept this complimentary FREE GIFT Quick Page made with "Floralia"
by Miki Ferkul: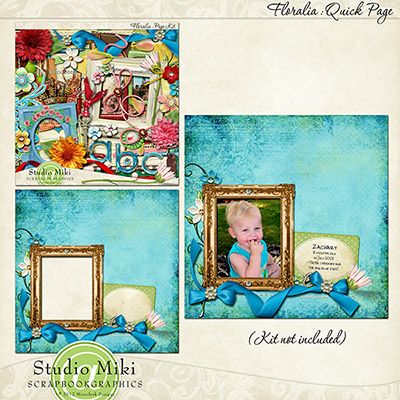 ***************************************************
Download Link:
https://rapidshare.com/files/3365445948/MFERK_FloraliaQP.zip
***************************************************
(Expires on 5/7/2012)

Please be sure to pick yours up before expiration!
If you experience any errors
before
the expiration date - just drop me a comment, and I will be happy to re-upload fresh links until the expiration passes.