Re-coloring the Adriana Collection to YOUR wedding colors!
Hi everyone! I wanted to do a little tutorial to show you how easy it is the change the purple color in my
"
Adriana Collection
"
to other colors.



The purple shade is relatively easy to change without affecting the green or ivory- or gold- in Photoshop or your graphics program.
I use the Hue-Saturation dialog box, by going from "Image>Adjustments>Hue Saturation".



Notice that first, I select "Magenta" from the drop down list in the dialog box. If I had left it "Master" it would have shifted ALL of the colors- and that would result in some funky foliage, to be sure, LOL!



Then I shifted the Hue slider, to the left, to about -45 and got a pretty navy blue.



Here, I shifted further to the left about -126 to achieve a nice teal.



To get a nice deep green, I shifted left -180.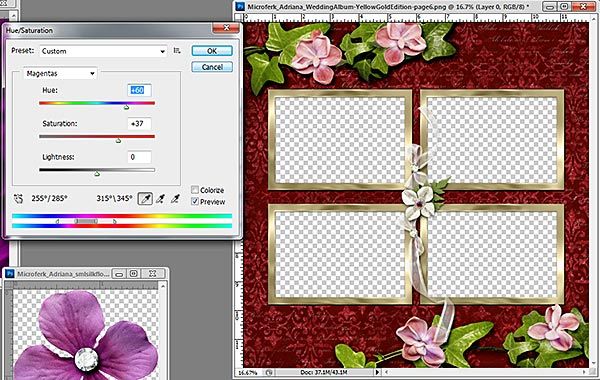 Now to get this red. I shifted to the

right

+60 in the Hue box. But that left it a little dull, so I boosted the Saturation slider +37 to deepen the red color.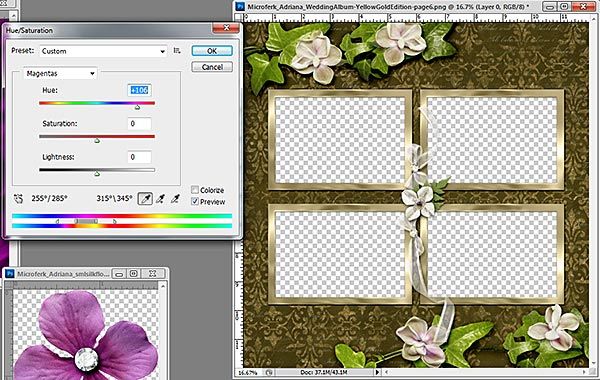 To get this golden-brown color, I shifted right +106.

Now suppose you want to recolor a single paper or element from purple.


I simply shifted the Magenta to the right +40 degrees and got this gorgeous red satin.

Now this is all good for your deep, dark or bright colors. But you're not going to get a light or pastel from it.
However, you

can

shift the lighter colored papers and elements in the same exact way, like this: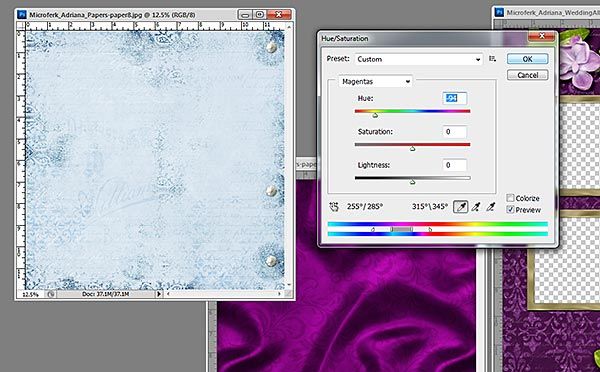 I chose the Magenta from the drop-down list of colors again. Then I shifted the Hue slider left -94 and got a nice pale blue.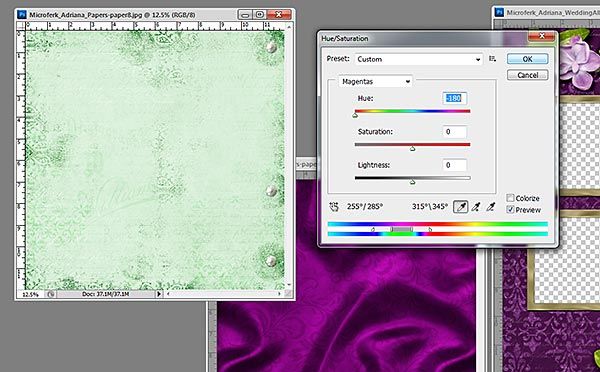 And to get this minty green, I shifted the slider left -180.

Now when you get to some of the elements that have a couple or few shades, you might have to tinker a little, selecting the Magenta first, clicking OK, and then seeing if another shade needs shifting- like "Cyan" or "Red", etc.

Most of the elements can usually be done like this. And if you have any problems, please- don't hesitate to drop me a line in the comments section, or through my email ( mferkul@gmail.com ). I'd be happy to help you- or even recolor something for you if you get too stuck!